NEW!

Ebro Delta and the Steppe
Superb spring birding in one of Europe's best birding areas
Prices:
£0 PP, no single supplement. Deposit £300
Dates:
24 Apr - 1 May 2019
More Info

Leader: Ian Ford, joined by local guide Sergi Sales with more than six clients.

Max group size: Six per guide
Departure from London Gatwick.
Regional departures may be available, please ask for details.
Pre-flight airport hotel and lounge are INCLUDED
The Ebro Delta has been so far overlooked by many British birders, but this is surely about to change. Ideally situated on the northern Mediterranean coast, the birding here can be exceptional, and certainly compares with the Camargue and Po Delta for its range and sheer numbers. Easy to reach just two hours south of Barcelona, the Ebro Delta. We have timed our visit to coincide with the best time for spring migration and for the first time combined this bird rich area with the hills and plains just a few hours inland; a significant boost to an already impressive birdlist.
We are based in a comfortable hotel where locals form most of the clientele, featuring rural Spanish cuisine. Birding will be varied, with a wide range of water birds in the delta area itself, a good selection of higher altitude species in the nearby mountainous Els Port area, plenty of speciality Steppe species and the excitement of spring migration through this key region.
On the final morning we return to Barcelona Airport for our flight home, though a city break extension to Barcelona is available for those who want to explore one of Europe's premier cities.
Don't forget that this holiday includes your pre-flight hotel at Gatwick, on Tuesday 23rd April.
Outline Itinerary
Day 1: Wed 24 April Arrival and transfer to the Ebro
Relax in our VIP Lounge before your flight, also included in your holiday price. On arrival at Barcelona airport, we collect our minibuses and transfer to our comfortable hotel in the Ebro Delta. We begin with local birding around the hotel area, and settle into our traditional-style rooms before a delicious three course dinner. Overnight ?
Day 2: Thurs 25 April Ebro Delta
We enjoy local birding in several hotspots of the Ebro Delta. We should find large numbers of Audouin's Gulls on the Delta, as well as stunning Slender-billed Gulls as well. From several hides and bird towers we can scan the marshes, which should be filled with hundreds of breeding birds including flocks of Whiskered Terns as well as smaller numbers of Gull-billed and migratory Caspian Tern, the latter with their stunning 'carrot' bills! Regulars include Black-winged Stilt, Greater Flamingo, Great White Egret, Cattle Egret, Purple Heron, Black-crowned Night Heron, Kingfisher, Glossy Ibis, Eurasian Spoonbill, and the occasional Squacco Heron and Little Bittern really emphasise the richness of this wonderful place. Collared Pratincoles may be seen hawking insects on the wing, their erratic flight displays always an exciting spectacle. Purple Swamphen are fairly numerous, this curious chicken-like bird lurking around the edges of the marshes. Singing Savi's Warblers may be tracked from one of the tower hides, as they use the tops of the reeds as a song post.
Many breeding birds are still heading north, so we watch for possible surprises as well as the more usual migrants. Red-crested Pochard and several species of wader, including Curlew Sandpiper, Little Stint and Whimbrel, may feature as they rest on the pools during their long migration. We will have a picnic lunch in one of the birding hides or by the beach to make the most of our day in the field.
Day 3: Fri 26 April Ebro Delta
Today we concentrate again on the delta, where we again expect to see a wide variety of waterbirds and shorebirds, including Avocet, Audouin's Gull, Slender-billed Gull, Mediterranean Gull, Little Tern, Caspian Tern, Whiskered Tern, Purple Swamphen, Lesser Short-toed Lark and Reed Bunting (of the rare witherbyii subspecies), and perhaps we may see Moustached Warbler and Great Reed Warbler. The southern hemi-delta holds places for seeing Little Bittern and Squacco Heron and we will also have a chance of encountering Penduline Tit.
Many of the bushes will be holding migrants, and we will make frequent stops searching for warblers, chats and flycatchers that can be passing through in numbers. Small clumps of scrubby bushes close to the beach can occasionally hold falls of spring migrants, including Woodchat Shrike, Subalpine Warbler, Common Whitehroat, Common Redstart, Pied Flycatcher, Garden Warbler, Hoopoe and several Phylloscopus warblers.. At dusk one evening we might be able to search for local breeding Long-eared Owl or perhaps a calling Scops Owl.
Day 4: Sat 27 April Mountain birding followed by transfer
Booted, Short-toed, Golden and Bonelli's Eagle, Egyptian Vulture and Peregrine Falcon are all very possible as we head inland to the excellent Els Port mountains. Firecrest, Short-toed Treecreeper and Serin, Red-billed Chough, Blue Rock Thrush, Rock Bunting, Rock Sparrow and Crag Martin are also our targets today, and we also hope to see the rare and beautiful Spanish Ibex. Overnight ?
Day 5: Sun 28 April Vulture Feeding Area and Steppe
We begin our visit to the steppe areas visiting a feeding station where we can simultaneously observe all the large species of carrion birds: Black, Griffon and Egyptian Vultures with chances of the enigmatic Lammergeier. Around the feeding station is a good site for Rock Bunting and both Sardinian and Subalpine Warblers.
We return to the drylands where at this time of year the males of Little Bustard are parading themselves in their leks. This is also a great site for Hoopoe, Roller and Bee-eaters. The picnic area is a lagoon with extensive forests where we can see Penduline Tit making their nests, as well as several migrant warblers. Finally we will see wide plains with high densities of raptors such as Booted, Short-toed and Golden Eagle. From the accommodation we may hear nocturnal birds such as Red-necked Nightjar and various owls. Depending on the season (as owl breeding is cyclical) views may be had of Long-eared, Eagle, Tawny and perhaps Scops Owl. Overnight?
Day 6: Mon 29 April Steppe
Today we head to the best steppe reserve of Catalonia where there is a great diversity of larks including Thekla, Crested, Calandra, Short-toed and Lesser Short-toed, and good chances of Stone Curlew, Great Spotted Cuckoo and Pin-tailed Sandgrouse. It can get hot here so we will seek cover in the forest afterwards for our picnic, a great place for migrant and forest birds such as Bonelli's Warbler, Golden Oriole and Short-toed Treecreeper. Using our local guides contacts and experience, daytime observations of Eagle, Little, Long-eared Owls are possible too. Do we spend the whole day in the steppes before and after lunch? Any more we can add? What about Iberian Green Woodpecker? (I THINK IT'S A GOOD OPTION TO DO AT THE SAME TIME THE VISIT OF THE STEPPED AREA AND WETLAND, SPECIALLY IF WE ARE GOING TO SEARCH THE GREAT BUSTARD IN ARAGON NEXT DAY) .....Confusing....
Day 7: Tues 30 April Visit to Ringing Station followed by Steppe
We will begin the day by visiting a bird ringing station where we should enjoy in the hand and hopefully field views of Moustached Warbler, Bearded Tit and the Iberian race of Reed Bunting, which is near to extinction. This is also a good place for Cetti's Warbler and others migrant birds, especially Locustella and Acrocephalus warbers. After visiting this wetland, the objective will be a small area of Steppe where in addition to many of the typical dryland species we can observe one of the rarest species of Catalunya, the Black-bellied Sandgrouse. We move on and head to nearby Aragon for chances of Great Bustard.
Day 8: Wed 1 May Transfer to Barcelona Airport for flight home
After breakfast we transfer to Barcelona Airport for our return home, with some birding at nearby wetlands to boost our lists and complete a memorable few days.
More holiday information:
Accommodation is in a comfortable rural, family run hotel with all rooms en suite.
Food Breakfast is very good by Mediterranean standards, featuring cold meats, cheese, bread, yoghurt, fruit, a selection of preserves and cakes, croissants and other sweetmeats. Fruit juice and tea or coffee is also available. Picnic lunches will be taken from the hotel, and are often substantial, including sandwiches, pasta or salad, cakes and soft drinks. Evening meals offer many interesting local dishes, which are very good though sometimes simple. Water, bread and wine is included at dinner, which is very pleasant and convivial! Vegetarian and other diets are welcome.
Walking is generally easy, on paths and tracks. We will usually drive to key birdwatching spots. Most birding is done close to our vehicle.
Weather Direct sunlight can send the temperature soaring above 30c, though mid 20's c is more usual. Minimum temperatures will be about 15c (although it can sometimes drop lower), and the winds can be cool.
Insects There may be biting insects, though not usually as a major problem. Bring a repellent just in case.
Group size is restricted to 12 clients maximum.
Flights are by scheduled airline, from London Gatwick - Barcelona. We may be able to offer flight arrangements from another airport and/or or quote without flights so you can make your own arrangements. If you wish to add an extension either before or after your holiday, please contact us and we will be happy to arrange this for you.
Your Guides:
Ian Ford - Spanish-speaking Ian is a veteran of many Heatherlea holidays to southern Spain, and is looking forward to joining you in the Ebro Delta.
Sergi Sales - Sergi is an outstanding birder, specialising in the birds of the Ebro Delta and steppe areas of of his native Catalania. Able to readily identify virtually everything he sees or hears, Sergi is a fount of knowledge about birding in this area and a valuable addition to our holiday team.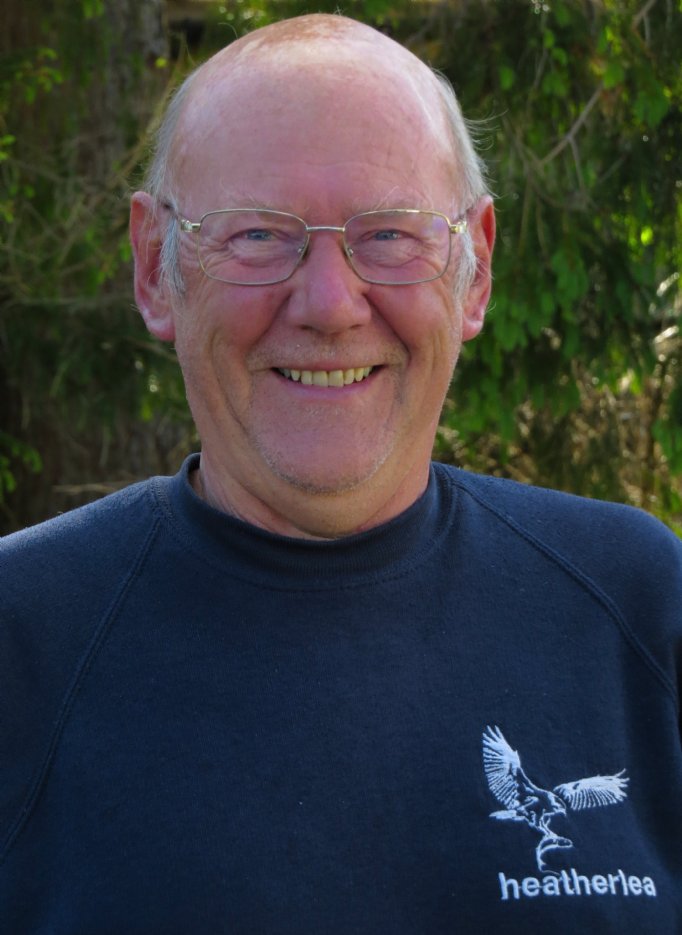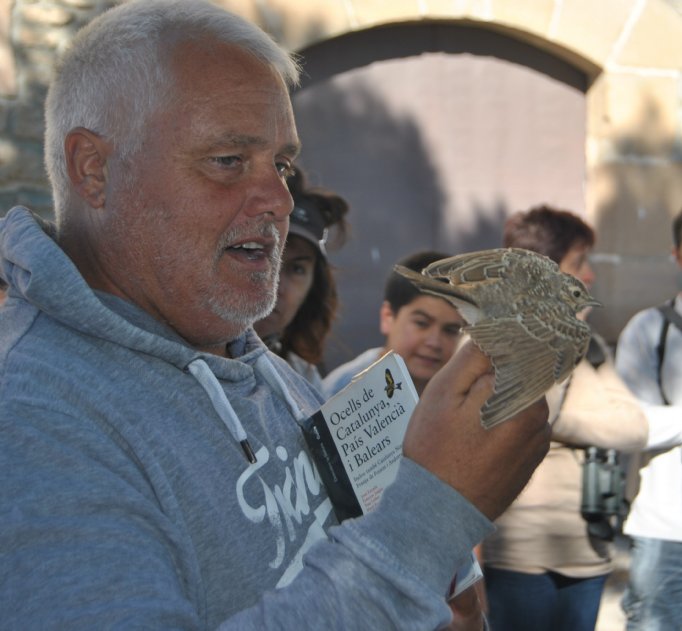 Ian and Sergi
What's included in your holiday price:
* scheduled return flights between London Gatwick and Barcelona, airport taxes,
* ground transportation as outlined including all transportation in Spain in a modern and spacious air-conditioned vehicle,
* accommodation and all meals, including breakfast, lunch and dinner.
* the services of your leaders.
* The Heatherlea Pre-Flight Service offers everything you need at the airport, including hotels, car parking, airport lounges, regional flights, and upgrades. Let Heatherlea take the strain! Pre-flight airport hotel and lounge included free of charge subject to terms and conditions. Read more....
What's not included in your holiday price:
* personal insurance, drinks and other personal expenses, and any other costs not specified as 'included'.
WHY CHOOSE HEATHERLEA?
Our overseas holidays are planned with care to offer great birding and wildlife, led by capable Leaders who really look after you. Every holiday is run the 'Heatherlea Way', and we hope our Overseas Adventures remind you of the quality and care so many of you enjoy in Scotland. That means rewarding and exciting days in the field, and good quality accommodation and meals, with a real flavour of the country we are visiting. Heatherlea always seek to include the personal touches that make all the difference.
Heatherlea holidays are not 'dawn to dusk' expeditions. Our less-intensive approach is ideal for those who want to relax whilst experiencing the best wildlife watching, and wherever possible we organise early or late activity on an optional basis. We also take sensible breaks when in very hot places and regular comfort breaks on every holiday whenever possible. All itineraries are planned carefully around the best wildlife opportunities, and you won't miss out on memorable wildlife, whilst enjoying relaxed, informal days that are great fun.
The really important part of any wildlife holiday is the experience for you, our valued customer. Heatherlea invest in many things to offer you the best possible service;
* We have been organising birding and wildlife holidays for over 25 seasons, and have a highly experienced and capable office team. We also offer a telephone and email service outside normal office hours.
* Heatherlea overseas holidays have a maximum of 12 clients per trip, putting the emphasis on personal service, and helping you get the best possible experience.
* Our holidays often include things which others might invite you to pay yourself, for instance Departure Taxes and tips to hotels.
* All elements of our holidays are sold under our own licence, ATOL 6113. Under 'Flight-Plus' legislation it is a legal requirement of any tour operator to hold an ATOL licence for the supply of any overseas holiday where a flight is involved, if that holiday includes either overseas accommodation and/or car hire. It can be a criminal offence for an operator to book flights as part of a package without an ATOL licence. Heatherlea also hold full Tour Operator Insurance for your added protection.
* Heatherlea is your complete wildlife holiday provider. Our 'Back Office' team can organise all your pre-flight and other travel needs. Our specialists will help you book the right services, at the best price. Book holiday extensions through us, and your ATOL protection is extended further. We don't charge extra for this service.
* Heatherlea is a limited company, registered in Scotland, and registered to pay VAT (applies to all holidays within the European Union).
Please note: all itineraries are given as a guide only. Actual holiday content may vary according to the judgement of your guide, and elements beyond our control (eg weather).