Northwest Highlands
A brand new tour, covering the Northwest Highlands in depth: from Cape Wrath to Applecross, including Assynt, Wester Ross and Torridon!
Prices:
£1695 PP, £150 single supplement. Deposit £200
Dates:
30 Jun - 7 Jul 2018
More Info

Leader: Scott O'Hara

Max group size 7 clients.

This holiday starts and ends in Nethy Bridge
This exciting new itinerary takes in the most underexplored and least populated corner of the British Isles. Widely regarded as one of the most picturesque landscapes in Europe, the rugged Northwest Highlands feature countless sealochs, mountains, glens, islands and deserted beaches. The wildlife here reflects the rich variety of the landscape, from Golden Eagle and Ptarmigan on high mountain tops, and flower rich meadows in croftland to bustling seabird colonies on offshore islands. This holiday is timed so that the floral diversity will be at its highest, including numerous orchids and scarce plants. The seabird colonies will be full, whilst the days will be at their longest, allowing plenty of daylight to maximise the natural history opportunities. This three-centre holiday follows the coastline of the Northwest Highlands, from the very top at Cape Wrath down to the Applecross Peninsula, opposite the Isle of Skye. Taking in Handa Island, Assynt, Sutherland, Wester Ross and Torridon, this is a thorough exploration of the region.
Outline Itinerary
Day 1 - Saturday 30 June- Nethy to the far Northwest
Depart Nethy Bridge after breakfast and head through the heart of Ross-shire and Sutherland to reach our base in the far northwest. We will make several stops, breaking the journey at scenic stops alongside stunning lochs and glens, home to Hen Harrier, Golden Eagle and both Red and Black-throated Divers. Overnight Rhiconich for the first of four nights.
Day 2 - Sunday 1 July - Oldshoremore & Laxford Bridge
After a travel day yesterday we will only make short trips today, taking in the flower rich machair at Oldshoremore SSSI and the rich and varied croftland. Heading in land for the afternoon, we will head down to Loch Stack to look for raptors in this stunning landscape.
Day 3 - Monday 2 July - Cape Wrath
Today we head to the furthest North Western tip of the British mainland at Cape Wrath. Taking a small passenger ferry and a scheduled minibus taxi, we work our way along the northern coast of the military range, a haven for wildlife. Once at the lighthouse we have some time to look out to sea and check for cetaceans and seabirds before heading back along to our ferry, perhaps picking up Greenshank, Golden Plover, Wheatear and Arctic Skua on the drive. If time allows we will head up to Balnakeil Bay on the north coast, with rich machair and croftland where a few Twite and Corncrake reside. Though views of Corncrake are unlikely, we may hear a few giving their grating call.
Day 4 - Tuesday 3 July - Handa Island
Handa Island - a true Scottish gem, with over 150,000 seabirds will be our focus of today. With a stunning boat trip around the island (weather permitting), followed by a slow walk around the whole Scottish Wildlife Trust reserve, we have time to enjoy the flora and fauna of the maritime heath and steep cliffs. The island holds breeding Great and Arctic Skua and they should both show well, along with Arctic Tern and Red Grouse. The boat trip heads right under the seabird cliffs, bustling with Guillemot, Razorbill, Kittiwake and a few Puffin. The geology here is stunning, sheer 110m Torridonian Sandstone cliffs, towering above us. With luck we may find a few cetaceans offshore, including Harbour Porpoise and Common Dolphin. A wonderful day out.
Day 5 - Wednesday 4 July - Assynt
Assynt is a patchwork quilt of rich croftland, rough grazing, stunning sandy beaches and rocky crags and we take a full day to work around the narrow and winding roads. Leaving our hotel in the far North-west after breakfast, we work our way to Stoer Point, a good seawatching spot. From here we head south, with flower-rich meadows in the machair being top targets. The landscape here is recognised as a Geopark for its diverse geology and sees us going through several National Scenic Areas as we tour around. Overnight Dundonnell or Ullapool.
Day 6 - Thursday 5 July - Wester Ross
Today we take a full day to explore the varied coastline from Little Loch Broom down to Gairloch, a landscape full of crags, bays and islands. Taking in Gruinard Bay, Mellon Udrigle, Aultbea and Poolewe, we have excellent opportunities for Otters, Eagles, Divers and Twite. The views here incorporate stunning beaches right up to mountain top, with picture-postcard views at our frequent stops for wildlife. Overnight in Gairloch for two nights.
Day 7 - Friday 6 July - The Minch and Gairloch area
Today we head out on an exhilarating RIB ride looking for all manner of wildlife. Our skipper knows the waters well, and our track record of seeing Minke Whale and Common Dolphin is good. Anything is possible in the Minch in July, and previous sightings have included Basking Shark, Killer Whale and Risso's Dolphins. Seabirds should be well represented, and may well include petrels, shearwaters, skuas and all the regular auk species. The boat is fast and manoeuverable, giving us lots of options as we cover a large distance. Other wildlife regularly includes White-tailed Eagle, seals and Otters. Back on shore we will continue our exploration of the Gairloch area, targetting any key species we may have missed.
Day 8 - Saturday 7 July - Applecross and return to Nethy
We leave our hotel in Gairloch after breakfast, and work our way down to Torridon. Taking the coastal route around to Applecross village, we hope to see more White-tailed Eagle on this remote single-track road. We will check the bay for summering Great Northern Diver before heading up the winding track to the Bealach na Ba, the highest road climb in the UK, peaking at 626m. If the weather is kind, the view will be stunning, incorporating all of Skye, the Small Isles and the Outer Hebrides. Once at the top we are free to explore, and find ourself in an Arctic-Alpine environment, home to Alpine plants and mountain top birds, including Dunlin, Golden Plover and Ptarmigan. We descend on the far side, and head through Torridon, surrounded on both sides by craggy peaks in this post-glacial landscape. We arrive back in Nethy Bridge around 5:30pm.
This holiday can be combined with:
MAINLAND SCOTLAND
The 'Outer Limits' in Summer, Eagles, Divers and Dotterel.
SCOTTISH ISLAND ADVENTURES
Inner Hebrides from Canna to Iona

Field Notes
Expect a wide variation in weather conditions. Blazing sunshine, rain and strong winds are all possible, and you will probably experience a bit of everything. Biting insects are possible, please bring a good general repellent just in case. Please bring waterproof walking boots or shoes, fully waterproof clothing and a small rucksack. Walking will be mostly light, though the walk on Handa Island is 4 miles on uneven and at times wet terrain.
What's included in your holiday price
• Seven nights comfortable en-suite hotel accommodation. We choose hotels from our personally inspected shortlist, where birders are welcome and the hospitality is special. Guests are never expected to share. Full details with your joining pack.
• Full Scottish breakfast and dinner from Saturday evening til Saturday morning, packed lunch daily, including on the first and last Saturday.
• All transfers by comfortable minibus. Drop off on the departure morning to transport links in Aviemore is included.
• Drivers can leave vehicles safely parked at The Mountview Hotel.
• Guidance from a professional Group Leader.
• All ferry costs and boat excursions.
What's not included in your holiday price
• Extra night in Nethybridge area at beginning and end of holiday. This can be arranged for you if requested at time of holiday booking.
• Insurance, drinks and other items of a personal nature.
• Transfers from transport links in Aviemore on arrival.
WHY CHOOSE HEATHERLEA FOR YOUR SCOTTISH ISLAND ADVENTURE?
Heatherlea is THE company for top quality birding holidays in Scotland, chosen by more and more birders each year. Relax and enjoy first-rate birding with Scotland's best guiding team, as we do all the planning! Our fully inclusive guided holidays concentrate on the real experience, and we take time to ensure that each of our guests enjoys everything we do. Above all, we make it our business to show key wildlife to you.
These popular holidays are carefully designed to explore the beautiful and wildlife-rich Scottish islands and far west coast. Many itineraries are unique, designed to give you the best of island wildlife at the best time of year. All are run at a leisurely pace, though we might move a little faster when rare migrants and vagrants are in our sights!
* We have been organising birding and wildlife holidays for 27 seasons, and have a highly experienced and capable team. We also offer a telephone and email service outside normal office hours.
* Heatherlea Scottish Island Adventures have a maximum ratio of 7 clients per guide, putting the emphasis on personal service, and helping you get the best possible experience.
* Heatherlea are Mainland Scotland's FIRST '5-Star Wildlife Experience!' This is the highest available grading, classified as 'exceptional' by visitScotland.
* Single guests are never expected or invited to share.
* Our holidays often include things which others might invite you to pay yourself, for instance packed lunch and tips to hotels.
* Heatherlea hold full Tour Operator Insurance for your added protection.
* Heatherlea is a limited company, registered in Scotland. We are also registered to pay VAT, which is included in your holiday price as quoted on this page.
* Once your holiday is confirmed in writing by us, we promise not to surcharge the price for any reason.
Mainland Scotland's FIRST '5-Star Wildlife Experience!'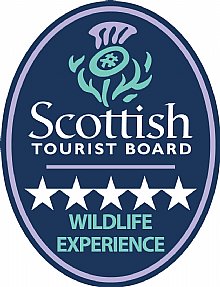 'Exceptional'
Visit Scotland
Please note: all itineraries are given as a guide only. Actual holiday content may vary according to the judgement of your guide, and elements beyond our control (eg weather).