NEW!

Costa Rica: Wildlife and Wellness
Relax completely on this easygoing adventure to blissful Costa Rica!
| | |
| --- | --- |
| Destination | |
| Focus | |
| 2026 Dates | |
| Duration | 15 Days |
| Guides | |
| 2026 Price | Price TBC |
| Max Group Size | 12 |
Wildlife and Wellness is a new holiday idea from Heatherlea, combining absorbing natural history with the chance to relax completely. We visit a number of carefully selected parts of the country, some of which are featured in our existing holidays, others of which are brand new, chosen for their focus on Wellness and the availability of treatments.
The wildlife itinerary is less intensive than our other tours, and we have taken time to include whale-watching in the Pacific, for the first time in any itinerary, and also baby Green Turtle hatchlings in the Caribbean, as we make the best of our time in this wonderful small country. On days where we aren't making a transfer between hotels, we generally begin with an optional walk or other activity before breakfast. Later we make the most of local wildlife opportunities in the morning, and after lunch enjoy free time (or you can carry on birding with your guide), during which you might like to benefit from treatments, which can be pre-booked before you travel. (NB treatments are extra to the basic holiday price). Transfer days involve wildlife as we go, and a chance to relax in the afternoons at our new destination. We benefit from excellent local food throughout, often cooked to order, and also sample fresh juices and fruits not normally available in the UK. The plan is to give you an exciting and rewarding wildlife experience, and a relaxing time in this beautiful and rewarding country.
There are several locations not included on our more bird-orientated tours, chosen for their quiet location and focus on 'wellness' related activities. These are scheduled towards the second half of the tour, allowing you to marvel at Costa Rica's unique wildlife, then relax in comfort in an idyllic setting.
This is still very much a holiday for the wildlife enthusiast, though with excellent food including fresh and exotic local fruits, time for relaxation and the availability in many places of spa services, it is also very much for the person who seeks peace and relaxation.
Enjoy your complimentary pre-flight overnight hotel before your holiday begins. Full details from our office! Read more about our Pre-flight Service here!
Day 1: Sat 5 September 2026 - Arrival in Costa Rica
After relaxing in our complimentary VIP airport lounge, we fly from London to San Jose. On arrival you will be warmly welcomed by your guide and driver, and escorted to our comfortable hotel. Depending on arrival time, you may be able to walk in the lovely gardens to relax after a long day of travel. The gardens are home to many spectacular tropical birds, including Blue-crowned Motmot, Hoffman's Woodpecker, Ferruginous Pygmy Owl and Rufous-tailed Hummingbird. You will be impressed by the extensive orchid and bromeliad gardens here too. Our hotel has an amazing rock and mineral collection, with nearly every piece found in Costa Rica. Overnight: Hotel Bougainvillea.
Days 2 & 3: Sun 6 & Mon 7 September - Tortuguero
Travel by bus and then boat to Tortuguero National Park on the Caribbean. Here we explore the rich labyrinth of calm waterways among the mangroves, which offer excellent wildlife viewing. The area boasts 320 bird species, including Tiger Herons, Agami Herons, Sunbird, and all six species of Kingfishers found in the Americas. We may also see sloth, caiman, iguanas, poison-dart frogs, freshwater turtles, basilisk lizards, the Honduran White tent-making bats, and three species of monkey. We venture out along the beach in the evening to look for nesting Green Turtle hatchlings. We enjoy quiet rooms by the beach, listening to the waves breaking against the shore, while relaxing after a day filled with nature. Two nights at Laguna Lodge.
Day 4: Tue 8 September - Transfer to Savegre
n the morning after breakfast, we take a flight by small plane back to San Jose, the most relaxing transfer! Next we transfer to Cerro de la Muerte, stopping for lunch en route. We spend the afternoon exploring the misty highland cloud forest reserve at the Paraiso de Quetzal. This is home to Resplendent Quetzal as well as Fiery-throated Hummingbird, Black-and-yellow Silky- flycatcher, Large-footed Finch, Black-billed Nightingale-Thrush, Sooty Robin, Sooty-capped Bush-Tanager, Peg-billed Finch to name a few. Before returning to our lodge for dinner, we will also visit the Paramo habitat at approximately 3500m above sea level in search of Volcano Junco. We spend a total of three nights at the excellent Casa Turire.
Days 5 & 6: Wed 9 & Thur 10 September - Savegre Reserve and Spa
Here we spend the next two days exploring the gardens, riparian highland habitats, and old growth tropical oak cloud forests surrounding Savegre Mountain Lodge. Walking through the gardens and along the Savegre river, we hope to see Flame-colored Tanager, Collared Trogon, Torrent Tyrannulet, Volcano Hummingbird, and Gray-tailed Mountain Gem, among many others. Other birds include Black-faced Solitaire, Spotted Wood-Quail, Buffy Tuftedcheek, Golden-browed Chlorophonia, Ochraceous Wren, Ornate Hawk-Eagle, and of course Resplendent Quetzal. In the evenings after a delicious dinner, we will go over the birds, and any other wildlife seen that day.
At this point of the holiday we begin to enjoy spa facilities, and here you will have plenty of time to unwind and enjoy the excellent services on site, where treatments can be booked in advance.
Days 7 - 9: Fri 11 - Sun 13 September - Rio Chirripo Lodge and Retreat We transfer to a gorgeous wellness lodge at the foot of Mount Chirripo, the tallest mountain in Costa Rica. At Rio Chirripo Lodge and Retreat you will have ample opportunities during our three days to connect to nature and with yourself. Nestled in a wooded valley beside the fast flowing Chirripo River, this is a refuge from the pressures of a busy world. Here you will have access to a yoga pavilion, pools and hot tubs, as well as a fire pit for a relaxing evening. Meals offered are guaranteed to be nourishing to the mind, body and spirit as everything is organic, fresh, and locally sourced. If wellness is a priority during your stay, you have the opportunity to enjoy massage services and a natural spa near the river. Rio Chirripo Lodge also offers highly recommended tours to Cloudbridge Reserve, Nauyaca Waterfalls, Coffee Plantation tour. Three nights at Rio Chirripo Lodge and Retreat.
Day 10 - 12: Mon 14 - Wed 16 September - Hotel Cristal Ballena
We transfer to the Uvita area to enjoy the next three days at a wonderful Pacific location. Hotel Cristal Ballena is embedded on a hill between the Ocean and rainforest-covered mountains. This unique position allows breathtaking ocean views while a cooling breeze is coming from the mountains, and sunsets are occasions you will never forget. We will be able to take advantage of whale watching, as we are here at the perfect time to see migrating whales. While relaxing at the beach, be sure to schedule a spa treatment at Cristal Spa onsite. Overnight for three nights at Hotel Cristal Ballena.
Day 13: Thur 17 September - Hotel Bougainvillea
A leisurely travel day up the Pacific coastline to San Jose stopping to enjoy lunch en route at a breathtaking location as we return to the very comfortable hotel where our holiday began. If you are interested in taking your relaxation to the next level, Hotel Bougainvillea offers spa and massage services onsite at Boena Spa. Overnight at Hotel Bougainvillea.
Day 14: Fri 18 September - Departure
After breakfast and a leisurely morning, we depart for the airport and our international flight home, arriving on the morning of Day 15, Sat 19 September.
Please note: all itineraries are given as a guide only. Actual holiday content may vary according to the judgement of your guide, and elements beyond our control (eg weather).
What's included in your holiday price:
scheduled return flights between London and San José, airport taxes,
ground and boat transportation as outlined including all transportation in Costa Rica in a modern and spacious air-conditioned vehicle,
accommodation and all meals, including breakfast, lunch and dinner. Water is provided in the vehicle each day. Our guides also provide cold slices of mango and pineapple in very hot places!
the services of your leaders.
entrance fees to parks and reserves, and tips to hotels and restaurants.
departure taxes, currently USD29.
The Heatherlea Pre-Flight Service offers everything you need at the airport, including hotels, car parking, airport lounges, regional flights, and upgrades. Let Heatherlea take the strain! Pre-flight airport hotel and lounge included subject to terms and conditions. Read more...
Free Field Guide! - 'The Birds of Costa Rica' by Richard Garrigues and Robert Dean is included in your holiday price. One copy per room booked.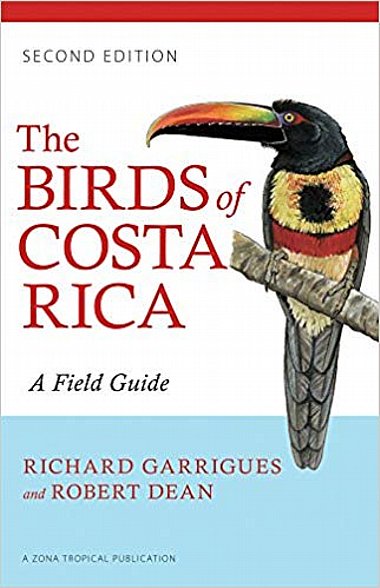 What's not included in your holiday price:
personal insurance, personal expenses including drinks ordered at the lodges, visa costs where necessary, optional tips to the driver and local guide, and any other costs not specified as 'included'.
More holiday information:
Accommodation is in hotels or lodges with all rooms en suite. Some of the lodges are remote, and have simple-style rooms. All are spacious, have en-suite facilities, and are very comfortable to a good standard.
Food is usually served as a buffet, with a wide choice. Vegetarian and other diets are welcome. Meals are nourishing to the mind, body and spirit as everything is organic, fresh, and locally sourced.
Walking is generally light/moderate. There may be some uphill track and road walking, though generally an average level of fitness is required.
Weather will be mixed. Mostly the temperature will be warm, with the possibility of rain. In some locations the weather is hot and humid, in others hot and dry, and at altitude can be cool and wet.

Insects There are biting insects, though not usually as a major problem.

Group size is restricted to 12 clients maximum.

Flights are from London. We may be able to offer flight arrangements from another airport and/or or quote without flights so you can make your own arrangements. If you wish to add an extension either before or after your holiday, please contact us and we will be happy to arrange this for you.
Why choose Heatherlea for your birding and wildlife holiday in the Americas?
Our overseas holidays are planned with care to offer great birding and wildlife, led by capable Leaders who really look after you. Every holiday is run the 'Heatherlea Way', and we hope our Overseas Adventures remind you of the quality and care so many of you enjoy in Scotland. That means rewarding and exciting days in the field, and good quality accommodation and meals, with a real flavour of the country we are visiting. Heatherlea always seek to include the personal touches that make all the difference.
Heatherlea holidays are not 'dawn to dusk' expeditions. Our less-intensive approach is ideal for those who want to relax whilst experiencing the best wildlife watching, and wherever possible we organise early or late activity on an optional basis. We also take sensible breaks when in very hot places and regular comfort breaks on every holiday whenever possible. All itineraries are planned carefully around the best wildlife opportunities, and you won't miss out on memorable wildlife, whilst enjoying relaxed, informal days that are great fun.
The really important part of any wildlife holiday is the experience for you, our valued customer. Heatherlea invest in many things to offer you the best possible service;
We have been organising birding and wildlife holidays for over 30 seasons, and have a highly experienced and capable office team. We also offer a telephone and email service outside normal office hours.
Heatherlea overseas holidays have a maximum of 12 clients per trip, putting the emphasis on personal service, and helping you get the best possible experience.
Our holidays often include things which others might invite you to pay yourself, for instance Departure Taxes and tips to hotels.
All elements of our holidays are sold under our own licence, ATOL 6113. Under 'Flight-Plus' legislation it is a legal requirement of any tour operator to hold an ATOL licence for the supply of any overseas holiday where a flight is involved, if that holiday includes either overseas accommodation and/or car hire. It can be a criminal offence for an operator to book flights as part of a package without an ATOL licence. Heatherlea also hold full Tour Operator Insurance for your added protection.
Heatherlea is your complete wildlife holiday provider. Our 'Back Office' team can organise all your pre-flight and other travel needs. Our specialists will help you book the right services, at the best price. Book holiday extensions through us, and your ATOL protection is extended further. We don't charge extra for this service.
Heatherlea is a limited company, registered in Scotland, and registered to pay VAT (applies to all holidays within the European Union).