NEW!

Ultimate Scotland
Destinations
Focus
2022 Dates
Duration
12 Days
2022 Price

£2995 pp

£195 single supplement.

Deposit £300. Early Birder Price Freeze! Book now for 2022 at 2021 prices.

Max Group Size
12
This unique and exciting tour seeks all the Western Palearctic birds which make Scotland so special. Ideal for UK birders who want the 'specialities', this tour is also perfect for those who want time to appreciate the local species of our wildlife rich country. Designed for the 'complete birder', this holiday should appeal to beginners and also birders based in North America who want to see all our birds including more common species.
During this exciting two-centre tour we spend a week based in Nethy Bridge, the home of BBC 'Springwatch', 'Autumnwatch' 2019 and 'Winterwatch' in 2019 & 2020, arguably the capital of Scottish birding. We visit a variety of habitats from mountain tops through tranquil Caledonian pinewoods and out to stunning coastal locations. An exciting sea-bound voyage to auk cliffs will be a highlight, as will a three night stay on the glorious outlying Outer Hebrides, for some very special targets including Corncrake, skuas, harriers, waders in summer plumage and much more.
There will be many highlights, especially beginners or for the first-time visitor to Europe. Up to 80% of the Western Palearctic species we are likely to see have never, or only very rarely been recorded in North America. We take extra time to enjoy our local birds on this tour, though key targets include Corncrake, White-tailed Eagle, Rock Ptarmigan, Eurasian Dotterel, Black Grouse, Red Grouse and Western Capercaillie (please note we never try to see Capercaillie at lekking sites, these birds are increasingly rare and difficult to see in Scotland).
This tour offers a real birding spectacle as we travel around the Highlands to see all the birds which might be overlooked on a shorter trip. Traditionally in the Scottish Highlands during June summer visitors have all arrived and settled for breeding, and the weather is normally warm and pleasant. This is a wonderful time for birding the Scottish Highlands!
FREE BIRD GUIDE - Participants will receive a complementary copy of the indispensible 'Collins Bird Guide to the Birds of Britain and Europe' (2nd Edition) by Svensson, Mullarney et al. For our customers that are joining us from the USA, this tour also has its own specially prepared checklist, with names and running order in line with North American practice. Download a copy here.
The holiday begins and ends in Inverness, which has good daily connections to London, from where you can fly to many North American destinations. Our office team will be very pleased to help with your logistical arrangements.
Day 1: Tues 14 June 2022 Arrival in Inverness – welcome to Scotland!
Arrival in Inverness, where our first overnight is close to the airport. As everyone arrives at different times, transfer by taxi to the hotel. Dinner can be taken at your leisure in a nearby traditional pub/diner.
Day 2: Wed 15 June Skye and transfer to the Outer Hebrides
Your Heatherlea Guide will arrive to greet you after breakfast, then we depart Inverness and head via Loch Ness across the Highlands to the famous Skye Bridge, travelling across the island to the ferry point at Uig. We should have time for birding en-route and may even have seen our first eagles, Common Raven, Hooded Crow and (real) Rock Dove before we board the ferry! Birdwatching as we cross The Little Minch to Lochmaddy, Great Skua, Parasitic, Pomarine and Long-tailed Jaeger are special birds worth watching for. Manx Shearwater and European Storm Petrel are also often seen, and Northern Fulmar, Northern Gannet, Black Guillemot, Atlantic Puffin and other auks can be (nearly!) guaranteed. Atlantic Grey and Harbour Seal are equally likely in these waters and if lucky, we may encounter cetaceans too. On arrival, we transfer to our comfortable hotel where we stay for three nights.
Days 3 - 4: Thurs 16 – Fri 17 June Birding the Outer Hebrides
You are birding in the right place, and at the right time, to see Corncrake! In some years the birds can be difficult to find, and a little patience is required but over the years we have seen them crossing the road, sitting on walls, jumping up out of the grass, flying short distances and even mating!
Lots of Corn Bunting, Meadow Pipit, Eurasian Skylark and Twite make the machair of North Uist a special habitat full of song. Common Loon in summer plumage is likely offshore, and we will also look for Red-throated and Arctic Loons on peaty lochs. Great Skua are frequently seen, Parasitic Jaeger breeds and if the weather conditions are right and we get lucky, a late passing Pomarine or Long-tailed Jaeger! Rare and delicate Red-necked Phalarope might be seen, and other summer-plumaged waders at the coast should include good numbers of European Golden and Black-bellied Plover, Bar-tailed and Black-tailed Godwit, Dunlin, Red Knot, Sanderling and Ruddy Turnstone. Whimbrel and Common Ringed Plover can both be present in high numbers and there can often be a few Ruff lingering, the males in fabulous breeding colours. An absence of persecution means Hen Harrier and Short-eared Owl are present in good numbers, and along with Golden and White-tailed Eagle we hope to see them daily. A real feast of birds!

Our days are governed by weather and our progress, and your guide plans each day according to the conditions. Optional early and late birding may be offered.
Day 5: Sat 18 June North Uist, Skye and return to Nethy Bridge
Our final day in the Hebrides ends with some birding at local sites and perhaps a search for Otter, the channels around the ferry terminal being one good place to try. Black Guillemot, Common Sandpiper and Common Greenshank are often present here too. Nearby moorland can be good for White-tailed and Golden Eagle, Hen Harrier and breeding loons on quiet lochans. The Minch crossing offers another chance to enjoy seabirds and we will be on the lookout for cetaceans such as Harbour Porpoise, Short-beaked Common and Risso's Dolphin and Northern Minke Whale. Driving across Skye, we may make a birding stop or two if time allows, aiming to return to Nethy Bridge by the early evening.
Day 6: Sun 19 June Highland specialities
An optional early start to see Black Grouse at the lek offers a great start to our time in Strathspey. After breakfast, we visit our exclusive private estate woodlands in our comfortable minibus to look for Western Capercaillie. We have a responsible and caring attitude towards these magnificent birds, with unique access and unbeatable local knowledge invaluable as we look for the wonderful 'Horse of the Forest'. Later we investigate local lochs and rivers, birchwoods and moorland and the days birdlist may well include Western Osprey, White-throated Dipper, Common Buzzard, Common Goldeneye, Red Grouse, Common Cuckoo, European Stonechat, Grey Wagtail, Lesser Redpoll, beautiful Horned (Slavonian) Grebe and a host of breeding waders such as European Golden Plover and Eurasian Curlew.
Day 7: Mon 20 June Seabird boat trip
We take an exciting cruise to the foot of Troup Head, home to mainland Scotland's only Gannetry. Also nesting on the cliffs will be hundreds of Common Guillemot, Razorbill, Black-legged Kittiwake along with smaller numbers of European Shag and Atlantic Puffin. Each species occupies a different level and from below, views of the colonies will be outstanding! We will likely see Black Guillemot at close quarters too and if lucky cetaceans with Harbour Porpoise, Short-beaked Common and Bottlenose Dolphin and Northern Minke Whale possible. A very exciting boat trip! Later we enjoy a traditional fish and chip lunch, and keep birding along the Moray coastline for waders, ducks, terns, gulls, and passerines to boost our lists.
Days 8: Tues 21 June Strathspey Birding
We enjoy a morning in the Abernethy Forest to look for Crested Tit and local breeding birds. Scottish Crossbill (a controversial species, currently considered to be the UK's only endemic) are also found in the forest and with both Red and Parrot Crossbill also present, separation of these three species can pose a real identification challenge! Today will not just be about the birds - Red Squirrel can be found near woodland feeders, while Brown Hare, Roe, Red and Sika Deer are also possible. A variety of specialist butterflies and dragonflies are also available locally, and if conditions are favourable (warm and sunny) we might look for them. Wildflowers, such as rare Twinflower can look their best at this time of year too – the Highlands really are alive with wildlife!
Day 9: Wed 22 June The Moray Coast
The inner Moray Firth offers exciting birding to boost our lists, and we may see Common Eider, Red-breasted and Common Merganser, Red-throated Loon, Sandwich, Common, Arctic and Little Tern, and stray waders including Ruddy Turnstone, Bar-tailed Godwit and Red Knot in breeding plumage. Local farmland supports nationally scarce species including Grey Partridge, Stock Dove, Yellowhammer, Eurasian Tree Sparrow, European Goldfinch and Common Reed Bunting. Western Osprey are likely to be seen fishing and in good weather there may come opportunities to scan over forests and clearings for raptors such as European Honey Buzzard, Northern Goshawk, Red Kite, Eurasian Sparrowhawk and Common Kestrel.
Day 10: Thurs 23 June Cairngorm Mountain
We spend a full day on the Cairngorm plateau, with unforgettable mountain scenery all around as we head to the right spots for Rock Ptarmigan and Eurasian Dotterel. Our record in June is very good, we carefully choose the best day for your comfort and safety, also taking care not to disturb the birds. Mountain Hares may leap out as we walk, and we look (and listen) out for Snow Bunting, breeding Northern Wheatear, Ring Ouzel and Red Grouse as we enjoy a brilliant day's birding in a very special habitat.
Day 11: Fri 24 June The Black Isle
Our focus today is on Western Palearctic birds not found in the Americas, and this extra day allows us to collect a few species not usually regarded as targets by UK-based visitors to Scotland. Today we round-up birds inland, perhaps including Wood Warbler, European Pied Flycatcher, Common Redstart, Tree Pipit and both Willow Warbler and Common Chiffchaff. There is an opportunity to revisit our private estate for Western Capercaillie, if we didn't find the birds earlier. We also visit the Black Isle to add waders, wildfowl, farmland birds and more, round up any species we have missed and search for any rarities within reach. We will also visit the Red Kite feeding station near the Black Isle, subject to availability.
Day 12: Sat 25 June Departure
Breakfast and departure. We transfer you to either Aviemore for transport links.
Please note: all itineraries are given as a guide only. Actual holiday content may vary according to the judgement of your guide, and elements beyond our control (eg weather).
What's included in your holiday price
Comfortable, en suite accommodation at an Inverness hotel for the first night.
Three nights comfortable accommodation on North Uist, followed by seven nights accommodation at The Mountview Hotel, Visit Scotland rated 3 Star. All rooms are en-suite, with TV and hospitality tray. Single guests might be upgraded to double room accommodation at no extra charge. Both of these hotels are superbly placed to explore the wildlife of the respective area.
Full Scottish breakfast, a substantial packed lunch, and a delicious dinner daily.
ten full days wildlife watching.
All transport by comfortable minibus. All access and ferry fees.
Guidance from a professional Group Leader.
Courtesy drop-off service to either Inverness or Aviemore at the end of the holiday.
A detailed checklist specifically prepared for your holiday to record your sightings.
Free! Collins Bird Guide to the Birds of Britain and Europe by Lars Sevensson, Killian Mullarney, Dan Zetterstrom et al is included in your holiday price. This is the essential companion to any birding tour of the UK! One copy per room booked.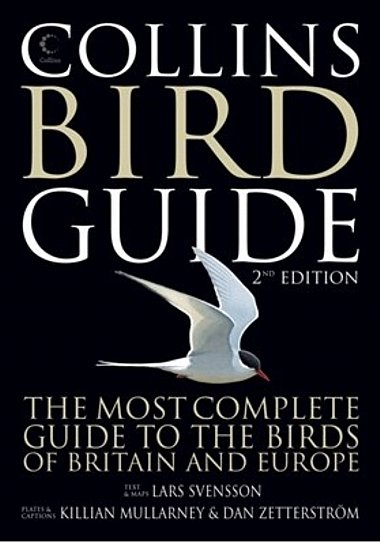 What's not included in your holiday price
Transfer to Inverness hotel. Meals on Day 1.
Insurance, drinks and other items of a personal nature.
More holiday information
Accommodation at Mountview Hotel is en suite. Details can be found here.
Food There is a choice of evening meal, and vegetarian, vegan and other diets are welcome. Breakfast may be chosen from a full Scottish menu. You don't need flasks for hot drinks.
Walking will be moderate, roughly 1-3 miles per day mainly on good tracks. Walking on Cairngorm Mountain day will be strenuous, including uneven terrain and steep paths. All walks are optional, and you may opt-out of Cairngorm walking should you wish.
Weather Expect a wide variation in weather conditions. Blazing sunshine and rain are equally likely, and you will probably experience a bit of everything. Bring waterproofs, walking boots or shoes and warm clothing including hat and gloves.
Biting insects may be encountered in the evenings or around standing water. A good repellent is advised.
Group size maximum 7 clients per guide.
Optics Telescopes will be useful, and you should bring binoculars. Your guide will have a telescope for shared use by the group. A camera would be useful too!
Why choose Heatherlea for your Scottish birding holiday?
Heatherlea is THE place for top quality birding holidays in Scotland, chosen by more and more birders each year. Stay in our own three star Small Hotel, and enjoy first-rate birding with Scotland's best guiding team. Relax and enjoy yourself, as we do all the planning! Above all, we make it our business to show key wildlife to you. Our fully inclusive guided holidays concentrate on the real experience, and we take time to ensure that each of our guests enjoys everything we do.
We have been organising birding and wildlife holidays for 30 seasons, and have a highly experienced and capable office team. We also offer a telephone and email service outside normal office hours.
Our 'Mainland Scotland' holidays based at Mountview Hotel have a maximum ratio of 7 clients per guide, putting the emphasis on personal service, and helping you get the best possible experience.
We are a small company, run BY birders FOR birders. Come and see!
Heatherlea are Mainland Scotland's FIRST '5-Star Wildlife Experience!' This is the highest available grading, classified as 'exceptional' by visitScotland.
There is no single supplement. Single guests are never expected or invited to share.
Our holidays often include things which others might invite you to pay yourself, for instance loan of Swarovski binoculars, packed lunch and tips to hotels.
We offer a courtesy transfer between our Hotel and Aviemore rail/bus links on Saturdays.
Heatherlea hold full Tour Operator Insurance for your added protection.
Heatherlea is a limited company, registered in Scotland. We are also registered to pay VAT, which is included in your holiday price as quoted on this page.
Once your holiday is confirmed in writing by us, we promise not to surcharge the price for any reason.
Enjoy an excellent birding and wildlife holiday with Heatherlea.
Mainland Scotland's FIRST '5-Star Wildlife Experience!'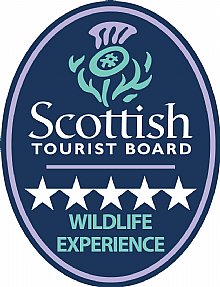 'Exceptional'
Visit Scotland