NEW! Heatherlea Pre-flight Service
WITH HEATHERLEA, YOU'RE A VIP!

Where Heatherlea overseas holidays include flights as part of your package, we also include a complimentary airport hotel and lounge. To benefit, book your next holiday with Heatherlea, the wildlife operator who gives you more!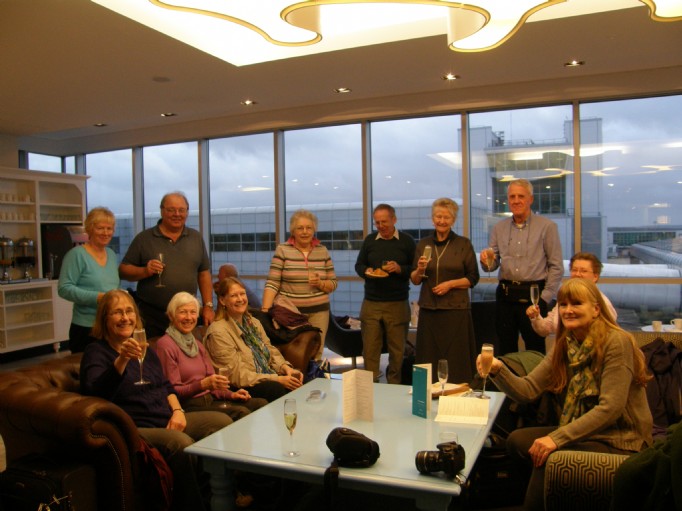 Heatherlea Group relaxing before our 'Lynx and Birding' holiday in Spain, January 2014

Many of us enjoy birding and wildlife holidays overseas, but the organisation of pre-flight details can be time-consuming and frustrating. The Heatherlea Pre-flight Service offers everything you need, so let us take the strain! Our friendly, knowledgeable team will advise, so please call Emma, Fleur, Victoria or Kevin.
PRE-FLIGHT HOTEL
Heatherlea select your complimentary hotel from our approved shortlist. All offer a good standard of accommodation, with evening meals and readily available car parking and transfers to the airport terminal. Arrangements are confirmed in your Final Information Pack, issued prior to departure. If travelling with you, your Heatherlea Guide will probably be staying in the same hotel, and may be able to join you for an informal chat the night before travel.

If you don't need an airport hotel before you fly, please contact us before your balance due date, and a reduction will be made from your balance payable. On some holidays, where we fly late in the afternoon or evening, you can take your complimentary hotel stay on the return leg of your holiday.
If you wish to stay at a specific airport hotel, please inform us before your balance due date, and a reduction will be made from your final payment. You will at this point be able to make your own booking of and payment for hotel services.
PRE-FLIGHT AIRPORT LOUNGE
We include a VIP Airport Lounge in your holiday price because we want you to unwind before you fly. A busy airport terminal is hardly the ideal place to relax! By the time you've bought food, drinks, newspapers and a magazine to pass the time, terminals can prove expensive too. Why not prefer the comfort and choice of an Airport Lounge? You can relax and spread out for up to three hours before you fly.
Most of our Lounges offer unlimited free drinks and snacks, complimentary magazines and newspapers, WIFI, TV and comfortable seating amid quiet surroundings. Your Heatherlea guide may be there for a chat after everyone has checked-in, and you can get to know your fellow travellers or just sink into a comfortable armchair – the choice and comfort are yours!

FAST TRACK THROUGH SECURITY!
Many of our holidays include a 'Fast Track' pass through security into the departure area, enabling you to reach your VIP Lounge quickly and smoothly.

We will confirm arrangements for your airport lounge, together with admission tickets, in your FINAL INFORMATION PACK. If our point of departure does not offer airport lounge services, all participants will be credited with an appropriate amount from the holiday balance payable.
Kevin says; 'I checked out the lounge facilities at Gatwick, where I could get a drink, snacks, hot food and internet access. The Lounge was spacious and comfortable, with a choice of seating areas and things to do including TV, newspapers, a cinema and a separate area for children, which kept them away from the quiet areas. There were even beauty salon treatments available for an extra charge, ideal if you want to prepare for a long flight with a massage, manicure or facial. All the staff were friendly and very well trained, the bathroom facilities were excellent, I felt relaxed and enjoyed my visit very much. I immediately decided that Heatherlea would add this service to our holidays!'
If you've never used an airport lounge before, you don't know what you're missing – the only concern is you might get too comfortable and forget to catch your flight!

ONLINE CHECK-IN AND BOARDING PASSES
Did you know some airlines no longer provide check-in facilities at the airport, and require you to check-in online and print your own boarding pass? If you don't do this, some airlines now charge extra when you reach their desk at the airport. Where there is no airport check-in facility, Heatherlea will do this for you online, and include your boarding pass inside your Final Information Pack so you don't have to worry.
ADDITIONAL SERVICES
Should you wish anything else as part of your Heatherlea Pre-flight Service, we will be very pleased to help. It is important to remember that extra services (eg car parking) become more expensive as your departure date approaches, so we strongly suggest you contact us before your final balance payment is due should you require us to organise any additional service.
BAGGAGE ALLOWANCE
All our overseas tours include a minimum hold baggage allowance of 20kg. Additional baggage can be booked for you on request - please contact us for further details.
.................................................
AIRPORT PARKING
Driving to the airport? Book secure car parking with us to save time and money; we offer trusted and good value airport parking services.

Staying the night before?
If you are staying overnight pre-flight, parking can be arranged either at your hotel or at a nearby long-stay car park, we will be pleased to discuss the options with you. Have a leisurely journey to the hotel and enjoy a good night's sleep, in the knowledge that your vehicle is secure.

Driving to the airport on the day of your flight?
If driving to the airport on the day of departure, we can arrange a secure car park close to the airport, with transfers to and from the terminal. Your car will be safe while you relax on holiday.
For extra convenience, you might consider one of these options;
Valet parking: Drive to a dedicated arrivals/departures area. When you arrive, your car will be parked for you, while you transfer to the airport. When you return to the car park, your vehicle will be waiting.
Meet and greet parking: No need to park your car! Simply drive to the terminal, meet your driver, and he/she will park it for you. On your return, make a call when you are ready to leave, and your car will be waiting outside the terminal, so you can be on your way quickly.

REGIONAL DEPARTURES/CONNECTIONS
Prefer to fly from your local airport? Some of our holidays depart from regional airports, and on others you can often join the rest of the holiday group in your destination country rather than in London. We are happy to arrange regional departures for any of our holidays, and will tailor flight options to your requirements.
FLIGHT UPGRADES
Fancy some extra legroom or a reclining seat? On a long flight you might like a lie-flat bed, or perhaps personal service including complimentary drinks and meals? Seat and special meal requests are all part of our service. Heatherlea can offer great deals for Premium Economy and Business Class passengers with many airlines, all bookable instantly over the phone.
TAILOR MADE EXTENSIONS
Many of you plan other activity before or after your wildlife holiday, so why not let us arrange travel services for you? It's quicker and easier than doing it yourself, and you will benefit from ATOL protection. Heatherlea can arrange extensions to all our overseas tours, including flights, hotels and transfers - let us know your requirements and we will do the rest!
QUALITY ASSURANCE – WHY CHOOSE HEATHERLEA?
Heatherlea have been organising holidays for over 24 years, and we have a highly experienced and capable team. All elements of our package holidays are sold under our ATOL licence (ATOL 6113), and our business partners include British Airways, Delta Airlines, Premier Inn and Hilton Hotels. Our specialist knowledge will help you get exactly the right services, at the best price. We offer all your airport needs with just one call, so to save time and money choose Heatherlea, your complete holiday provider.

HERE'S HOW IT WORKS!
The Heatherlea Pre-flight Service is designed to match your holiday needs as comprehensively as possible. We want everything to be smooth and easy for you, and all arrangements are made well in advance to give you maximum flexibility. This is a very personal service which breaks into several clear steps to make things as simple as possible.
STEP ONE
When you decide to book your holiday, call us to pay the appropriate deposit. We will then double check availability of all services, and make reservations on your behalf. We then issue holiday documentation, which includes;
* a BOOKING LETTER
- tell you when we will issue your Final Information pack.

* your HOLIDAY CONFIRMATION and INVOICE.
This will confirm;
- the total price of your holiday
- the amount of deposit paid
- the balance payable and due date
- detail of any extra services you might have booked
* An ATOL CERTIFICATE relating to your holiday booking.
* An OVERSEAS BOOKING FORM so you can;
- provide essential personal details and passport information.
- reserve your airport pre-flight hotel, decline this service (and receive a reduction in the balance due), or defer this decision until later.
- identify any additional services (such as car parking, seat upgrades) which you might wish for us to organise. You may defer this decision till later, though the earlier you order these services, the cheaper they are likely to be.

* Comprehensive 'TRIP NOTES' containing a great deal of information including what to pack, and accommodation details.

* An 'EXTRA PACK' containing a full itinerary, recent Trip Report and Bird/Wildlife Checklist for your holiday.

* A copy of our Terms and Conditions, both for holidays and for Pre-flight Services.
Within seven days of paying your deposit, you will be very well informed, and Heatherlea will be working hard to make arrangements to suit your personal requirements. We have extensive contacts at airports, with hotels and airlines, and work hard to give you the best available options.
STEP TWO
While you are looking forward to your holiday, we will be busy organizing flights and other services on your behalf. About 14 weeks before your holiday begins, we will contact you by email or telephone. This will be your final opportunity to confirm whether you want the pre-flight hotel, and to ask Heatherlea to book car parking, seat upgrades or anything else you might wish.
Should your final balance payment be different from the original amount, we will re-invoice you for payment on the original due date, which will be approx. 12 weeks before your holiday.
STEP THREE
After your balance payment has been made, you will be issued with a FINAL INFORMATION PACK which will give you everything else you need. This will normally be issued four weeks before the holiday. This pack will contain;
* Final Notes.
* printed bird checklist for use on the holiday.
* your field guide (on those holidays where included).
* pre-flight hotel/lounge vouchers
NO ADMIN FEES – THIS IS A FREE SERVICE FROM HEATHERLEA!
Book your holiday NOW !
..............
All flights and flight-inclusive holidays on this website are financially protected by the ATOL scheme. When you pay you will be supplied with an ATOL Certificate. Please check to ensure that everything you booked (flights, hotels and other services) is listed on this Certificate.

Please see our booking conditions for further information or for more information about financial protection and the ATOL Certificate go to: www.atol.org.uk/ATOLCertificate.
* A credit of £40 is available per holiday room booked. This means that two passengers sharing a room on the holiday will be credited with a total of £40. Each passenger in a single room will be credited with £40. This reflects the booking system at major airports, where charges are made per room, not per occupant.

NB This FREE airport hotel offer does not include breakfast, dinner or other hotel services, nor does it include transfers between your hotel and the airport or car parking. Offer does not apply where flights are not part of the holiday, or where we offer a price for voyage only. Please remember that you are responsible for your arrival at the airport in good time, and you should check transfer arrangements from the hotel on arrival.

DISCLAIMER
Please note that while airport hotel and lounge services are booked for you in good faith, Heatherlea can make no guarantee of any services beyond our control. If you prefer to make your own arrangements, Heatherlea will offer credit subject to the conditions above, but will not be liable for any other refund or compensation. If you have dietary, access or other needs relating to these services, or have any other concern, we recommend you make arrangements in person.
......................................................................................
NEW! With HEATHERLEA, the Birdbook is FREE!

Our unique Pre-flight Service offers you more, and for many destinations the leading bird book relevant to the holiday is included in your holiday price. With most of our holidays in the 'Americas' and 'Rest of the world' sections of our website, we include one copy of a field guide with each room booked. With some titles costing around £40, this is another benefit from Heatherlea which saves you money!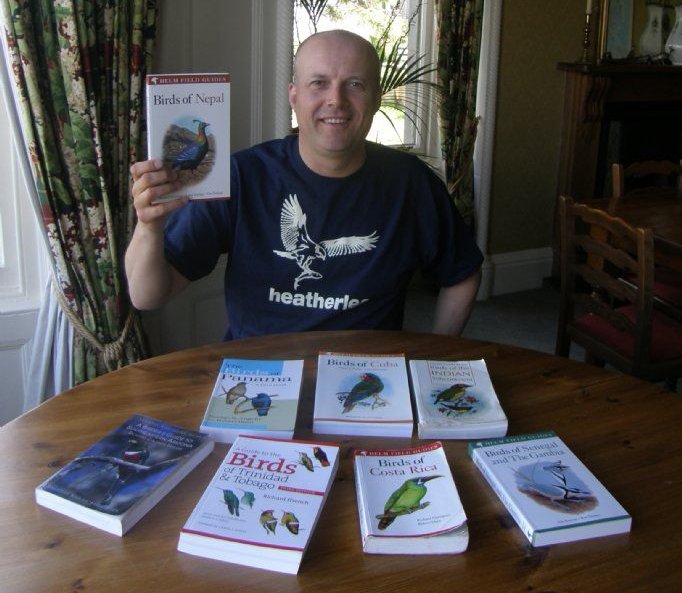 Heatherlea Guide Pete Cosgrove has reviewed all the bird books for our holidays, and recommends the most appropriate for your choice.