Panama
Brilliant birding across Panama - a relaxing tour with Paco Madrigal
More Info

Heatherlea Guide Paco Madrigal plus Kevin Shaw with more than seven clients.
Max group size 12.
Departures from London Heathrow or Manchester - other regional departures may be available.
Your Pre-flight airport hotel and lounge are FREE!
Panama is one of the world's premier neo-tropical birding destinations. There are over 970 birds, of which 107 are endemic or near endemic, and more than 100 South American species which come no further north than Panama. The rich variety of habitat includes wetlands, Pacific lowland rainforest and transitional-dry forest, Caribbean lowland Rainforest, and Pre-montane forest at higher elevations. The Panama Canal Watershed alone, located in the centre of the country, is home to 650 species, and includes Chagres National Park and Soberania National Park, two of the prime birding areas.
Due to its privileged topography and geographical layout, Panama offers fabulous, easily accessible birding, and we won't have to travel far to see an enormous diversity. Most of the best areas are within one hour of Panama City, making for wonderfully comfortable birding days, and our holiday will be relaxed and non-intensive.

We visit key hotspots including the famous Discovery Center's Canopy Observation Tower (the views of the vast forest from the Tower are spectacular, as is the outstanding birding!), Pipeline Road, Plantation Road, Summit Ponds, Old Gamboa Road, Semaphore Hill, Ammo Dump, Achiote Road, and Metropolitan Park, all a short distance from Panama City. We visit the misty cloud forests of El Valle de Anton to find some great specialities, and a feature of the holiday will be our day at the world-famous Panama Canal where we enjoy great birding, and a boat trip on the Canal, Chagres River and Gatun Lake. We also visit the Cerro Jefe/Cerro Azul region and travel to Eastern Panama to seek Darien and South American specialities. There are just two centres on this holiday. We stay in a high quality modern hotel for the first nine days, then transfer to the Anton Valley area for four nights, before returning to our original base on the final night. You should expect 2-3 miles walking per day.

Those of you who have travelled with Heatherlea to Costa Rica will already know the rich variety of birds available in Central America. In Panama you will be able to add many species we don't usually see in Costa Rica, just a few of which include Blue Cotinga, Violet-bellied Hummingbird, Sapphire-throated Hummingbird, White-vented Plumeleteer, Black Throated Mango, Snowy-bellied Hummingbird, Long-billed Starthroat, Rufous-crested Coquette, Red-capped, Blue-crowned, Lance-tailed and Golden-collared Manakin, Marbled Wood-Quail, Ocellated, Spotted, Jet, and Bare-crowned Antbird, Rosy Thrush-Tanager, Tawny-crested, Dusky-faced, Yellow-rumped, Flame-rumped and Crimson-backed Tanager, Capped Heron, Black-chested Jay, Orange-bellied Trogon, Rusty Margined Flycatcher, Barred Forest Falcon, Blue Seeder, Blue-throated Toucanet, Saffron Finch, Lesser Yellow-headed Vulture, Savannah Hawk, and if we are lucky Harpy Eagle. There are many, many more! There are also lots of mammals here, including Capybara, two sloth species, Coatimundi, and several monkey species.

We have organised this trip to take place in November to connect with a flurry of resident Panamanian birds preparing for the breeding season, and are also likely to see a great number of raptors, shorebirds, North American warblers, and other migrants. November is the end of the green season, so the landscape should be verdant, with lots of fruiting and flowering trees and plants.
Top Central American Guide Paco Madrigal!
We are delighted to announce that this holiday will be led by top Central American guide Paco Madrigal. Heatherlea have been asking Paco to spread his wings from native Costa Rica for some time, and those of you who have travelled with Paco will know that his trips are very well organised.
Outline Itinerary
Enjoy your complimentary pre-flight overnight hotel before your holiday begins. Full details from our office!
Day 1: Monday 31 October Arrive Panama City
Relax in our complimentary airport lounge before flying to Tocumen International airport, where we will be warmly welcomed by Paco and escorted to our hotel. We stay in a comfortable, international style hotel, centrally located for our birding adventures, for the next nine nights.

Days 2 and 3: Tuesday 1 & Wednesday 2 November
Pipeline Road, Panama Rainforest Discovery Center and Observation Tower
We spend two full days exploring Pipeline Road and the surrounding areas. This is a hotspot of Panamanian birding where we can see an impressive variety of forest birds over a 17k stretch of road. Pipeline Road runs through the famous Soberania National Park where we have the opportunity to explore deeper into the forest on several side-trails. Some of the highlights of this area include Olivaceous Flatbill, Black-tailed Trogon, White-tailed Trogon, Crimson Crested Woodpecker, Western Slaty Antshrike, Checker-throated Antwren, Bicolored Antbird, Red capped Manakin, Blue crowned Manakin and of course we also hope to find rarities including as Rufous-vented Ground Cuckoo, Pheasant Cuckoo and Great Jacamar to mention a few. There's no shortage of raptors here! We will be looking for all three species of Forest Falcon, Great Black Hawk, White Hawk, Barred Hawk, Plumbeous Hawk and if we are lucky maybe even see Harpy Eagle.

One day we visit the Panama Rainforest Discovery Center from Pipeline Road. We will enjoy the unique above-canopy vantage point by climbing the 32- meter tall Observation Tower. Views of the vast forest from the tower are simply spectacular; from this vantage point you can see ships on the Panama Canal, the majestic Centennial Bridge, and miles of rainforest! From here, you get a unique eye-level perspective of the rainforest canopy. Many birds, including toucans, parrots, tanagers of various types, hawks and more are seen. The hummingbird feeders at the base of the Tower are good for Long-billed Hermit, White-Necked Jacobin, Violet-bellied & Blue-chested Hummingbirds and White-vented Plumeleteer. Occasionally, a Snowy-bellied Hummingbird is spotted! We will be looking out for Black Breasted Puffbird, Pied Puffbird, Great Black Hawk and the special of the day, Blue Cotinga.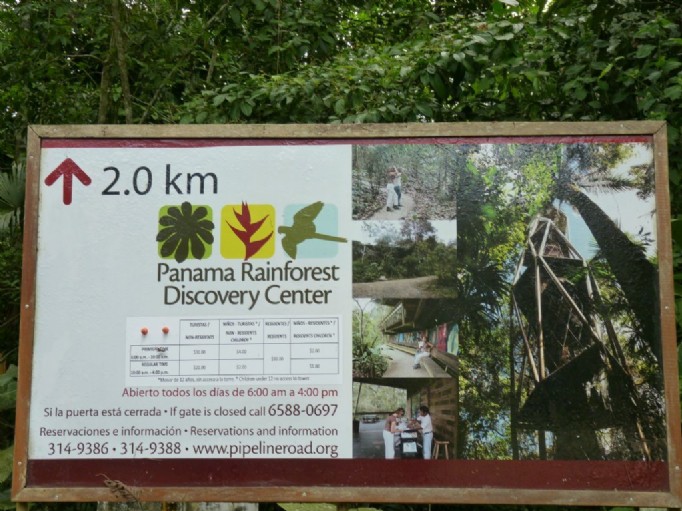 Day 4: Thursday 3 November Semaphore Hill & Ammo Dump.
Semaphore Hill is a jungle-lined road winding down another nearby section of the Soberania National Park. In this habitat we look for more forest birds including Slaty Antwren, White-flanked Anwren, Fasciated Antshrike, Marbled Wood-Quail, Great Tinamou, Rufous Motmot and many others. This is a great place to look for antbirds as army ant swarms are a common occurrence, and gorgeous Ocellated Antbird, Spotted Antbird and Bicolored Antbird follow the ants. There are lots of mammals here and in the surrounding Central Panama region, including Brown-throated Three-toed Sloth, Hoffman's Two-toed Sloth, Coatimundi, Mantled Howler Monkey, White-faced Capuchin, Geoffroy's Tamarin, Capybara, Kinkajou, and Northern Tamandua.

Later in the day we visit the pond at Ammo Dump, a fantastic spot to see water birds. A few of our targets will be Least Grebe, Purple Gallinule, Common Moorhen, Striated Heron, and hard-to-find Capped Heron. This is also the best place to find the White-throated Crake. Least Bittern, Rufescent Tiger-Heron and American Pygmy Kingfisher are also resident. Here we should also find Olivaceous Piculet, Yellow-tailed Oriole, Southern Lapwing, Yellow-crowned Tyrannulet, Scrub Greenlet and Panama, Social & Rusty-margined Flycatchers, among others, in the surrounding trees & marshy fields. Hook-billed & Snail Kites, Collared Forest-Falcon, Yellow-headed Caracara, Zone-tailed & Short-tailed Hawks are here sometimes too!
Day 5: Friday 4 November Plantation Road, Summit Ponds and Old Gamboa Road.
Today we explore another incredible section of the Canal Corridor region. A mix of secondary forest, open areas, gardens, and patches of dry forest, scrub, grasslands, river banks and natural ponds provide for a great day of birding. Plantation Road runs through an old growth forest and areas of secondary forest on the north side of the Continental divide. Much of the forest here is tall and has very little forest undergrowth, making spotting forest floor species like tinamous and leaftossers unusually easy. Here we hope to see Southern Bentbill, Golden-crowned Spadebill, Slaty-tailed Trogon, Blue-crowned Motmot, Buff-rumped warbler, White-breasted Wood-wrens, a variety of antbirds, Gray-headed Tanagers, and woodpeckers (including Plain-Brown and Northern-barred) among many others.

Next we head to Summit Ponds and finally Old Gamboa Road. As well as nesting Boat-billed Herons, we will be keeping a look out for Striated Heron, Green Heron and possibly Capped Herons, as well as Wattled Jacana. This is also a great place to see Kingfishers…all six species belonging to the Americas have been seen here. We will finish off our rewarding day along a true hot spot, Old Gamboa Road. The diversity of habitats featured here yield an incredible variety of birdlife including Jet Antbird, Great Antshrike, Rosy Thrush-Tanager, Lance-tailed & Golden-collared Manakins, Black-tailed & Royal Flycatchers, Lesser and Great Kiskadee, Buff breasted Wren and Rusty Margined Flycatcher. We will return to our hotel for a wonderful meal, go over the daily check-list and enjoy a well-deserved rest with the promise of another great birding day to follow.
Day 6: Saturday 5 November Achiote Road/Fort Lorenzo
This is one of the best spots for Caribbean slope birding within the Canal Zone, located around two hours from our hotel. Achiote Road runs along the southern region of the Fort San Lorenzo National Park, which protects nearly 12,000 Hectares of forests, wetlands, mangroves and open areas. The famous Christmas Bird Count organized by the Panama Audubon Society which registered 342 species during 24 hours, took place on Achiote Road. This is the best place to see Blue Cotinga! Other regulars to the area include Black-throated & White-tailed Trogons, White Hawk, Spot-crowned Barbet, White-winged & Cinnamon Becards, Pacific Antwren, Black-throated Mango, Montezuma & Crested Oropendolas, Bare-crowned & Bicolored Antbirds, White-headed & Song Wrens, Red-breasted Blackbird, Yellow-rumped Tanager and Black-breasted & Pied Puffbirds. We may even find Saffron Finch around the Fort and lekking Golden-collared Manakin to top off a wonderful day of birding!
Days 7: Sunday 6 November Metropolitan Nature Park
Today, right after breakfast, we visit Metropolitan Park. Despite its location right inside the city, this incredible city park offers an amazing variety of birds and other animals. The forests here are considerably drier than the habitats we have seen thus far, providing a new array of species. A few common species in the area are Lance-tailed Manakin, White-bellied Antbird, Western Slaty Antshrike, Forest Elaenia, Southern Bentbill, Rosy Thrush-Tanager, Short-tailed Swift, Yellow-crowned Amazon, Common Potoo and Yellow-rumped Cacique. We also look for Rufous-brested and Rufous-and-white Wren, Cocoa and Olivaceous Woodcreeper, White-necked Puffbird, Crimson-backed Tanager, Golden-fronted Greenlet, Lineated Woodpecker, Southern Beardless Tyrannulet, and the harder to find endemic Yellow-green Tyrannulet. This is also a great place to see mammals, including Coatimundi, Three-toed Sloth, Three-toed Sloth, and Geoffrey's Tamarin.

Day 8: Monday 7 November Cerro Azul & Cerro Jefe (around 1.5 hour from hotel)
After breakfast we travel up to the cool foothills of Cerro Azul (2500 ft in elevation) and Cerro Jefe (3,300 ft in elevation) where we will be dazzled by an array of magnificent birds including Emerald, Speckled, Rufous-winged, Golden-hooded, Sivler-throated, Bay headed, Hepatic, Olive and Black-and-yellow Tanager. This is part of the most important protected area vital to the health of the Panama Canal watershed, preserved within the Chagres National Park. A few other target species include majestic Ornate Hawk-Eagle, Spot-crowned Barbet, Scale-crested Pygmy-Tyrant, and endemic Stripe-cheeked Woodpecker and if we are really lucky near-endemic Tacarcuna Bush-tanager.
Days 9: Tuesday 8 November Panama Canal & Gatun Lake by Boat
Today we will have the opportunity to experience the world-famous Panama Canal and see the enormous ships going by. There is also great birding to be done here! We will take a boat trip on the Canal itself, Chagres River and on Gatun Lake. The highlights of the day include Snail Kites usually in great numbers, Cocoi and Tiger Herons, Wattled Jacana, Greater Ani, Lesser Kiskadee and Panama Flycatcher.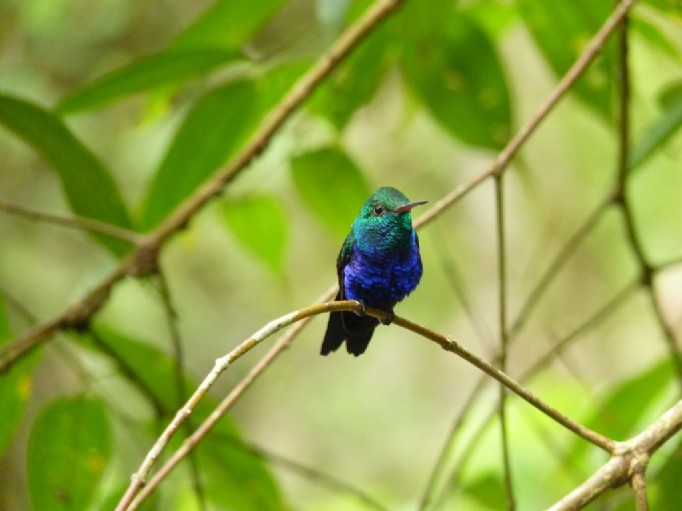 Day 10: Wednesday 9 November Valle de Anton
We journey two hours from Panama City up into cloud forest country. We will enjoy cooler temperatures and stunning misty mountain vistas. This new region and habitat will bring a flurry of new birds, including a slew of unabashedly colorful birds.... Flame-rumped Tanager, Crimson-backed Tanager, Blue-gray Tanager, Red-crowned Ant-tanager, White-lined Tanager, as well as the more modest Dusky-faced & Plain-colored Tanagers. A few other highlights of this area are White-tipped Sicklebill, Black-chested Jay, Snowy-bellied Hummingbird, Rufous-capped Warbler, Thick-billed Euphonia, Chestnut-headed Oropendola and if we are lucky Rufous-crested Coquette. We arrive in the afternoon, birding along the way. After settling in to our lodge, we will have time to explore the surrounding areas of this quaint mountain village where the easy-access birding right along the road will delight you. We stay here for four nights, and you should sleep well in this cool climate.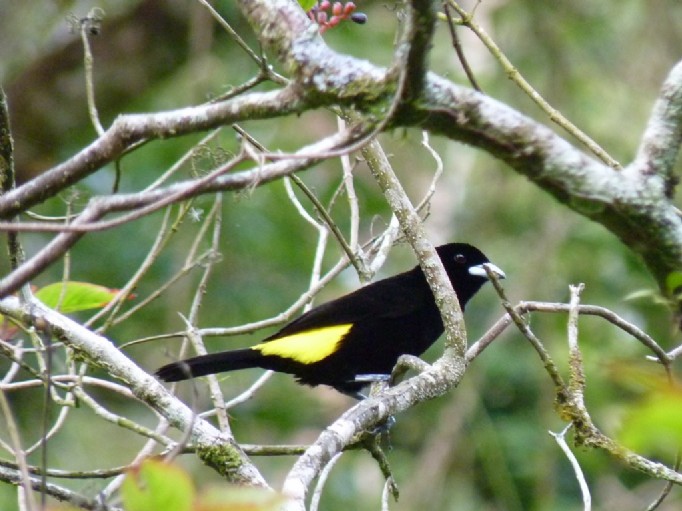 Days 11: Thursday 10 November Valley Anton Area Birding, Macho Falls
We spend the day exploring the exuberant forests of the Macho Falls area. This is an incredible birding spot. We hope to be dazzled by Black-chested Jay, Red-crowned Ant-Tanager, White-throated Robin and if we are lucky Rufous-vented Ground Cuckoo. We will also be looking for Tody Motmot, White-tipped Sicklebill, Pale-eyed Pygmy-tyrant, and Sepia-capped Flycatcher. Besides the incredible birding, the forests are simply breath-taking.
Days 12: Friday 11 November Cerro Gaital & Mesa Road
In the morning we will venture further up the mountain to Cerro Gaital where we will look out for Shiny Cowbird, Southern Lapwing, Streaked Saltator, and even further up Blue-throated Toucanet, Black Guan, and Orange-bellied Trogon. And let's not forget the raptors! Black Hawk-Eagle, Barred Hawk, Gray hawk, Swallow- tailed Kite, Barred Forest Falcon, Bat Falcon, and maybe even Black and White Hawk Eagle, all of which inhabit the area.

We spend a good portion of the day along Mesa Road which offers a wonderful mix of habitats, including pasture, secondary forests, and semi-open areas. Some of the highlights we will be looking for today include rare Blue Seeder, Bran-colored Flycatcher, Tawny-faced Antwren, Tawny-crested Tanager, White-thighed Swallow, Spot-crowned Antvireo, Rufous-crested Coquette, Spotted Woodcreeper and Orange-bellied Trogon among many others. We return to the lodge for dinner and to go over the checklist for the day.
Day 13: Saturday 12 November Anton Valley Area Birding
We will spend the day venturing out for a day trip in the area. Depending on weather conditions, today could include a visit to the highlands of Altos de Maria, or a few of the many great birding trails close to our lodge, traversing Caribbean slope and Tropical dryforest coastal habitats for shorebirds. It promises to be an amazing day of birding where we will pick up plenty of new species. A few of our targets include White-bellied Antbird, Yellow-backed Oriole, Panama Flycatcher, Long-billed Starthroat, Jet Antbird, Rufous-breasted Wren and Great Antshrike, among many others.
Day 14: Sunday 13 November Tropical Dryforests of Cocles Province
Today we return to the Gamboa region just outside Panama City. En route we will spend most of the day in the unique Tropical Dry forest of the Pacific coast lowlands. Here we plan to add a new medley of birds to our sightings, including rare endemic Veraguan Mango. Other spectacular inhabitants of the area are Lesser Yellow-headed Vulture, Savannah Hawk, Sapphire-throated Hummingbird, Blue Ground-Dove, and even Mouse-colored Tyrannulet and Lance-tailed Manakin. We sure to have memorable final day in Panama before returning to our hotel near Panama City.

Day 15: Monday 14 November Transfer to Tocumen International airport
Today we can enjoy a leisurely breakfast before packing for our journey home. We may enjoy a last birding walk close to the hotel, followed by lunch. Transfer to the airport for our overnight flight back to the UK. Arrive UK Tuesday 15 November.

More Holiday Information
Accommodation is in two comfortable hotels. All rooms en suite, and very comfortable to a good standard.
Food is usually served as a buffet, with a wide choice. Meals include natural fruit juices, sodas, wine at dinner time, and snacks and beverages during outings. Vegetarian and other diets are welcome.
Walking is generally light/moderate. There may be some uphill track and road walking, though generally an average level of fitness is required.
Weather will be mixed. Mostly the temperature will be warm, with the possibility of rain. In some locations the weather is hot and humid, in others hot and dry, and at altitude can be cool and wet.
Insects There are biting insects, though not usually as a major problem.
Group size is restricted to 12 clients maximum.
Flights are by scheduled airline, from either London Heathrow or Manchester. We may be able to offer flight arrangements from another airport and/or or quote without flights so you can make your own arrangements. If you wish to add an extension either before or after your holiday, please contact us and we will be happy to arrange this for you.


Your Leaders:
Paco Madrigal This is Paco's second Heatherlea tour in Panama, and we are fortunate to secure his services. Paco was raised in the lowland rain forest of Sarapiqui, Costa Rica, and has over 20 years experience guiding both bird watching and natural history tours throughout Costa Rica. As a child, the rain forest was his backyard playground. He learned about the diverse local plants and animals from his father who had learned from his father. Paco became the first resident naturalist guide at the nearby Selva Verde Lodge tropical reserve, and in 1989 was selected to participate in the first 4 month intensive training course for naturalist guides, sponsored by the World Wildlife Fund and the Organization for Tropical Studies.
Paco studied English and Ornithology at the University of Florida. Upon returning to Costa Rica, Paco worked for the renowned Organization for Tropical Studies (OTS) at La Selva Biological Station in Sarapiqui where he began to lead guided tours, and his personal enthusiasm to share his knowledge with visitors has led to a devoted following. We can tell you from first-hand experience that Paco is extremely capable with wildlife, organisation and people. This is an extremely enjoyable and smoothly-organised holiday.
Paco remarks, "There is no greater satisfaction than to witness the joy experienced by clients when they see a Sunbittern, a Three-wattled Bellbird, Tinamous, a Quetzal, a sloth, orchids in bloom or any of the wildlife on their wish list for the first time!"
Kevin Shaw is the joint founder of Heatherlea, with wife Caryl in 1991. This will be Kevin's first visit to Panama, though he has birded Costa Rica with Paco on four Heatherlea holidays, and also travelled many times to Trinidad and Tobago, where many of the same species are found.

What's included in your holiday price:
* scheduled return flights between London Heathrow (or Manchester) and Panama City, airport taxes,
* ground and boat transportation as outlined including all transportation in Panama in a modern and spacious air-conditioned vehicle,
* accommodation and all meals, including breakfast, lunch and dinner.
* the services of your leaders.
* entrance fees to parks and reserves, and tips to hotels and restaurants.
* departure taxes.
* The Heatherlea Pre-Flight Service offers everything you need at the airport, including hotels, car parking, airport lounges, regional flights, and upgrades. Let Heatherlea take the strain! Pre-flight airport hotel and lounge included free of charge subject to terms and conditions. Read more....
What's not included in your holiday price:
* personal insurance, drinks and other personal expenses, visa costs where necessary, optional tips to the driver and local guide, and any other costs not specified as 'included'.
WHY CHOOSE HEATHERLEA?
Our overseas holidays are planned with care to offer great birding and wildlife, led by capable Leaders who really look after you. Every holiday is run the 'Heatherlea Way', and we hope our Overseas Adventures remind you of the quality and care so many of you enjoy in Scotland. That means rewarding and exciting days in the field, and good quality accommodation and meals, with a real flavour of the country we are visiting. Heatherlea always seek to include the personal touches that make all the difference.
Heatherlea holidays are not 'dawn to dusk' expeditions. Our less-intensive approach is ideal for those who want to relax whilst experiencing the best wildlife watching, and wherever possible we organise early or late activity on an optional basis. We also take sensible breaks when in very hot places and regular comfort breaks on every holiday whenever possible. All itineraries are planned carefully around the best wildlife opportunities, and you won't miss out on memorable wildlife, whilst enjoying relaxed, informal days that are great fun.
The really important part of any wildlife holiday is the experience for you, our valued customer. Heatherlea invest in many things to offer you the best possible service;
* We have been organising birding and wildlife holidays for 25 seasons, and have a highly experienced and capable office team. We also offer a telephone and email service outside normal office hours.
* Heatherlea overseas holidays have a maximum of 12 clients per trip, putting the emphasis on personal service, and helping you get the best possible experience.
* Our holidays often include things which others might invite you to pay yourself, for instance Departure Taxes and tips to hotels.
* All elements of our holidays are sold under our own licence, ATOL 6113. Under 'Flight-Plus' legislation it is a legal requirement of any tour operator to hold an ATOL licence for the supply of any overseas holiday where a flight is involved, if that holiday includes either overseas accommodation and/or car hire. It can be a criminal offence for an operator to book flights as part of a package without an ATOL licence. Heatherlea also hold full Tour Operator Insurance for your added protection.
* Heatherlea is your complete wildlife holiday provider. Our 'Back Office' team can organise all your pre-flight and other travel needs. Our specialists will help you book the right services, at the best price. Book holiday extensions through us, and your ATOL protection is extended further. We don't charge extra for this service.
Please note: all itineraries are given as a guide only. Actual holiday content may vary according to the judgement of your guide, and elements beyond our control (eg weather).