NEW!

Antarctica including The Falklands and South Georgia
The ultimate Natural History cruise of the Southern Ocean
Antarctica is perhaps the ultimate destination for any traveller. An uninhabited continent of more than 12 million sq kms, this is the least known and least explored place on earth. Virtually the entire continent is south of the Antarctic Circle, and it forms the coldest, driest, highest and windiest land mass on our planet. With no permanent human residents, and no evidence of any pre-historic indigenous population, Antarctica is an unspoilt gem; a silent, frozen land under clear unpolluted skies. The inhospitable scenery has a grandeur unlike anywhere else; a stark, silent and frozen tableau of towering mountains, ice-bound headlands, vast panoramic landscapes and colossal icebergs. A wilderness which must be seen to be believed.
This new cruise takes in the very best history, culture and wildlife that the Southern Ocean has to offer, visiting the Falkland Islands, South Georgia, the South Shetland Islands, and South Orkney as well as witnessing the awe-inspiring surroundings of the Antarctic Peninsula.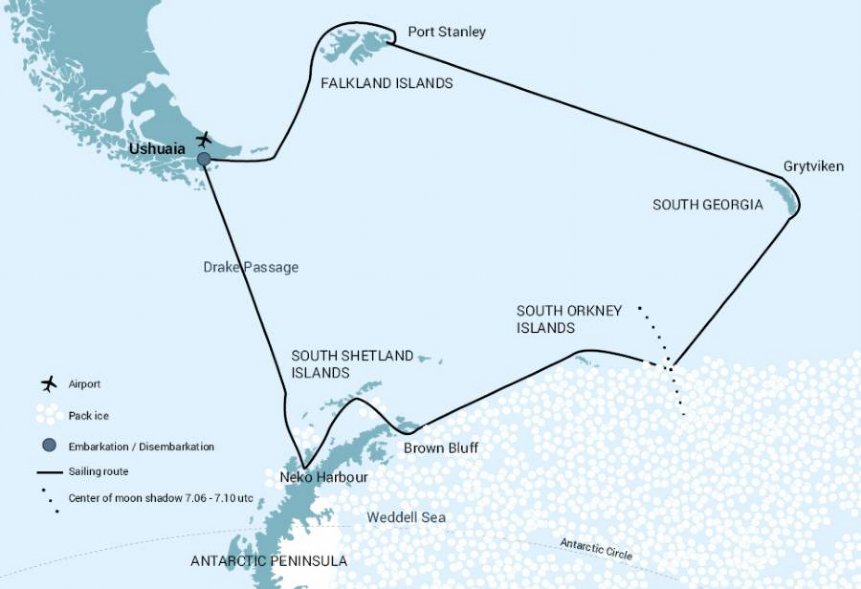 This cruise delivers you into a landscape of dark rugged rock, pure white snow, and a fantastic variety of wildlife, including six species of penguin! There will also be thousands of seals, whales, dolphins, and a huge number of oceanic and Antarctic seabirds with a stunning backdrop of icebergs, inhospitable mountains or beautifully-illuminated seascapes directly from an Attenborough documentary!
We cruise on the M/V Janssonius, an ice-strengthened vessel ideal for this voyage. Our friendly and experienced international expedition staff and crew will be anxious to share their knowledge and enthusiasm, as we navigate through pack-ice and narrow waterways. Our itinerary will be flexible, paying close attention to weather and ice, changing course and using inflatable zodiacs amongst the ice-floes, spending as much time ashore as possible.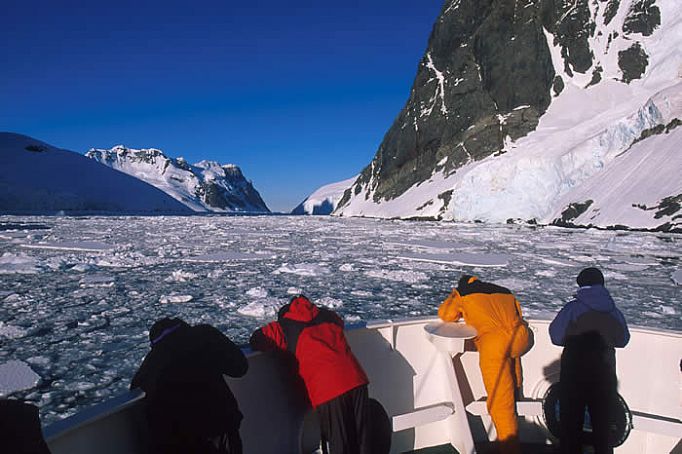 Enjoy your complimentary pre-flight overnight hotel before your holiday begins. Full details from our office! Read more about our Pre-flight Service here!
Day 1: Thu 9 November 2023 - Depart London Heathrow
After relaxing in our complimentary VIP Airport Lounge, we depart London Heathrow on an overnight flight to Buenos Aires, Argentina.
Day 2: Fri 10 November 2023 - Ushuaia
Arriving at Buenos Aires early-morning we transfer to our onward flight to Tierra del Fuego and specifically Ushuaia, the world's southernmost large settlement, found on the barren shores of the island of Tierra del Fuego.
On arrival we transfer to a comfortable hotel for 1-night. Depending on time of arrival, the afternoon is free to explore the town or begin birding. At the harbour front, and on nearby ponds you may see Kelp and Dolphin Gull, Upland and Kelp Goose, Fuegian Steamer Duck and South American Tern. Chimanga Caracara are overhead, and you may also see Southern Lapwing, Magellanic and Blackish Oystercatcher, Red Shoveler, Night Heron and Chilean Skua. The first Southern Giant Petrel and Great Grebe may be seen at sea, and landbirds include Austral Thrush, House Wren, Austral Negrito, Chilean Swallow, Black-chinned Siskin and Rufous-collared Sparrow.
Day 3: Sat 11 November 2023 – Farewell The End of The World!
We are scheduled to board MV Janssonius, our home for the next 18 nights, around mid-afternoon so we have the morning free to further explore Ushuaia. You may wish to take a trip into the nearby Tierra del Fuego National Park (not included in the tour price). In the afternoon, you embark from this small resort town on Tierra del Fuego, nicknamed "The End of the World," and sail the mountain-fringed Beagle Channel for the remainder of the evening.
Days 4: Sun 12 November 2023 – Life on the ocean waves
Today will be spent at sea as we start to learn the various seabirds and cetaceans of the Southern Ocean. There is rarely a dull moment on the decks as several bird species will follow us as we head southeast. We may see Wilson's Petrel, Sooty Shearwater, Great Shearwater, White-chinned Petrel, Slender-billed Prion, Northern and Southern Giant Petrels, and Wandering Albatross. Fin, Humpback and Sei Whales are also possible, along with a several dolphin species.
Day 5: Mon 13 November 2023 - The Falklands
The Falkland Islands remain largely unknown gems. The islands offer an abundance of wildlife that is easily approachable, with not only many species of bird, but chances are we'll see both Peale's Dolphin and Commerson's Dolphin in the surrounding waters. Birds may include 'Johnny Rook' – the very localised Striated Caracara, Falklands Steamer Duck, and several species of Antarctic Goose (including Upland, Ruddy-headed and Kelp Geese).

During our time in the area, we may visit the following sites:

Steeple Jason – Home to the world's largest Black-browed Albatross colony -totalling approximately 113,000 birds! Steeple Jason is a wild and rarely visited island buffeted by wind and waves. Weather and swell conditions will dictate whether we spend time here.

Carcass Island – Despite its name, this island is pleasantly rodent-free and hence abounds with birdlife. Anything from breeding Magellanic Penguin and Gentoo Penguin to numerous waders and passerines (including Cobb's Wren and Blackish Cinclodes (often called the Tussock Bird)) live here.

Saunders Island – On Saunders Island you can see the Black-browed Albatross and its sometimes-clumsy landings, along with breeding Imperial Shag and Rockhopper penguin. King, Magellanic and Gentoo Penguins are also found here, making it one of the greatest places on Earth to get to know your penguin species!
Day 6: Tue 14 November 2023 - Stanley
The capital of the Falklands and its cultural centre, Port Stanley has some Victorian-era charm: colourful houses, well-tended gardens, and English-style pubs are all to be found here. You can also see several century-old clipper ships nearby, silent witnesses to the hardships of 19th century sailors. The small but interesting museum is also worth a visit, covering the early days of settlement up to the 1982 Falklands War. Approximately 2,100 people live in Port Stanley.
Days 7 & 8: Wed 15 & Thu 16 November 2023 – Time to wrap up warm!
En route to South Georgia, we cross the Antarctic Convergence. This is where cold, northward-flowing Antarctic waters meet the relatively warmer waters of the sub-Antarctic, bringing nutrients to the surface of the sea. This phenomenon attracts a multitude of seabirds, including several species of albatross, shearwaters, petrels, prions, and skuas as well as Minke, Humpback and Fin Whales and Orca. The air temperature cools considerably within the space of a few hours, so don't forget to wear that extra layer as you enjoy the wealth of wildlife on show!
Days 9 - 12: Fri 17 – Mon 20 November 2023 - South Georgia
The disputed British Overseas Territory of South Georgia and the South Sandwich Islands is home to five million seals and 65 million seabirds, including the largest global populations of Light-mantled Sooty and Grey-headed Albatrosses, Northern Giant Petrel and White-chinned Petrel. This inhospitable, mountainous archipelago has played a major role in Antarctic exploration as well as being a haven for wildlife.

Weather and sea state will decide our itinerary whilst in South Georgia, but our visit may include:

Prion Island – This location is closed during the early part of the Wandering Albatross breeding season (November 20 – January 7), mainly to stop disturbance of breeding Fur Seals on the landing beach. The previous summer's albatross chicks are almost ready to fledge, and adults are seeking out their old partners after a year and a half at sea.

Salisbury Plain, St. Andrews Bay, Gold Harbour – These sites not only house the three largest King Penguin colonies in South Georgia, they're also three of the world's largest breeding beaches for Southern Elephant Seal. Only during this time of year do they peak in their breeding cycle. Watch the four-ton bulls keep a constant vigil (and occasionally engage in some bloody fighting) over territories where dozens of females have just given birth or are about to deliver their pups. There is also a substantial number of Antarctic Fur Seals here from late-November onwards.

Fortuna Bay – A beautiful outwash plain from Fortuna Glacier is home to a large number of King Penguin and seals. We may also have the chance to take a hike following the final leg of Shackleton's route to the abandoned whaling village of Stromness. The boggy path cuts across the mountain pass beyond Shackleton's Waterfall. Antarctic Tern, South Polar Skua can be seen in this area.
Grytviken – In this eerie, abandoned whaling station, King Penguins walk the streets and Elephant Seals lie around like they own the place – because they basically do! We may be able to see the South Georgia Museum, the famous church, the abandoned cinema, and the rest of the deserted village which used to be home to 500 inhabitants. We will also get to see Shackleton's grave, where he was laid to rest following his death in 1922.
Day 14: Tues 21 November 2023 - Southward bound
There may be icebergs and some sea ice on this section of our route, and at the edge of the ice some South Polar Skuas and Snow Petrels are likely to join the other seabirds trailing the vessel south.
Day 15: Wed 22 November 2023 - South Orkney
Today we shall witness the wild scenery of South Orkney. Depending on the weather conditions, we may visit Orcadas Base, an Argentine scientific station on Laurie Island in the South Orkney archipelago. The personnel here will happily show us around their facility, where we can enjoy expansive views of the surrounding glaciers. If a visit isn't possible, we may land at Signy Island – home to a research station run by the British Antarctic Survey which monitors Adélie, Chinstrap and Gentoo Penguins.
Day 16: Thu 23 November 2023 – Icebergs
Plentiful Fin Whale sightings ensure there's no time to rest on this last part of our southerly sea voyage. Our best chance of Antarctic Petrel is in this area too, as they swing past the boat with enormous icebergs as their dramatic backdrop.
Days 17 - 20: Fri 24 – Mon 27 November 2023 - Awe-inspiring Antarctica
If the ice conditions permit, we will enter the Weddell Sea. Colossal tabular icebergs herald our arrival to the eastern side of the Antarctic Peninsula. We may make several stops - Paulet Island, with its large population of Adélie Penguins; or Brown Bluff, located in the ice-clogged Antarctic Sound, where we may get the chance to set foot on the Antarctic Continent itself.

If conditions aren't favourable to enter the Weddell Sea from the east, the ship will set course for Elephant Island and head into the Bransfield Strait, between the South Shetland Islands and the Antarctic Peninsula.

The volcanic islands of the South Shetlands are windswept and often cloaked in mist, but they do offer subtle pleasures: There's a wide variety of flora (mosses, lichens, flowering grasses) and birds, including Gentoo and Chinstrap Penguins and Southern Giant Petrel. Around Half Moon Island, amongst the penguins, Weddell Seals often haul out onto the beach near Cámara Base, an Argentine scientific research station. On Deception Island, the ship plunges through Neptune's Bellows and into a flooded caldera. Here we find hot springs, an abandoned whaling station, and thousands of Cape Petrel, along with Kelp Gull, Brown Skua, and Antarctic Tern. A good hike is a possibility in this fascinating and desolate volcanic landscape. Wilson's and Black-bellied Storm Petrels also nest in the ruins of the whaling station in Whaler's Bay.

If weather allows, this cruise will give us the chance to sail even farther down the icy coast of the western Antarctic Peninsula. There are several opportunities for zodiac rides ashore, where we might set foot on the Antarctic Continent, surrounded by an epic landscape of alpine peaks and mammoth glaciers at sea level. Gentoo Penguin, Leopard and Weddell seals, Humpback and Minke Whales are all often seen here.
The breath-taking scenery continues in the Bransfield Strait and, if the ice accommodates, further south in the Gerlache Strait.
Weather, sea and ice conditions within the Drake Passage determine our time of departure back northwards.
Days 21 – 22: Tue 28 – Wed 29 November 2023 – All at sea
Our return voyage to mainland Argentina is far from lonely - while crossing the Drake Passage, we will re-acquaint ourselves with the vast array of seabirds that accompanied us on our passage south, except identification is easier, and spotting whales and other mammals is also easier! It's the last chance for some onboard photography as we traverse the waves of the mighty Southern Ocean for the last time.
Day 23: Thu 30 November 2023 – Terra Firma
In the morning, we arrive and disembark back in Ushuaia after a monumental journey across the far south of the world. From here, we take an afternoon flight to Buenos Aires. On arrival we will transfer to a comfortable hotel for the night.
Day 24: Fri 1 December 2023 - Flight back to London
We return to the airport for our overnight flight back to London.
Day 25: Sat 2 December 2023 - Arrive in London
We arrive in London in the morning.
Please note: all itineraries are given as a guide only. Actual holiday content may vary according to the judgement of your guide, and elements beyond our control (eg weather).
What's included in your holiday price:
full-board accommodation (as specified) during voyage. Includes breakfast, lunch, dinner and all excursions, talks and reports provided by Expedition Leaders.
return scheduled flight from London Heathrow - Buenos Aires - Ushuaia, airport taxes, baggage and hand luggage up to airline-included limit.
airport transfers in Ushuaia, ground transportation, accommodation and meals as specified.
the Heatherlea Pre-Flight Service offers you organisation of everything you need at the airport, and your holiday price includes pre-flight hotel and VIP Lounge. We also organise car parking, regional flights, and upgrades, which are chargeable.
the services of your Leaders.
What's not included in your holiday price:
holiday insurance, optional tips to ship's crew/other staff, drinks, and other personal expenses.
lunch in Ushuaia on Day 2 and Day 3.

More holiday information
Accommodation: is in comfortable cabins with en-suite facilities. See full details here. All hotel accommodation is included on the basis of shared rooms, please ask for detail of single supplement in Ushuaia.
Food: food on board is very good European cuisine, with a choice for all courses. Breakfast and lunch are usually an extensive buffet. There is a well stocked Bar run by the crew's Hotel staff, who are efficient, courteous and very helpful.
Mobility/Walking: is generally light/moderate, and an average level of fitness is required. There are no lifts on MV Jassonius, though if you are mobile enough to manage stairs, you should be able to enjoy all aspects of this holiday. Staff are patient and courteous, and assistance is provided at both ends of zodiac voyages, all of which are optional. Land conditions can be wet and slippery, with uphill and downhill gradients, though an option to engage in very little walking when ashore is usually available. When on land all participants will be under the management of the Expedition Leader and their team, and must take note of instructions which are there for your safety and benefit.
Weather: will be cold, though can be surprisingly warm and pleasant. we travel in late spring/early summer, though of course at this latitude bad weather is quite possible. Warm clothing is essential, though your large vessel offers more than adequate cover and heating. Daytime temperatures can be around 5 - 6'C .
Insects: biting insects are not expected, though there will be flies on the boggy landscape. Little other insect life is expected.
Group size: you will part of a ship's complement of approx 170 clients. There is no restriction to how many of these will be Heatherlea clients.
Flights: from London Heathrow are included. Local flights can be arranged from any airport linked to Heathrow. We will of course be happy to make personal arrangements for your convenience.
Photography: Opportunities are good to excellent, particularly for birdlife including Penguins, seals and above all scenery.
Your leaders: One from the Heatherlea Team with ten or more clients. The voyage will be under the supervision a resident on-board Expedition Leader, plus crew leaders of a very high standard.
Our Vessel - M/V Jassonius
Janssonius is meeting the latest and highest Lloyd's Register standards for ice-strengthened cruise ships. Surpassing the requirements of the Polar Code adopted by the International Maritime Organization (IMO), Janssonius represents the most flexible, advanced, innovative touring vessel in the polar regions, thoroughly optimized for exploratory voyages that provide you the utmost first-hand contact with the Arctic and Antarctica. Not only will the numerous amenities and on-board entertainments help make your Janssonius voyage truly memorable, this ship also gives you the peace of mind that comes with choosing one of the most environmentally friendly vessel on the polar seas. Janssonius uses LED lighting, steam heating, bio-degradable paints and lubricants, and state-of-the-art power management systems that keep fuel consumption and CO2 levels minimal. This means that when you sail aboard Janssonius, you get to enjoy the exotic landscapes and wildlife as much as possible while impacting them as little as possible.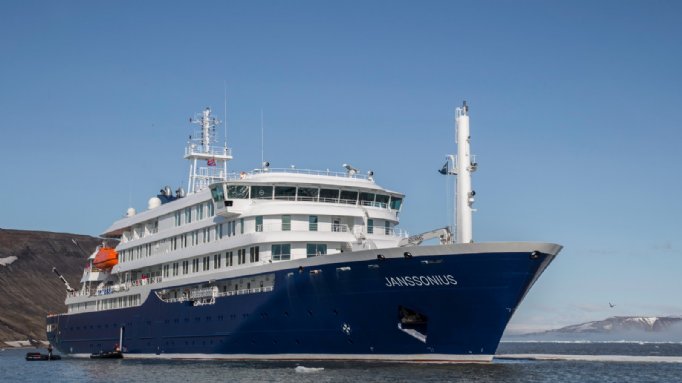 Our captain will aim to keep sea time as short as possible to focus on fast, effective access to shore and near-shore activities. Wildlife of the region may be observed both from land and sea and to give you the maximum contact with nature and the wildlife you have travelled so far to see, there is a tough fleet of rigid-hull inflatable Zodiac boats to guarantee swift and safe landing operations for all passengers at the same time. M/V Jassonius has three separate gangways and a sheltered indoor Zodiac embarkation platform that can also be used for special outdoor activities. Flexibility will be key as your Leader aims to make the most of our opportunities in the hope of seeing as much as possible. M/V Jassonius is equipped with advanced stabilizers and two main engines capable of powering the vessel up to 15 knots. You will have 72 crew and staff members (including expedition and hotel staff) at your service while on board, ensuring that what time is spent aboard is comfortable and enjoyable.
More ship and cabin information can be found here.

Why choose Heatherlea for your birding and wildlife holiday?
Our overseas holidays are planned with care to offer great birding and wildlife, led by capable Leaders who really look after you. Every holiday is run the 'Heatherlea Way', and we hope our Overseas Adventures remind you of the quality and care so many of you enjoy in Scotland. That means rewarding and exciting days in the field, and good quality accommodation and meals, with a real flavour of the country we are visiting. Heatherlea always seek to include the personal touches that make all the difference.
Heatherlea holidays are not 'dawn to dusk' expeditions. Our less-intensive approach is ideal for those who want to relax whilst experiencing the best wildlife watching, and wherever possible we organise early or late activity on an optional basis. We also take sensible breaks when in very hot places and regular comfort breaks on every holiday whenever possible. All itineraries are planned carefully around the best wildlife opportunities, and you won't miss out on memorable wildlife, whilst enjoying relaxed, informal days that are great fun.
The really important part of any wildlife holiday is the experience for you, our valued customer. Heatherlea invest in many things to offer you the best possible service;
We have been organising birding and wildlife holidays for over 30 seasons, and have a highly experienced and capable office team. We also offer a telephone and email service outside normal office hours.
Heatherlea overseas holidays have a maximum of 12 clients per trip, putting the emphasis on personal service, and helping you get the best possible experience.
Our holidays often include things which others might invite you to pay yourself, for instance Departure Taxes and tips to hotels.
All elements of our holidays are sold under our own licence, ATOL 6113. Under 'Flight-Plus' legislation it is a legal requirement of any tour operator to hold an ATOL licence for the supply of any overseas holiday where a flight is involved, if that holiday includes either overseas accommodation and/or car hire. It can be a criminal offence for an operator to book flights as part of a package without an ATOL licence. Heatherlea also hold full Tour Operator Insurance for your added protection.
Heatherlea is your complete wildlife holiday provider. Our 'Back Office' team can organise all your pre-flight and other travel needs. Our specialists will help you book the right services, at the best price. Book holiday extensions through us, and your ATOL protection is extended further. We don't charge extra for this service.
Heatherlea is a limited company, registered in Scotland, and registered to pay VAT (applies to all holidays within the European Union).