NEW!

Greenland and Northern Iceland
Polar Bear, birding in Iceland, whales and much more!
| | |
| --- | --- |
| Destinations | |
| Focus | |
| 2023 Dates | |
| Duration | 13 Days |
| Guides | |
| 2023 Price | Price TBC |
THIS PAGE IS UNDER CONSTRUCTION. PLEASE CONTACT OUR OFFICE TO BE KEPT IN TOUCH AS UPDATES ARE MADE!
This is a unique and stunning tour, consisting of a land journey across northern Iceland focusing on birding and geology, and developing into a major adventure as we voyage north to Scoresby Sund in Greenland, where Polar Bear, Musk Oxen and whales are our targets. Birds, mammals, geology and cultural life are all aspects of this unforgettable holiday!
This is a relaxed tour, scheduled after the breeding season, where wildlife inland within Iceland might be sparse yet very special. We hope to see Gyrfalcon, Barrow's Goldeneye, Harlequin Duck, Ptarmigan and Merlin, all within easy reach of our vehicle. Migrating geese, Slavonian Grebe and a range of passerines including Snow Bunting are also possible. We visit a spectacular waterfall, and also the hot springs around Lake Myvatn.
Next we board our superbly fitted vessel, MV Hondius, for an exciting cruise northwards to Greenland. The area of Scoresbysund is one of the most extensive fjord systems in the world, and although most breeding individuals have left their cliffs, we hope to see birds on the sea or on passage.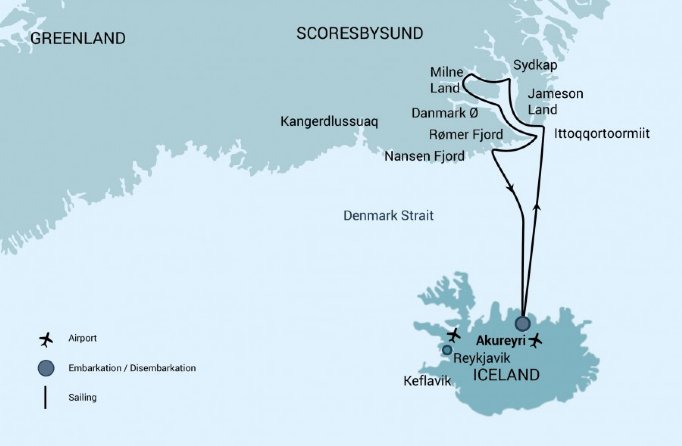 Some of the hoped-for wildlife highlights!
Good chances of Polar Bear
Species of rorqual whales near the mouth of the fjord, perhaps including Sperm Whale
Outside possibility of seeing Narwal and Walrus, both very rare!
Muskoxen
Arctic Fox
Arctic Hare
Gyrfalcon, Harlequin and Barrow's Goldeneye
Icelandic residents including Ptarmigan, Snow Bunting
Autumn migration of geese and waders
Fabulous landscapes with icebergs
Aurora Borealis
Remains of an ancient Inuit settlement
OUR VESSEL M/V Hondius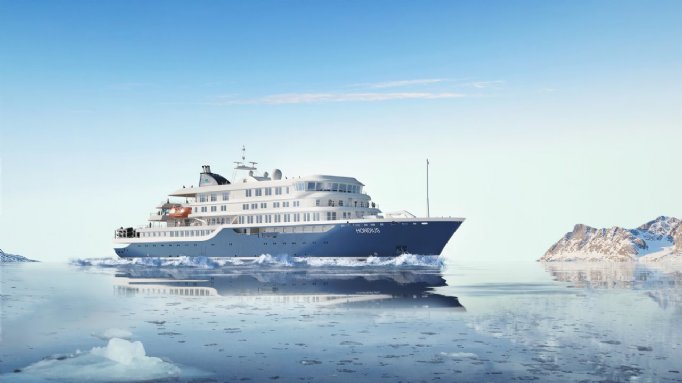 The 80-cabin M/V Hondius is ideal. Meeting the latest and highest Lloyd's Register standards for ice-strengthened cruise ships, and surpassing the requirements of the Polar Code adopted by the International Maritime Organization (IMO), M/V Hondius represents the most flexible, advanced, innovative touring vessel in the polar regions, thoroughly optimized for exploratory voyages that provide you the utmost first-hand contact with the Arctic.
All cabins have either window or porthole, private shower and toilet, desk and chair, flats creen TV, telephone and internet connection, hair dryer and ample storage space. Click here for full ship information, and after consulting the deck plan, contact us to reserve the specific cabin of your choice!
Day 1: Wed 6 September 2023 Arrival in Iceland
We arrive at Keflavík Airport in the south-west of Iceland and our trip begins with visits to some birding locations on the Reykjanes peninsula. We should find Harlequin Duck along the shore and further out to sea there's a reasonable chance of some cetaceans also. Our journey takes us towards Reykholt and we should have time to explore the coast of west Iceland. The large Eider flocks need to be checked for the chance of a King Eider and we should also look out for migrating White-fronted Geese. There's also a chance of White-tailed Eagle in the area. We reach the historic settlement at Reykholt, settle in to our comfortable hotel and learn more about the exciting days ahead. Overnight Fosshotel Reykholt
Day 2: Thurs 7 September Heading North
It's a delightful journey across the wonderful scenery of west and north Iceland as we head towards Mývatn, our base for the next three nights. We'll visit the coast at Blönduós and hope to see Great Northern and Red-throated Divers as we travel. The botany in this area is also very interesting and whilst most of the flowers will have gone over the autumnal colours are very special. It's likely that most of Iceland's breeding Pink-footed Geese will have started their southwards migration but we should see some in the wide valleys of north Iceland. We'll travel through Iceland's second city, Akureyri, to reach Mývatn, a special birding place, passing a wonderful waterfall on the way. Overnight Fosshotel Mývatn
Day 3: Fri 8 September 2023 The lake at Mývatn
The lake at Mývatn is deservedly recognised as one of the world's wonderful places for breeding wildfowl. Of course, this late in the season, many ducks will have departed but we expect some wonderful views of Barrow's Goldeneye together with the more familiar Gadwall, Tufted Duck, Greater Scaup and Wigeon. There's always a chance of American Wigeon, too. The area is also a great place to see Gyrfalcon as several pairs nest in the remote mountains surrounding the lake. Merlin are also frequently encountered in the area as they prey upon Snow Buntings and Meadow Pipit. There are powerful hot springs close to Mývatn which we will visit. Mývatn sits astride the mid-Atlantic ridge and evidence of volcanic eruption (most recent 1984) is all around. It's also worth noting that as the nights darken and provided we have clear skies we hope to see the Aurora Borealis shimmering overhead. Overnight Fosshotel Mývatn
Day 4: Sat 9 September 2023 Eyjafjörður
We'll make a morning visit to the lovely island of Hrísey in the fjord of Eyjafjörður north of Akureyri. A birding walk here (max about 3km) usually produces Rock Ptarmigan and we'll certainly keep an eye open for their main predator, Gyrfalcon. We'll set up our scopes and scan the fjord for cetaceans and have a very good chance of seeing Humpback Whale and perhaps Minke Whale from the land. Previous Heatherlea trips have seen Blue Whale here as well. As the day progresses we'll head to Akureyri with the chance to explore the city and make any last minute purchases before embarking aboard our ship for the next phase of our exciting journey, departing early evening sailing north towards the Denmark Strait.
Day 5: Sun 10 September 2023 at sea, sailing to East Greenland
While sailing north we are likely to see Fulmar, Kittiwake, Gannet, and Common Guillemots We then cross the Arctic Circle, possibly spotting whales. By evening, the first icebergs flash into sight with your approach to the east Greenland coast, near Brewster.
Day 6: Mon 11 September 2023 Inuit neighborhood of yesteryear
Today we reach Scoresbysund, sailing along the glaciated Volquart Boons Kyst. We may enjoy a Zodiac cruise past one of the glacier fronts, along with a visit to the basalt columns and ice formations of Vikingebugt. The afternoon goal is to visit Danmark Island, where we find the remains of an Inuit settlement abandoned around 200 years ago. The circular stone tent rings indicate the summer houses, while the winter houses can be seen closer to a small cape. The sites are well preserved, with easy identifiable entrances, bear-proof meat caches, and grave sites. In the evening we continue sailing the berg-crowded fjords to the west.
Day 7: Tues 12 September 2023 Colors of the cape
The goal is a Zodiac cruise near Røde Ø, one of the world's most cherished iceberg attractions: The austere blue-white of the icebergs sets sharp against the brooding red backdrop of the sediment slopes. The afternoon plan is to sail through the northern parts of Røde Fjord, with the chance to see Musk Oxen and warm autumnal foliage.
Day 8: Wed 13 September 2023 Enormous bergs and Arctic hares
In the morning we encounter colossal icebergs, some over 100 meters high and more than a kilometre long. Most of them are grounded, as the fjord is only about 400 metres deep. We then land near Sydkap, with fine views of Hall Bredning and a good chance of seeing Arctic Hare and perhaps Gyrfalcon..
Day 9: Thurs 14 September 2023 Settlement at Scoresbysund
Today we make a tundra landing on Liverpool Land, in Hurry Inlet. The afternoon stop is Ittoqqortoormiit, the largest settlement in Scoresbysund with about five hundred inhabitants. At the post office we can buy stamps for postcards, or just stroll around to see sled dogs and drying skins of seals and musk oxen. In the afternoon we sail south, passing the picturesque landscapes of the Blosseville Coast. We have good chances of Polar Bear in this area.
Day 10: Fri 15 September 2023 Remote shores
Turner Sound and Rømer Fjord grant you the opportunity to sail far inland, as they have no glacier front at the head and are not clogged with ice. In this location, we may get the opportunity to spot Narwhal.
Day 11: Sat 16 September 2023 Sea life under the northern lights
A sea day grants the opportunity to spot whales and seabirds – and at night, the magical northern lights.
Day 12: Sun 17 September 2023 Return to Akureyri
We disembark in Akureyri, making our way southwards through the amazing scenery of Iceland. Many of the birds will be familiar as we travel, though we do have a chance of seeing Slavonian Grebe together with migrating geese and waders and perhaps White-tailed Eagle. We'll spend the night in Iceland's capital city, Reykjavík and enjoy a farewell dinner as we reflect on what has been an amazing trip. Overnight at a Fosshotel in Reykjavík.
Day 13: Mon 18 September 2023 Departure
Today we transfer to Keflavik for our flight back to the UK. If the flight is in the afternoon, there might be some free time to explore Reykjavík before travelling to Keflavík Airport for our return flight.
Please note: all itineraries are given as a guide only. Actual holiday content may vary according to the judgement of your guide, and elements beyond our control (eg weather).
More information coming soon.
Why choose Heatherlea for your birding and wildlife holiday?
Our overseas holidays are planned with care to offer great birding and wildlife, led by capable Leaders who really look after you. Every holiday is run the 'Heatherlea Way', and we hope our Overseas Adventures remind you of the quality and care so many of you enjoy in Scotland. That means rewarding and exciting days in the field, and good quality accommodation and meals, with a real flavour of the country we are visiting. Heatherlea always seek to include the personal touches that make all the difference.
Heatherlea holidays are not 'dawn to dusk' expeditions. Our less-intensive approach is ideal for those who want to relax whilst experiencing the best wildlife watching, and wherever possible we organise early or late activity on an optional basis. We also take sensible breaks when in very hot places and regular comfort breaks on every holiday whenever possible. All itineraries are planned carefully around the best wildlife opportunities, and you won't miss out on memorable wildlife, whilst enjoying relaxed, informal days that are great fun.
The really important part of any wildlife holiday is the experience for you, our valued customer. Heatherlea invest in many things to offer you the best possible service;
We have been organising birding and wildlife holidays for over 30 seasons, and have a highly experienced and capable office team. We also offer a telephone and email service outside normal office hours.
Heatherlea overseas holidays have a maximum of 12 clients per trip, putting the emphasis on personal service, and helping you get the best possible experience.
Our holidays often include things which others might invite you to pay yourself, for instance Departure Taxes and tips to hotels.
All elements of our holidays are sold under our own licence, ATOL 6113. Under 'Flight-Plus' legislation it is a legal requirement of any tour operator to hold an ATOL licence for the supply of any overseas holiday where a flight is involved, if that holiday includes either overseas accommodation and/or car hire. It can be a criminal offence for an operator to book flights as part of a package without an ATOL licence. Heatherlea also hold full Tour Operator Insurance for your added protection.
Heatherlea is your complete wildlife holiday provider. Our 'Back Office' team can organise all your pre-flight and other travel needs. Our specialists will help you book the right services, at the best price. Book holiday extensions through us, and your ATOL protection is extended further. We don't charge extra for this service.
Heatherlea is a limited company, registered in Scotland, and registered to pay VAT (applies to all holidays within the European Union).