NEW!

Birding the North Coast 500
Northern wildlife on one of the world's most scenic roadtrips
Destination
Focus
2022 Dates
Duration
8 Days
2022 Price

£1795 pp

£150 single supplement.

Deposit £200

2023 Dates
Duration
8 Days
2023 Price

Price TBC

2024 Dates
Duration
8 Days
2024 Price

Price TBC

2025 Dates
Duration
8 Days
2025 Price

Price TBC

Max Group Size
7
Wonderful wildlife amid some of Scotland's finest scenery on this spectacular journey around some of the country's most northerly coastal points, feted by holiday-makers and travel writers alike as one of the best road trips in the world.
This tour takes you to the best places for spring and summer wildlife. There will be many highlights, from Handa Island, Dunnet Head and Duncansby Head for their seabirds to the Flow Country of Caithness, a unique habitat, deemed to be as important as the Amazonian Rainforest! Many excellent sites on northern coasts are visited on this holiday including hotspots for passage birds, pristine golden beaches and bays for waders and divers and Applecross for eagles and Ptarmigan. Otters, seals and cetaceans may be encountered off the rugged coastline - this holiday really does offer the best wildlife of Northern Scotland.
Above all, this is an exciting birding adventure in underwatched places. Visits to seabird colonies will feature Puffin, Guillemot and Razorbill, many of which will be about to lay eggs, densely packed and huddled together on cliff ledges. Kittiwake, Fulmar, Shag can be expected too, and the sound and smell of these northern colonies complete the experience. Good numbers of nesting waders and waterfowl, including scarce northern species such as Red-throated and Black-throated Diver, Hen Harrier, Merlin, Great and Arctic Skua, Golden and White-tailed Eagle, Black Guillemot, Twite and many more.
Our tour begins either here in Nethy Bridge or in Inverness, convenient for flights and rail connections. We stay at three centres and don't follow the exact route of the 'North Coast 500', making deviations to cater for wildlife and birding considerations.
Day 1: Saturday 15 May 2021 - Nethy Bridge to Caithness
We meet early at the Mountview Hotel in Nethy Bridge before heading north across the Black Isle, Easter Ross and into Sutherland perhaps seeing Red Kite on the way. It will be prime time for migrants, and up to date bird news will dictate our birding stops with flexibility important! At Loch Fleet we hope to see Eider, Red-breasted Merganser, Greenshank, Common Sandpiper, Common Seal and perhaps an Osprey or Kingfisher. Other possible stops could include Brora, Golspie, Embo or Dornoch, and your guide will be selective to ensure good birdwatching. Crossing into Caithness, checks of the quiet harbours at Helmsdale or Dunbeath may yield a lingering Iceland or Glaucous Gull. Latheronwheel is another possibility and should give us nice views of our first Fulmar, Black Guillemot, 'real' Rock Dove, Rock Pipit, Grey Wagtail and if lucky Dipper. Later in the afternoon, we plan to head inland entering the 'The Flow Country' where breeding waders such as Curlew, Lapwing, Snipe and Redshank are abundant. At RSPB Broubster Leans hunting Short-eared Owl, Merlin and Hen Harrier may be seen before we head to Thurso for a two night stay.
Day 2: Sunday 16 May – Dunnet and Duncansby Head
A full day to explore Caithness, which at the very north eastern tip of Mainland Scotland is well placed for great birding. Visits to the seabird colonies at Dunnet Head and Duncansby Head should give close views of nesting Guillemot, Razorbill, Kittiwake and Fulmar in good numbers. A few Shag and Puffin will also be present, and we should see Wheatear, Rock Pipit and Twite on the cliff tops. With stunning views across to Orkney, time scanning the Pentland Firth for cetaceans and seals may prove worthwhile. Harbour Porpoise, Common, Bottle-nosed and Risso's Dolphin are all possible, along with Minke Whale while these waters have a strong reputation for Orca with regular sightings at this time! Among the other sites we may visit are St Johns Loch and Pool, a superb local nature reserve, where over 200 species have been recorded in a short space of time. Noisy gull and tern colonies will be hard to ignore and passage waders, such as Whimbrel, Black-tailed Godwit, Green or Wood Sandpiper may feature. Dunnet and Sinclair's Bays are both large and are both good for divers, waders and any lingering sea-duck such as scoters or Long-tailed Duck. If conditions are promising for passerine arrival we may spend time checking sparse cover at Skirza, Keiss or Noss Head Lighthouse, where the birding can be exciting and if lucky produce a rarity. Our circuit will likely see us loop back via Loch Watten, where late to depart wildfowl or an Otter are possibilities to bring a great day to a close.
Day 3: Monday 17 May – West via Forsinard, Strathy Point, Kyle of Tongue and more
Today we head west along the north coast, first detouring inland to enjoy Forsinard RSPB and the Flow Country in all its glory. An excellent reserve, with new trails and an observation tower giving superb views over what at first can seem a desolate peat bog. In truth this will be very different, waders call and display continuously and there can be a constant chorus of birdsong from Skylark, Meadow Pipit and others. We will make stops in open areas to scan the bogs and heath hoping to pick up raptors, and nesting waders can include Greenshank. Returning to the coast, we go to Strathy Point next, a headland extending out into the Pentland Firth and another good place to look for cetaceans. On a short walk of just under a mile we look for diminutive Scottish Primrose, which will hopefully still be in its first bloom. From Strathy, we progress westwards to Tongue where options include scanning from the Kyle causeway for coastal species or moving inland targeting Golden Eagles at known territories. By now, time will likely be getting away from us, so we will need to push on west past Loch Eribol to Rhiconich where we stay for the next three nights.
Day 4: Tuesday 18 May – Durness and Balnakeil
After much time on the road the previous day, we enjoy a more leisurely exploration of a rarely visited area. The Durness peninsula, overlooking Cape Wrath to the west is a real birding hotspot where migrant passerines may be found around the village or church, and breeders on territory can include Spotted Flycatcher, Redstart, Willow and Sedge Warbler, Wheatear and Whinchat. At Balnakeil Bay and the adjacent wetland we have two more great sites. Rich machair and croftland is attractive to waders and passage migrants and if lucky, Corncrake may be heard giving their grating call from wet meadows though they are likely to remain unseen. The area is rarely visited by birders, but with rarities including Semi-palmated Sandpiper, Stone Curlew, Iberian Chiffchaff, Citrine Wagtail and Rose-coloured Starling recorded in recent springs, it's reputation is growing fast. If weather allows then a walk out to Faraid Head is worthwhile, where Puffins nest on the cliffs. Alternatively, we may choose to take the quiet road out to Kinlochbervie and beyond, where sheltered bays and lochans can yield surprises and offer great views of summer-plumaged divers and perhaps Otters.
Day 5: Wednesday 19 May – Handa Island
Handa Island, a true Scottish gem with over 150,000 seabirds, will be our focus today. A slow walk around the whole Scottish Wildlife Trust reserve allows enough time to enjoy the flora and fauna of the maritime heath and steep cliffs. The island holds breeding Great and Arctic Skua and both usually show well, announcing their presence by dive-bombing as we stroll along the boardwalk paths. Our walk takes us to stunning viewpoints of seabird cliffs bustling with Guillemot, Razorbill, Kittiwake, Shag, Fulmar and a few Puffin and Black Guillemot. We should see Arctic Tern, Red Grouse and Raven too and all in unique surroundings. The geology here is stunning, sheer 110m Torridonian Sandstone cliffs covered with birds. A wonderful day out.
Day 6: Thursday 20 May – Assynt
Leaving Rhiconich, we follow the road southwards, making planned or impromptu wildlife stops as we pass Loch Laxford, Scourie and the Kylesku causeway at Loch Glendhu. The landscape of Assynt is recognised as a geopark for its diverse geology and we pass through several National Scenic Areas. Incorporated within are rich croftland, rough grazing and stunning sandy beaches which support a diverse range of wildlife. Exploring the winding roads at a leisurely pace, we may choose to stop for a seawatch off Stoer Point, before reaching the flower-rich meadows of the machair further down the coast. Moving inland past Loch Assynt we will push on to Ullapool, and once there, what time we have left will dictate exactly which route we take to Gairloch, where we stay for two nights. Most likely, we will head inland on better roads, where selected stops at roadside lochs may give us nice views of breeding Red-throated and Black-throated Diver, raptors including Golden and White-tailed Eagle, Buzzard, Osprey, Peregrine or Merlin or perhaps even Black Grouse or Redwing.
Day 7 – Friday 21 May - Wester Ross
Today we take a full day to explore the varied coastline of Wester Ross, in a relatively small area of landscape full of crags, bays and islands. Taking in Little Loch Broom, Gruinard Bay, Mellon Udrigle, Mellon Charles, Aultbea and Poolewe we have excellent opportunities for Otter, eagles, divers, seabirds and Twite. A smart drake Blue-winged Teal through spring 2019 demonstrates the area has credentials for rare birds too. The views here incorporate stunning beaches right up to mountain top, with picture-postcard views at our frequent stops for wildlife.
Day 8: Saturday 22 May - Applecross and return to Nethy
We leave our hotel and the Gairloch area after breakfast, passing Loch Maree and working our way through the stunning Torridon range back out to the coast. As usual, we will be on the lookout for raptors, pausing at Sheildaig, a quaint little village where Otter and White-tailed Eagle often show well. Taking the remote single-track road, we continue along the coast to Applecross to take in fabulous views across to the island of Raasay and beyond to Skye. We check the bay for summering Great Northern Diver before heading up the winding track to the Bealach na Ba, the highest road climb in the UK, peaking at 626m. If the weather is kind, the view will be stunning, incorporating all of Skye, the Small Isles and even the Outer Hebrides. Once at the top we are free to explore the Arctic-Alpine environment, home to Alpine plants and mountain top birds, including Dunlin, Golden Plover and Ptarmigan. We descend on the south side, returning east via Loch Kishorn and Loch Carron perhaps adding a few final species to our lists, expecting to arrive back in Nethy Bridge at around 5:30pm.
This holiday can be combined with:
SCOTTISH HIGHLANDS
Birding the Highlands in May, Highlands & Corncrake.
SCOTTISH ISLANDS
Outer Hebrides in Spring.
Please note: all itineraries are given as a guide only. Actual holiday content may vary according to the judgement of your guide, and elements beyond our control (eg weather).
Expect a wide variation in weather conditions, which can be wild and unpredictable, with temperatures perhaps averaging around 15 degrees Celsius. Sunshine, rain and strong winds are all possible, and you will probably experience a bit of everything. Biting insects are possible, but this is very early in the season and are not expected as a major problem. Please bring walking boots or shoes, waterproof clothing and a small rucksack. Hat and gloves may be required at exposed coastal locations. The holiday will be run at a relaxed pace, with time for photography and botany as well as fabulous birdwatching in a spectacular setting! There will be short to moderate (1 to 3 mile) walks most days, often over rough, uneven or soft ground with a few stiles to climb over. All walks are of course optional.
What's included in your 'Birding the North Coast 500' holiday price
Seven nights comfortable en-suite hotel accommodation. We choose hotels from our personally inspected shortlist, where birders are welcome and the hospitality is special. Guests are never expected to share. Full details with your joining pack. All rooms are en-suite.
Full Scottish breakfast and dinner from Saturday evening till Saturday morning, packed lunch daily.
All transfers by comfortable minibus. Drivers can leave vehicles safely parked at The Mountview Hotel. We offer a courtesy drop off on the morning of departure to Aviemore too!
Guidance from a professional Group Leader.
What's not included in your 'Birding the North Coast 500' holiday price
Extra night in Nethy Bridge area at beginning and end of holiday. This can be arranged for you if requested at time of holiday booking.
Transfers from rail links in Aviemore on arrival.
Insurance, drinks and other items of a personal nature.
WHY CHOOSE HEATHERLEA FOR YOUR SCOTTISH ISLAND ADVENTURE?
Heatherlea is THE company for top quality birding holidays in Scotland, chosen by more and more birders each year. Relax and enjoy first-rate birding with Scotland's best guiding team, as we do all the planning! Our fully inclusive guided holidays concentrate on the real experience, and we take time to ensure that each of our guests enjoys everything we do. Above all, we make it our business to show key wildlife to you.
These popular holidays are carefully designed to explore the beautiful and wildlife-rich Scottish islands and far west coast. Many itineraries are unique, designed to give you the best of island wildlife at the best time of year. All are run at a leisurely pace, though we might move a little faster when rare migrants and vagrants are in our sights!
We have been organising birding and wildlife holidays for over 30 seasons, and have a highly experienced and capable team. We also offer a telephone and email service outside normal office hours.
This holiday has a maximum ratio of 7 clients per guide, putting the emphasis on personal service, and helping you get the best possible experience.
Heatherlea are Mainland Scotland's FIRST '5-Star Wildlife Experience!' This is the highest available grading, classified as 'exceptional' by visitScotland.
Single guests are never expected or invited to share.
Our holidays often include things which others might invite you to pay yourself, for instance packed lunch and tips to hotels.
Heatherlea hold full Tour Operator Insurance for your added protection.
Heatherlea is a limited company, registered in Scotland. We are also registered to pay VAT, which is included in your holiday price as quoted on this page.
Once your holiday is confirmed in writing by us, we promise not to surcharge the price for any reason.
Enjoy an excellent birding and wildlife holiday with Heatherlea.
Mainland Scotland's FIRST '5-Star Wildlife Experience!'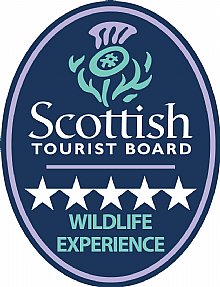 'Exceptional'
Visit Scotland