NEW!

Autumn Migration in the Highlands
Southbound migration and Scottish specialities at an exciting time of year.
Destination
Focus
2022 Dates
Duration
8 Days
2022 Price

£1395 pp

No single supplement.

Deposit £200. Early Birder Price Freeze! Book now for 2022 at 2021 prices.

Max Group Size
14
A fantastic new holiday exploring migration on both the west and east coasts of the Highlands, and also featuring our special resident birds. With Northern breeders on the move it is an exciting time, and we visit some of the best places and habitats on both land and sea.
We spend two nights on the west coast, where at this time of year anything can turn up. We have time to search for top quality birds including Golden and White-tailed Eagle, three species of diver, seaduck and perhaps Twite. Otters are possible too, and on our seatrip across the Minch we have chances of cetaceans and hope to see petrels, shearwaters, skuas or perhaps a rarity among commoner seabirds.
We also dedicate a day to exploring the attractive Tarbat Peninsula, and will likely visit the Moray and Black Isle coasts too. Supporting high densities of farmland birds, these locations offer vast potential for migrant passerines, and with busy estuaries and sea lochs nearby, we will accumulate a high day list on these days.
Close to our Highland base we seek Ptarmigan, Black and Red Grouse, Capercaillie, Crested Tit, Osprey, Scottish Crossbill and more, with bird numbers at their highest all year as juveniles boost the adult populations. Absorbing birding during a busy period in the Scottish birding calendar.
KEY MOMENTS at our Friday round-up - which will be yours?
Shearwaters, petrels, skuas, cetaceans and more on our seatrip into the Minch
Capercaillie, Black Grouse, Ptarmigan - perhaps all on the same day!
Golden and White-tailed Eagles soaring over dramatic west coast mountains.
Migrant hunting at a rarely visited east Highland hotspot with rarity possibilities.
Day 1: Saturday
Arrival, welcome, dinner and briefing. Don't forget our courtesy collection service from Aviemore.
Day 2: Sunday – Local birding
Our award-winning hotel is right in the middle of the best birding habitats, and a local drive before breakfast should produce Black Grouse as they return to their lekking grounds. Red Grouse are usually abundant too and after we head into the ancient pine forest to search for diminutive Crested Tit. Scottish Crossbill are found in our forests too and with both Common and Parrot Crossbill also present, separation of these three species can pose a real identification challenge! We also visit local lochs and rivers, birchwoods and moorland to look for Osprey, Dipper, Grey Wagtail, Goldeneye, Goosander, Lesser Redpoll and Siskin. Flocks of Meadow Pipits will be on the move over open ground and we may also see, Stonechat, Red Grouse, Raven, Hen Harrier or Peregrine on a great first day.
Day 3: Monday - Outer Hebrides Migration Sea trip
We travel north to Ullapool, perhaps seeing Raven and Hooded Crow on the way to join the ferry to the Isle of Lewis in the Outer Hebrides. The ferry is a large ship, with excellent viewing opportunities in all directions, perfect for birding, and we take both the outbound and return sailings to double our chances of migrant seabirds. Leaving port, Black Guillemot, Shag and any late terns are possible and entering the Minch and more open water, Fulmar, Gannet, Shag, Manx Shearwater, Storm Petrel, Great and Arctic Skua and commoner auks become likely. It is a great time of year for wandering Sooty Shearwater and rarer possibilities include Balearic, Cory's or Great Shearwater, Leach's Petrel, Pomarine and Long-tailed Skua or perhaps storm driven Grey Phalarope or Sabine's Gull. The Minch has a superb reputation for cetaceans and on calm seas we have a better than average chance of seeing Minke Whale, Harbour Porpoise and dolphins with Risso's and Short-beaked Common Dolphin the most likely. Back on dry land at the end of the day, after a short check of the Ullapool river for waders and gulls plus the adjacent hills for any eagles, we head to our nearby hotel for the first of two nights.
Day 4: Tuesday - Exploring the West Coast
We will be in prime position to explore the west coast, and with mountains rising straight from the sea the Highland scenery is both stunning and dramatic at the same time. With the possibility of both Golden and White-tailed Eagle, this is always an exciting day, and we will scan the hills and visit known territories in the hope of multiple sightings. In sheltered bays, Black Guillemot, seaduck, moulting Slavonian Grebe and all three divers are possible, the latter often still in summer plumage. The beaches should be checked for waders as anything out of the ordinary can turn up in these rarely birded locations, especially after storms. Otter, seals and cetaceans are possible too, as are Twite, Wheatear, Rock Pipit and migrant passerines.
Day 5: Wednesday - Migrants on the East Highland Coast
Today we visit the Tarbat Peninsular, a rarely visited narrow headland north of the Inverness protruding out into the North sea. Positioned perfectly to 'catch' southbound migrants and with a reputation for attracting rarities and unusual birds, in the right conditions, a walk around the scrubby cover and plantations may produce warblers, flycatchers, thrushes, Redstart, Whinchat, Wheatear or perhaps something scarcer like a shrike or Wryneck. Eastern rarities recorded in the last few years include Red-flanked Bluetail, Yellow-browed and Pallas Warbler, Red-breasted Flycatcher and Great Grey Shrike. The fields support flocks of passing geese, Golden Plover, Skylark, pipits and wagtails with resident farmland birds including Yellowhammer, Tree Sparrow and Linnet. Nearby, a number of excellent estuarine and coastal sites offering migrant waders and wildfowl, including scoter flocks to entertain if the weather is less favourable for passerines. Whatever we see, we will certainly enjoy a great day here.
Day 6: Thursday - Cairngorm Mountain
Ptarmigan are our target after breakfast, skulking in northern corries on Cairngorm mountain. The birds usually give good sightings once located as they rely upon camouflage more than flight whilst moulting into white winter plumage. Lingering Snow Bunting may also be seen. A brilliant day's birding in a very special habitat. Later we search for any inland species that we may have missed and take a drive along the tracks of our private estate woodlands, to look for Capercaillie, which can often show well whilst taking autumn berries.
Day 7: Friday - Moray Coast or Black Isle
A round-up day, meaning a good look around for anything locally we may have missed, or visiting another coastal location such as the Black Isle or Moray Firth. At either coast we have excellent chances of seaduck including Long-tailed Duck, Scaup, Eider, Red-breasted Merganser and both scoters. We may look for concentrations of waders, including Purple Sandpiper, Bar and Black-tailed Godwit, Sanderling, Dunlin, Turnstone, Knot and more or make a special trip for any known rarities within reach which make a Scottish autumn so special.
Day 8: Saturday -Departure
Breakfast and departure. Don't forget our courtesy return service to Aviemore.
Please note: all itineraries are given as a guide only. Actual holiday content may vary according to the judgement of your guide, and elements beyond our control (eg weather).
What's included in your holiday price
Five nights comfortable accommodation at The Mountview Hotel, VisitScotland rated 3 Star. All rooms are en-suite, with TV and hospitality tray. There is no single supplement, and guests are never expected to share. Single guests may be upgraded to double room accommodation at no extra charge.
Two nights comfortable en-suite hotel accommodation at a West Coast location.
Full Scottish breakfast, a substantial packed lunch, and a delicious dinner.
Six full days wildlife watching.
Guidance from a professional Group Leader.
All transport by comfortable minibus.
All estate access and ferry fees.
A checklist specifically prepared for your holiday to record your sightings and notes.
Courtesy bus service to and from transport in Aviemore.
What's not included in your holiday price
Insurance, drinks and other items of a personal nature.
More holiday information
More holiday information
Accommodation at Mountview Hotel can be seen here. On the west coast we select from a range of comfortable Hotels we have used before. All accommodation is en-suite.
Food - There is a choice of evening meal, and vegetarian, vegan and other diets are welcome. Breakfast may be chosen from a full Scottish menu. You don't need flasks for hot drinks.
Walking will be light, although mountain walking for Ptarmigan is strenuous as birds generally start moving around in large coveys, and may need us to cover some miles to locate them. The excursion for Ptarmigan is completely optional.
Weather - Expect a wide variation in weather conditions. Blazing sunshine, wind and rain are equally likely, and you will probably experience a bit of everything. Bring waterproofs, walking boots or shoes and warm clothing.
Biting insects are unlikely to be encountered, but bring a good repellent just in case it has remained warm into the autumn.
Group size maximum 7 clients per guide.
Optics - Telescopes will be useful, and you should bring binoculars. We have a limited number of top quality Swarovski binoculars, which you may borrow at no charge (subject to availability). A camera would be useful too!
Why choose Heatherlea for your Scottish birding holiday?
Heatherlea is THE place for top quality birding holidays in Scotland, chosen by more and more birders each year. Stay in our own three star Small Hotel, and enjoy first-rate birding with Scotland's best guiding team. Relax and enjoy yourself, as we do all the planning! Above all, we make it our business to show key wildlife to you. Our fully inclusive guided holidays concentrate on the real experience, and we take time to ensure that each of our guests enjoys everything we do.
We have been organising birding and wildlife holidays for 30 seasons, and have a highly experienced and capable office team. We also offer a telephone and email service outside normal office hours.
Our 'Mainland Scotland' holidays based at Mountview Hotel have a maximum ratio of 7 clients per guide, putting the emphasis on personal service, and helping you get the best possible experience.
We are a small company, run BY birders FOR birders. Come and see!
Heatherlea are Mainland Scotland's FIRST '5-Star Wildlife Experience!' This is the highest available grading, classified as 'exceptional' by visitScotland.
There is no single supplement. Single guests are never expected or invited to share.
Our holidays often include things which others might invite you to pay yourself, for instance loan of Swarovski binoculars, packed lunch and tips to hotels.
We offer a courtesy transfer between our Hotel and Aviemore rail/bus links on Saturdays.
Heatherlea hold full Tour Operator Insurance for your added protection.
Heatherlea is a limited company, registered in Scotland. We are also registered to pay VAT, which is included in your holiday price as quoted on this page.
Once your holiday is confirmed in writing by us, we promise not to surcharge the price for any reason.
Enjoy an excellent birding and wildlife holiday with Heatherlea.
Mainland Scotland's FIRST '5-Star Wildlife Experience!'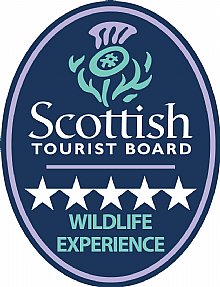 'Exceptional'
Visit Scotland