NEW!

New Zealand
The trip of a lifetime, enjoying the extraordinary wildlife of both North and South Island
Free Bird Guide

FREE copy of Field Guide to the Birds of New Zealand with every room booked on this holiday.
As the Kiwi nation welcomes back international tourists after Covid, we look forward to fully exploring this fascinating archipelago.
New Zealand is a wonderful 'bucket-list' destination, featuring some of the most unique, diverse and extraordinary wildlife on Earth. On this predominantly birding tour, we target as many of the key avian endemic species as possible, including Brown Kiwi, South Island Saddleback, Stewart Island Robin, New Zealand Kaka, Blue Duck, Kea, Weka, Bellbird, Tui, Wrybill, Yellow-eyed Penguin, New Zealand Falcon, New Zealand Rock Wren and Tomtit. We travel the length of the country, exploring both North and South islands, plus several key smaller offshore islands.
The archipelago is also famed for its seabirds and we aim to take a pelagic trip to see close views of Northern and Southern Royal, New Zealand Wandering, Black-browed, Campbell, White-capped, and Salvin's Albatross are possible, along with a variety of petrels, Northern Giant-petrel and the endemic Hutton's Shearwater and perhaps Sperm Whale too.
Working our way south through Aoraki Mount Cook National Park (a UNESCO World Heritage site) we enter an Alpine environment with new wildlife possibilities before continuing towards the Otago Peninsula and Dunedin. Off the country's southern tip lies Stewart Island, where Rakuira NP is home to Brown Kiwi, a key target species! Nearby Ulva Island is home to some of New Zealand's most threatened birds including South Island Saddleback and Stewart Island Robin.
On North Island, walking through the Dinosaur Gondwanan Forests (little changed in over 100 million years) feels like a step back in time while Tiritiri Matangi Island is home to a number of rare birds, including North Island Saddleback, Takahe, Brown Teal, Red-crowned Parakeet and Stitchbird and is widely considered one of New Zealand's most notable conservation successes.
This holiday is comprehensive tour of the birdlife available on both North and South Island, and, subject to weather conditions, we also visit other smaller but very important islands including Tiritiri, Kapiti, Ulva and Stewart Island. Birding on the ocean wave is an important fesature, and we plan a total of three thrilling pelagic voyages and four other boat trips to Milford Sound, Marlborough Sounds, Ulva and Taiaroa Head, all of which are optional. We also take five ferry trips, all of which feature bird and other marine life.
With such a thrilling array of wildlife and experiences, this is a wonderful opportunity to enjoy the wildlife trip of a lifetime. We add a number of extras as you might expect, including our enhanced 'pre-flight service', which for this tour includes a Hotel room before you fly, and another 'stopover' Hotel en-route. As usual, the Field Guide is also included, as is a VIP Lounge before boarding in London.
HEATHERLEA ANZAC PRE-FLIGHT SERVICE
This holiday includes not only our famous Pre-flight Service, but also an overnight 'stopover' en-route. Hotel room and our office services are included in your holiday price, and you may choose a 'stopover' destination (subject to availability) from a range of Middle East or Far East cities, including Singapore, Dubai, Hong Kong and more. Flight surcharges may apply.
Also, we are happy to make personalised arrangements for you under our ATOL licence, and you may extend your holiday before or after, and arrange flights to any destination as part of your trip. To design the bespoke ANZAC holiday of a lifetime, contact our office!
HEATHERLEA ANZAC PRE-FLIGHT SERVICE
Enjoy a complimentary pre-flight overnight hotel before your holiday begins. Read more about our famous Pre-flight Service including car parking in the UK, VIP Lounge and destination Bird Guide here!
With two flights of around 12 hours duration this is a major journey, so for any Heatherlea ANZAC holiday, we include an overnight 'stopover' en-route. This will help you arrive refreshed and ready to enjoy birding!
Hotel 'stopover' room and our office services are included in your holiday price, and you may choose a 'stopover' destination (subject to availability) from a range of Middle East or Far East cities, including Singapore, Dubai, Hong Kong and more. This will involve leaving the UK a day earlier than quoted in our holiday itinerary, and flight surcharges may apply.
Also, we are happy to extend your holiday before or after, and arrange flights to any destination as part of your trip. If you have relatives in (for instance) Sydney, Melbourne, Christchurch or Auckland, benefit from free office services and our ATOL Licence protection.
This exceptional offer helps you design the bespoke ANZAC holiday of a lifetime. Contact our office, we are happy to help!
Days 1 and 2: Mon 7 and Tues 8 November 2022 - Heathrow - Auckland
We depart on an afternoon flight, taking two flights of around 10-12 hours each. We will transit via an airport in either the Middle East or far East.
Day 3: Wed 9 November - Arrive Auckland
Today we concentrate on meeting at our Auckland hotel, hopefully with some time to relax and acclimatise. If time allows we may take a short drive westward to the coastal cliffs at Muriwai. A spectacular Australasian Gannet colony is located here, while White-fronted Tern breed on the cliffs below alongside Kelp and Red-billed Gulls, and NZ Oystercatcher are found on the mudstone platforms. Accommodation: Auckland hotel (en suite rooms). We may yet change this back to Warkworth to make a 3 night stay here subject to flight arrival times.
Day 4: Thurs 10 November - Tiritiri Matangi Island
This morning we take the ferry from Auckland docks to one of New Zealand's most iconic conservation successes, Tiritiri Matangi Island in the Hauraki Gulf. This predator-free island has been extensively planted with native trees by voluntary workers to establish large areas of regenerating forest. A variety of endangered endemic bird species including North Island Saddleback, Takahe, Brown Teal, Red-crowned Parakeet and Stitchbird have been successfully reintroduced here as part of New Zealand's re-wilding program. The opportunities for photography are tremendous and the island is an excellent example of just what can be achieved by conservation volunteers involved in a major revegetation project. We walk along well-maintained trails, fringed with trees and shrubs in full-bloom, on the lookout for Tui, Red-crowned Parakeet and North Island Saddleback. Our path through the forest takes us along a magnificent boardwalk that winds through different woodland habitats. We hear the remarkable songs of New Zealand Bellbird and New Zealand Eantail which will help us to find them, increasingly rare North Island Kokako is also found here. We have a picnic lunch by the lighthouse where there are several Takahe, a bird thought to be extinct until found in remote Fiordland mountains in 1948.
We might also see Tuatara, which resemble lizards but are the sole surviving member of an ancient order of reptiles which originated in the Triassic Period around 240 million years ago. There is also a chance of Wetapunga, the largest of the endemic NZ giant flightless crickets.
We return by ferry to Auckland late afternoon, looking out for Australasian Gannet, Fluttering Shearwater and perhaps Blue Penguin. Accommodation is at Warkworth Hotel for two nights.
Day 5: Fri 11 November - Hauraki Gulf pelagic and Kiwi excursion
New Zealand is justifiably famous as the seabird capital of the world and there is no better start to this tour than a pelagic trip to Hauraki Gulf. The combination of rugged coastline and the cold Southern Ocean mixing with the temperate Tasman Sea makes for nutrient-rich upwellings. Seabirds here must be seen to be believed! During a pelagic trip in the Hauraki Gulf we may encounter several subtropical species including endangered Black (Parkinson's) Petrel, Cook's Petrel, the grey-faced population of Great-winged Petrel, Black-winged Petrel, endangered endemic Pycroft's Petrel (difficult), superb little White-faced Storm-Petrel, Common Diving-Petrel, Fairy Prion and Buller's, Fluttering, Little and Flesh-footed Shearwater. Recently rediscovered New Zealand Storm-Petrel will very much be on our radar today, and we will hope one or more will be attracted to our chumming station. One species virtually guaranteed in these waters is beautiful Australasian Gannet, with its spectacular plunge-diving behaviour into schools of baitfish. This evening we take an excursion to listen for and hopefully see North Island Brown Kiwi.
Day 6: Sat 12 November - Firth of Thames/ Lake Taupo
We make an early start today and drive south to the spectacular geothermal region of Lake Taupo. On the way we visit Miranda, on the Firth of Thames, one of the finest wading bird habitats in the country. We spend around two hours here (depending on the tide), and look for Pied Oystercatcher, Pied Stilt, Black-billed Gull and New Zealand Dotterel and a wide variety of trans-equatorial migrants including Bar-tailed Godwit and Knot. The strange-looking Wrybill is another important bird possible here, and while we plan to search for them further south on their breeding grounds, Miranda can be a good site to see this delicate wader. White fronted and Caspian Tern, Black-billed Gull and Royal Spoonbill may also be seen. As we continue south, we drive onto the high central volcanic plateau and explore the fascinating and volatile Waimangu Thermal Valley. It lies across from Mt. Tarawera, whose giant eruption formed this eerie valley of boiling cauldron lakes, steaming fumaroles and numerous boiling springs. We might see examples from primeval plant groups such as Psilotum, and Lycopodium in these areas. The valley is also home to a variety of sub-tropical fern species found only in NZ, within metres of the steam vents.
Our hotel for the night is across from Lake Taupo, and we might see Black Swan, New Zealand Scaup, Australasian Shoveler, Grey Teal and New Zealand Grebe as we enjoy spectacular views across the lake, formed inside a huge volcanic crater.
Day 7: Sun 13 November - Pureora Rainforest, Tongariro NP
Lush rain forest surrounded the central volcanic plateau until wholesale clearance began with European settlement, and now only relatively small tracts remain. Today we visit one of the finest tracts of remnant podocarp rainforest in the country. This is the so-called 'Dinosaur Forest of Gondwana', little changed over 100 million years. We study the podocarp forest communities in detail, with morning and afternoon walks through northern Pureora. Birds found here include the Kaka, an attractive native bush parrot, Yellow-crowned Parakeet, Shining Bronze Cuckoo, North Island Robin, Whitehead, Tomtit and New Zealand Fantail.
We continue into Tongariro National Park, with its snow-capped peaks. Tongariro, a World Heritage Park, is a totally unique alpine park with long vistas, tussock grasslands, raging rivers, and active volcanoes. Accommodation in Whakapapa for two nights.
Day 8: Mon 14 November - Whakapapa: Tongariro NP
Tongariro was New Zealand's first National Park, and is a place of great spiritual significance to the indigenous Maori people. Our main birding target is the rare and endemic 'Who', or New Zealand Blue Duck as it is perhaps more commonly known, and we search at the best times to see it, in the early morning and evening. The park offers a wonderful perspective of the volcanic landscapes and conservation issues that affect the area.
We will walk amongst sub-alpine forest and tussocklands on the slopes of Mt. Ruapehu, North Island's highest peak, which may be more familiar internationally as the setting for Mordor in the Lord of the Rings trilogy. The adjacent Mt Ngaruahoe was 'Mount Doom' in the films. During our exploration we may see endemic New Zealand Fernbird and tiny Rifleman against a spectacular mountain backdrop, and perhaps Australasian Bittern at wetland, marshy habitats or the occasional Karearea and New Zealand Falcon.
Day 9: Tues 15 November - Whakapapa to Kapiti Island and Kiwi excursion
Today we take the ferry to Kapiti Island. The abundance of birdlife is truly overwhelming, and it is a photographer's paradise. Regularly seen birds include New Zealand Kaka, New Zealand Pigeon, Sacred Kingfisher, Whitehead, Tui, New Zealand Bellbird, North Island Robin, Fantail, Silvereye, Weka, Red-crowned Parakeet, Paradise Shelduck, Variable Oystercatcher, Great Cormorant, and Little Pied Cormorant. Rarer birds include North Island Kokako, Takahe, Long-tailed Cuckoo, North Island Saddleback, Tomtit, Royal Spoonbill and Brown Teal. After dark, we search for Little Spotted Kiwi, which we have good chances of seeing, with the added bonus perhaps of New Zealand's only native owl, the Morepork, and a few Little Penguin returning to their burrows. Our accommodation tonight is basic lodge accommodation, most with shared bathroom facilities.
If weather is poor and we can't reach Kapiti, we travel to the Wellington area and visit a nearby reserve (Zealandia) where we will take a guided walk after dark seeking out Little Spotted Kiwi. This reserve is 225 hectares (500+ acres) in size and surrounded by an 8.6km predator proof fence. Birds such as Tūī, Kākā and Kererū, and other vulnerable native species such as Tīeke, Hihi and Tuatara remain thriving in the sanctuary thanks to their conservation efforts.
We may also visit the Manawatu estuary depending on tides and this can be done whether we use Wellington or Kapiti Island as a base.
Accommodation on Kapiti Island for one night, or alternatively in Wellington if weather intervenes.
Day 10: Wed 16 November - Wellington and Ferry to South Island
Today we connect with the afternoon ferry to Picton on South Island. This is a sensational trip as we sail first through Wellington Harbour, then across a short stretch of Cook Strait, before travelling up the Marlborough Sounds for the final hour. During this three-hour crossing, we keep a sharp eye open for Little (Blue) Penguin, Wandering Albatross, Fairy Prion, Fluttering Shearwater and fur seals. The scenery is out of this world and never to be forgotten. Dolphins will probably lead our ferry as we travel across the strait and we will have dinner on the ferry. Accommodation in Picton for one night.
Day 11: Thurs 17 November - Marlborough Sounds to Kaikoura
We enjoy a morning boat trip in Queen Charlotte Sound, one of the Marlborough Sounds, and home to the threatened endemic Rough-faced (King) Shag, among an abundance of marine life. We may obtain excellent views of Spotted Shag, Fluttering Shearwater, White-fronted Tern, Parasitic Jaeger and with luck, New Zealand Falcon. If possible, we land on Blumine Island, where we have a chance of encountering critically endangered Malherbe's Parakeet, one of New Zealand's rarest birds, with a population of around 700 individuals. We also have an excellent chance for marine mammals including elusive Hector's Dolphin. In the afternoon, we reach the east coast and Pacific Ocean, and drive on to the old whaling village of Kaikoura. On the way, we take a break at a beautiful shoreline setting at Kekerengu while watching continually for waders, gulls and terns, and we keep a lookout for a glimpse of endangered Hector's Dolphins which frequent this section of the coast. Accommodation in Kaikoura for two nights.
Day 12: Fri 18 November - Kaikoura: Pelagic Seabird and Sperm Whale watching
Today we are in for a real treat as we enjoy New Zealand's rich marine wildlife to its fullest with two boat trips out of Kaikoura. Due to the depth of the Kaikoura Canyon just offshore, we can reach water 4,000m deep within half an hour, allowing us to really get amongst the seabirds and cetaceans. In the morning we take a 2½ hour pelagic seabird excursion. Although the species list varies throughout the year, in any season we can expect to see up to 15 species of seabirds, including albatrosses as close as five or six feet away. Albatross species include Northern and Southern Royal, New Zealand Wandering, Black-browed, Campbell, White-capped, and Salvin's. We also have the chance to see a variety of petrels, Northern Giant-petrel, and the endemic Hutton's Shearwater, which breeds in the spectacular mountains behind Kaikoura. After an early lunch we join another boat expedition (around 2 hours in duration) to see Sperm Whales which are present year-round and inhabit the deep water just off the coast. The area is also renowned for Dusky, Hector's and Common Dolphin, and we may see these along the way.
Day 13: Sat 19 November - Punakaiki Westland Petrel Colony
Leaving Kaikoura early, our journey carries us across the vastness of the Canterbury Plains, and over the main divide via Arthur's Pass, a route once used by Maoris. This route across the Southern Alps will introduce us to the vegetation and birds found in the mountainous regions of South Island. On the flats leading up to the pass, endemic Black-fronted Tern are regular while Double-banded Plover and Wrybill may also be found, the latter a breeder of the area. Kea are a target once we reach Arthur's Pass National Park itself, often cheekily scavenging for scraps around the settlement.
On arrival at Punakaiki we settle into our accommodation, in preparation for an evening excursion to view Westland Black Petrel returning to their colony. We have chances to possibly see Great Spotted Kiwi or hear one calling, though this species is notoriously difficult to see.
Day 14: Sun 20 November - Westland NP and evening Kiwi excursion.
This morning we have a leisurely start, travelling down the wet and wild west coast on avenues framed by the green lushness of rainforest. Amongst this landscape is our next stop, the Okarito Lagoon, where in gentle wetlands Fernbird may be found, as may the striking White Heron, together with Royal Spoonbill. Westland NP is home to approximately 60 glaciers, unique in the world for their location in the middle of the rainforest and so close to the sea, the most famous being the Fox and Franz Joseph Glaciers. We visit Fox Glacier and if time, may also venture into the nearby forest to enjoy its lushness and perhaps see Brown Creeper. Kaka and Kea also occur in the National Park. This evening we take an excursion in search of the endangered Okarito Brown Kiwi. Accommodation: Franz Josef township.
Day 15: Mon 21 November - Lake Moeraki & Haast Pass
Near the peaceful Lake Moeraki, a delightful walk to the coast through a tract of superlative forest brings us onto a golden beach, where a bustling colony of rare Fiordland Crested Penguin breed. These entertaining birds are strictly protected, though from a safe distance we can sit and watch the adults braving the crashing breakers to bring food for their hidden youngsters. Ascending Haast Pass through the southern Beech forests may provide us with further opportunities to view forest species. We drive along the Haast pass through the Alps to Wanaka then head north again through the Lindis Pass Thereafter we leave the forest, journeying through the vast rolling Otago landscape of schist rock, and the tussock land and clear turquoise lakes of the McKenzie Basin. Birding possibilities include Great Egret and maybe Royal Spoonbill as well as numerous Black Swan, Paradise Shelduck and other wildfowl. Accommodation in Twizel for two nights.
Day 16: Tues 22 November - Mt Cook National Park
Today provides a first-rate opportunity to savour the grandeur and unparalleled beauty of one of the most beautiful regions in the world. After breakfast, we drive along Lake Pukaki to Mount Cook National Park where we spend the day. There are some excellent trails in the area, one of which will take us through Hooker Valley to the foot of Mount Cook, with a stunning panoramic view of the mountain. On our return we will look at the braided rivers in this region, habitat for the endangered Black Stilt, perhaps the world's rarest wading bird. We also look for Black-fronted Tern, Banded Dotterel, Grey (Pacific Black) Duck and a range of inland waterfowl.
Day 17: Wed 23 November - Fiordland World Heritage Area
After travelling over the Crown Range and alongside Lake Wakatipu the road follows the upper Mataura Valley, where to the west lies the Fiordland World Heritage Area. At times stunning, at others awesome and, in places even tranquil, this area encompasses New Zealand's largest national park. Valleys gouged by glaciers and lakes nestled between range-upon-range of snow-capped mountains characterize the landscape.
This will be our location for the next two days as we discover some of the magic of this incredible region. We explore Eglinton Valley, full of incredibly interesting Gondwanan plant species. This valley is famed for its red beech forests, and some of the birds found in this unique habitat include Australasian Harrier, Shining Cuckoo, Brown Creeper, New Zealand Robin, Black-billed Gull, Yellow-crowned Parakeet and endemic Rifleman. In these forests, which bear little or no resemblance to those of the northern hemisphere, also dwell Yellow-crowned Parakeet, Kaka, and the threatened Mohua, or Yellowhead.
Even more spectacular than Eglinton is Hollyford Valley, which contains little-visited cirque basins that are botanical treasure troves set in impressive alpine surroundings. We walk in the Gertrude Cirque to study the diversity and character of New Zealand alpine flora and, in the alpine meadows, amongst the Mount Cook lilies, New Zealand foxgloves and wild Spaniards, we try for glimpses of endemic Rock Wren. We will also be on our guard against the noisy Kea, a large bold alpine parrot that has been known to steal food and even lens caps from the unwary. Accommodation: Te Anau for one night.
Day 18: Thurs 24 November - Milford Sound and Stewart Island We depart Te Anau early this morning for Milford Sound, and a visit here would not be complete without a cruise on these deep, icy blue waterways that flow into the Tasman Sea. The mouth of the fiord is surrounded by sheer rock faces rising 1200 metres or more on either side creating a dramatic canyon. Our cruise will allow us to search for Bottle-nosed Dolphin, New Zealand Fur Seal and Fiordland Crested Penguin, rarest penguin in the world!
Following the cruise there may be further birding opportunities as we return through the glaciated valleys before we continue south to Invercargill and take the ferry across to Stewart Island. Removed from reality on this idyllic hideaway, we discover the grand diversity of life on this, the least modified of the three main islands of New Zealand.
This evening after dinner we have the opportunity to view endemic and elusive Stewart Island Brown Kiwi feeding in the wild. Accommodation: Oban, Stewart Island for two nights.
Day 19: Fri 25 November - Stewart and Ulva Islands and pelagic seabirds
A day marine charter to Paterson Inlet and into the South Pacific will invigorate us with opportunities to observe a rich diversity of seabirds. Among the bays of the inlet we scan for two very rare penguin species, Yellow-eyed and Fiordland Crested. Out at sea we may encounter several species of albatross, including Shy, Black-browed and Buller's, plus Southern Giant Petrel, Southern Great Skua, and Common Diving Petrel. We are also likely to come across large numbers of Stewart Island Shag, which breed nearby on the small outer islands, plus Blue Penguin, Fur Seals and possibly New Zealand Sealion.
A treat awaits us on Ulva Island, a bird sanctuary rich in lush podocarp forest, and ringing with the sounds of Kaka, Tui, Bellbird, New Zealand Robin and Red-crowned Parakeet. Flocks of Brown Creeper may be seen here and we have another chance of finding a Yellowhead as some of these rare birds have been released on Ulva. The Stewart Island Weka is also a popular resident which will probably greet our arrival at the jetty. Ulva Island is a sanctuary to threatened wildlife which has been predator free since 1997, and 30 Saddleback (Tieke) were released in May 2000 with 18 Stewart Island Robin (Toutouwai) released in October the same year. We return to Stewart Island late afternoon.
Day 20: Sat 26 November - Otago Harbour/Dunedin/Taiaroa Head
Today we reluctantly make our way back to civilization and the city of Dunedin, a very beautiful city rich in Victorian architecture. This afternoon we may visit the Yellow-eyed Penguin colony on the Otago Peninsula prior to embarking on our evening wildlife cruise from Otago Harbour to Taiaroa Head. We expect to see huge, majestic Northern Royal Albatross, an impressive sight as they ride the wind effortlessly on stiffly held wings as they return to their colony. Stewart Island Shag and Spotted Shag should be present in full breeding plumage, New Zealand Fur Seals bask on the rocks below the colony, and perhaps a Yellow-eyed Penguin in the water. We take our farewell dinner on board our charter yacht with albatrosses cruising alongside, the perfect ending to our New Zealand trip of a lifetime! Accommodation: Dunedin for one night.
Day 21: Sun 27 November - Depart Dunedin
Today after breakfast we fly from Dunedin to Auckland to connect with onward flights home. We may have the opportunity to explore this delightful Victorian city with its rich architectural heritage before departure from Dunedin Airport. Boarding our flight in the afternoon, we arrive back in the UK on Day 23: Tues 29 November. Should you wish to 'stopover' during the return journey (not included in holiday price), please contact our office.
Disclaimer: Our excellent agents in New Zealand are constantly developing itineraries, and sometimes choose alternative sites or activities based on what we determine to be best for the tour. This itinerary should be used as a guideline subject to trip circumstances, weather, and local information. This particularly applies to weather dependent features including pelagics, but visits to land-based sites may change and other sites may be visited instead.
Please note: all itineraries are given as a guide only. Actual holiday content may vary according to the judgement of your guide, and elements beyond our control (eg weather).
What's included in your holiday price:
* scheduled return flights from London Heathrow - Auckland. Domestic flight from Dunedin - Auckland, airport taxes and transfers.
* ground and boat transportation as outlined.
* full-board accommodation, including breakfast, lunch and dinner.
* the services of your leaders.
* field trips as specified, including entrance fees to Tiritiri Matangi, inter-island ferry, National Park fees, Yellow-eyed penguin excursion, Kiwi excursions (Auckland, Okarito and Stewart Island) and boat trips (whale watching/pelagic seabird excursions, Milford Sound, Otago Harbour and Stewart Island.
* The Heatherlea ANZAC Pre-Flight Service offers everything you need at the airport, including hotels, car parking, airport lounges, regional flights, and upgrades. Let Heatherlea take the strain! Pre-flight airport hotel and lounge included free of charge subject to terms and conditions. Read more....
Free Field Guide! - 'Birds of New Zealand' by Barrie Heather and Hugh Robertson is included in your holiday price. One copy per room booked.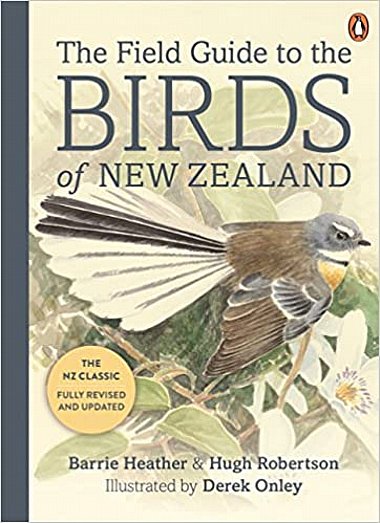 What's not included in your holiday price:
personal insurance, drinks and other personal expenses, visa costs where necessary, optional tips to local guides/other staff, and any other costs not specified as 'included'.
Should we stay on Kapiti Island (Day 9), accommodation is in a basic lodge with shared bathrooms. It is worth the inconvenience to be in this special location!
Our thanks for the photographs on this page go to Mark Hanger, A McNab and Alfred Schulte.
Your Leaders
Mark Hanger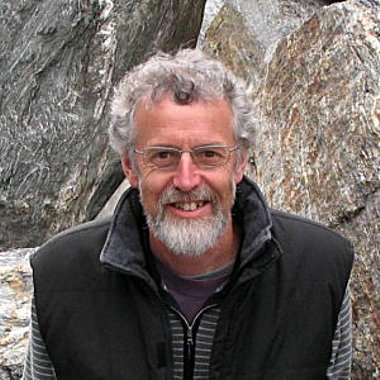 Mark is a highly experienced Tour Leader, and after over 30 years remains as passionate as ever. A New Zealander and graduate of Otago University, Mark is a passionate botanist and ornithologist. He is currently Deputy President of the largest conservation society in New Zealand, the Royal Forest & Bird Protection Society.
Mark has been involved with many conservation projects over the years and he is currently coordinating an exciting and innovative seabird initiative along the Otago coast, restoring up to seven species of seabird that have disappeared due to predation.
Mark has a rich history in conservation, he worked for the New Zealand National Parks Service for 7 years and has had a professional involvement in conservation since 1979.
Mark Warren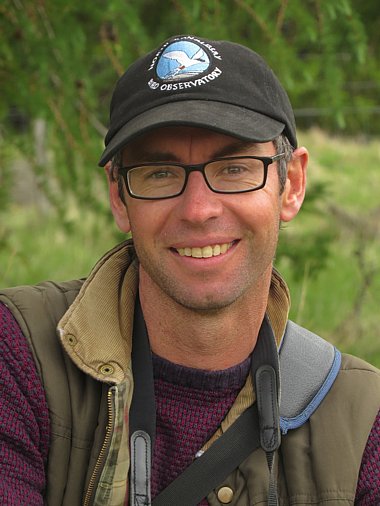 Mark joined our team in 2016, with many Heatherlea customers having already reaped the rewards from his widespread knowledge of migration and enthusiastic attitude. Well known as a Heatherlea 'sharpspotter', with in-depth identification skills, you will see and learn a lot with Mark on this trip to New Zealand.
Why choose Heatherlea for your birding and wildlife holiday?
Our overseas holidays are planned with care to offer great birding and wildlife, led by capable Leaders who really look after you. Every holiday is run the 'Heatherlea Way', and we hope our Overseas Adventures remind you of the quality and care so many of you enjoy in Scotland. That means rewarding and exciting days in the field, and good quality accommodation and meals, with a real flavour of the country we are visiting. Heatherlea always seek to include the personal touches that make all the difference.
Heatherlea holidays are not 'dawn to dusk' expeditions. Our less-intensive approach is ideal for those who want to relax whilst experiencing the best wildlife watching, and wherever possible we organise early or late activity on an optional basis. We also take sensible breaks when in very hot places and regular comfort breaks on every holiday whenever possible. All itineraries are planned carefully around the best wildlife opportunities, and you won't miss out on memorable wildlife, whilst enjoying relaxed, informal days that are great fun.
The really important part of any wildlife holiday is the experience for you, our valued customer. Heatherlea invest in many things to offer you the best possible service;
We have been organising birding and wildlife holidays for over 30 seasons, and have a highly experienced and capable office team. We also offer a telephone and email service outside normal office hours.
Heatherlea overseas holidays have a maximum of 12 clients per trip, putting the emphasis on personal service, and helping you get the best possible experience.
Our holidays often include things which others might invite you to pay yourself, for instance Departure Taxes and tips to hotels.
All elements of our holidays are sold under our own licence, ATOL 6113. Under 'Flight-Plus' legislation it is a legal requirement of any tour operator to hold an ATOL licence for the supply of any overseas holiday where a flight is involved, if that holiday includes either overseas accommodation and/or car hire. It can be a criminal offence for an operator to book flights as part of a package without an ATOL licence. Heatherlea also hold full Tour Operator Insurance for your added protection.
Heatherlea is your complete wildlife holiday provider. Our 'Back Office' team can organise all your pre-flight and other travel needs. Our specialists will help you book the right services, at the best price. Book holiday extensions through us, and your ATOL protection is extended further. We don't charge extra for this service.
Heatherlea is a limited company, registered in Scotland, and registered to pay VAT (applies to all holidays within the European Union).
Free Bird Guide

FREE copy of Field Guide to the Birds of New Zealand with every room booked on this holiday.