Mull and Islay
A late-winter raptor and wildfowl holiday on two of our favourite islands!
| | |
| --- | --- |
| Destinations | |
| Focus | |
| 2022 Dates | |
| Duration | 7 Days |
| 2022 Price | Price TBC |
| 2023 Dates | |
| Duration | 7 Days |
| 2023 Price | Price TBC |
| 2024 Dates | |
| Duration | 7 Days |
| 2024 Price | Price TBC |
| 2025 Dates | |
| Duration | 7 Days |
| 2025 Price | Price TBC |
| Max Group Size | 7 per guide |
Join us on this late-winter itinerary combining two of our favourite island destinations! We have timed this holiday so the winter wildfowl spectacle of tens of thousands of geese, ducks and waders on Islay can be coupled with both White-tailed and Golden Eagle, as well as Hen Harrier, divers and Otters on Mull. Two scenic and wildlife-rich islands and a healthy birdlist – what a way to end winter! Both islands are incredibly beautiful, and with the lovely glow of Scottish light in March, this is a photographer's dream!
Please note that this is a 'highlights' tour of the two islands. For a more thorough tour of Mull, please consider our specific Mull holiday in May, which also visits the Treshnish Isles and Iona. For a more detailed tour of Islay (which also includes a visit to Jura) please see our October Islay and Jura holiday.
Day 1: Saturday - Nethy Bridge - Islay
We depart Nethybridge in the morning and head south, travelling to the ferry point at Kennacraig. Once in Kennacraig, we board the ferry to Port Askaig on Islay. The crossing to Islay takes around two hours, heading first down West Loch Tarbert, an excellent spot for Great Northern Divers. We are then on the open sea for a short while before heading up the Sound of Islay, running very close to Jura. This is a stunning voyage and in the right light is absolutely breathtaking. We still have a few hours of daylight left so will plan a good afternoon of birding, most likely at Loch Gruinart RSPB reserve to give us our first chance of seeing the spectacle of numbers of geese heading to roost. Overnight Islay.

Day 2: Sunday - North and West Islay
Islay is very different from Mull, being by and large fertile and low lying. The fertile fields attract and sustain the main birding spectacle of Islay, thousands of Barnacle and Greenland White-fronted Geese. The geese travel far and wide across the island, and there is little pattern. A field can hold 5,000 geese one day and the next be empty. It takes a bit of driving to find the numbers, but the island is small and we are already inside a perfect mobile hide if the geese are close to the road. We often see rarities here, including Cackling, Red-breasted and Snow Goose, with numbers of Whooper Swan present too. We intersperse our goose watching with walks at some superb dune systems and empty beaches, perfect for finding Chough, here at the northern edge of their range. With the first Meadow Pipits slowly moving north, and perhaps a Snow Bunting or two, we hope they might attract a passing Merlin, though Hen Harrier is more likely! We close the day again at Loch Gruinart, perhaps heading to the lower hide to watch the roost flights. With wintering ducks to look through we certainly won't be bored, with numbers of Teal, Wigeon, Pintail and Shoveler, often with American Green-winged Teal and American Wigeon present too. We frequently see Snipe here, providing a marauding Peregrine hasn't forced them into cover first! Overnight on Islay.

Day 3: Monday - Mull of Oa and South Islay
After the wildfowl spectacle of the past few days, today we make a change and head to the rugged south of Islay. If weather permits we shall make the one-mile walk to the Mull of Oa, with views across to Rathlin and Northern Ireland. We hope for a close Golden Eagle flypast here, though the view and rugged cliff scenery is worth the walk alone! There are several sacrificial crops planted near the car park, and we hope to see Linnet, Greenfinch, Reed Bunting and Twite – these in turn attracting raptors such as Sparrowhawk and Merlin. We then head down to Port Ellen and explore the country lanes of the south east corner, excellent for seals in the bays, and eagles overhead. We also visit the famous Kildalton Celtic Cross and ruined church.
We take lunch around the capital Bowmore, and look in shops on the small high street, with rare whiskies often being sought as a matter of priority! After lunch we check out the waders and seaduck on Loch Indaal, the large sealoch that nearly cuts Islay in two. Waders should include Bar-tailed Godwit, Golden Plover, Dunlin, Purple Sandpiper and Knot amongst several others, with wildfowl comprised of Pale-bellied Brent Geese, Long-tailed Duck, Common Scoter and Greater Scaup. We usually find a 'white-winged' gull in the gull flocks too, with Iceland Gull the most likely. If we have not had the rub of the green with goose roosts, then we finish our Islay birding with a look at the Bridgend roost – a great end to a magical week of wildlife and scenery. Overnight on Islay.

Day 4: Tuesday Islay – Mainland – Mull
This morning we take a morning ferry from Port Askaig to Kennacraig. The ferry takes about 1hr 50 minutes, and we will be hoping for a good number of sightings on the return leg, with more seabirds, seaduck and divers expected. We transfer to Oban for our ferry to Mull. At this time of year we can expect to see Great Northern and Red-throated Diver from the ferry, as well as commoner seabirds such as Gannet, Kittiwake and a few Razorbill and Guillemot. If time allows, we will explore remote sea lochs, with excellent chances of raptors before transferring to our hotel for dinner. Overnight on Mull.

Day 5: Wednesday - North Mull including Tobermory
Today we explore the north of Mull. There are many miles of backroads up here, which should be very quiet at this time of year. This gives us excellent chances of finding into Hen Harrier, Hooded Crow, Raven and of course both species of eagle, along with other commoner raptors. We will plan our exact route according to the tide and weather so we can maximise our chances of good views. When the tide is right we will look out from harbours and pull-ins for divers, seaduck, waders and grebes, as well as Otter and seals. This part of Mull is very scenic, and we cap off our day with a visit to the picture-postcard town of Tobermory. Overnight on Mull.

Day 6: Thursday - South Mull
Some of the more famous wildlife watching spots of Mull are in the south and east. Glenmore, Loch Spelve and the Ross of Mull all have a good population of raptors, and the relative fertility of this area offers us good chances of passerines, perhaps including Twite, Yellowhammer, Crossbill and Reed Bunting. Sheltered sealochs will be good for Red-breasted Merganser, with a range of seaduck possible, along with wintering waders and the first returning wildfowl, that we will also target later in great numbers on Islay. Otter is a key target today, and the flexibility of the itinerary and quiet time of year means we have a great chance of success! Overnight on Mull.

Day 7: Friday - Mull to Oban, Oban to Nethy Bridge
This morning we say goodbye to Mull, making the short transfer back to Oban. Here we check the harbour thoroughly, as there is a possibility of a good range of gulls which often include Iceland, Glaucous and Kumlien's, with rarities such as Ring-billed being recorded from time to time. We will see many Great Black-backed, Common and Herring Gull, along with Eider, Turnstone and Black Guillemot. We then make a slow transfer north, arriving in Nethy Bridge for 5:30pm.
Please note: all itineraries are given as a guide only. Actual holiday content may vary according to the judgement of your guide, and elements beyond our control (eg weather).
Field Notes
The climate on Mull and Islay is usually milder than on islands further west, though you can still expect a wide variation in weather conditions. Sunshine, rain and cold winds are all possible, and you will probably experience a bit of everything. Biting insects are not expected. Please bring walking boots or shoes, warm, waterproof clothing and a small rucksack. We will spend a lot of time using our minibus as a mobile hide, for working through waders, geese and ducks when at close quarters and for looking for Otters. We will undertake a few optional walks, with the longest being at the Oa RSPB reserve (if weather permits). This is an undulating walk, often wet in places and is around 2 miles return. The other walks are short and on mostly level ground.
Please note that this is a birding and natural history themed itinerary. There are no planned excursions to any of the famous whisky distilleries on Islay and Mull, but we will pass most of them if guests wish to arrange a visit (at the expense of their own wildlife watching!). In our experience, the best way to enjoy whisky is to stay at a good hotel such as the one we use, with a superb range of malt whiskies and extremely knowledgeable and friendly staff to help you learn your West Coast and Island malts! On this holiday we pass some key historical sites, where we are happy to stop to allow for a short exploration. Of particular note are Finlaggan on Islay, the former seat of the Lord of the Isles, and the church and Celtic cross at Kildalton on Islay.

What's included in your Mull and Islay holiday price
Six nights comfortable en-suite hotel or guest house accommodation on Mull and Islay. Guests are never expected to share. Full details with your joining pack. Rooms are en-suite.
Full Scottish breakfast and dinner from Saturday evening till Friday morning, packed lunch Saturday - Friday.
All transfers by comfortable minibus and Caledonian Macbrayne ferries. Drivers can leave vehicles safely parked at The Mountview Hotel for the duration of their holiday.
Guidance from a professional Group Leader.
Courtesy bus service to ongoing transport in Oban and Aviemore.
What's not included in your Mull and Islay holiday price
Insurance, drinks and other items of a personal nature.
Extra night in Nethybridge area on the Fridays before and after the holiday. B&B can be arranged for you if requested at time of holiday booking.
Collection from Aviemore on the day before the start of the holiday.
WHY CHOOSE HEATHERLEA FOR YOUR SCOTTISH ISLAND ADVENTURE?
Heatherlea is THE company for top quality birding holidays in Scotland, chosen by more and more birders each year. Relax and enjoy first-rate birding with Scotland's best guiding team, as we do all the planning! Our fully inclusive guided holidays concentrate on the real experience, and we take time to ensure that each of our guests enjoys everything we do. Above all, we make it our business to show key wildlife to you.
These popular holidays are carefully designed to explore the beautiful and wildlife-rich Scottish islands and far west coast. Many itineraries are unique, designed to give you the best of island wildlife at the best time of year. All are run at a leisurely pace, though we might move a little faster when rare migrants and vagrants are in our sights!
We have been organising birding and wildlife holidays for over 30 seasons, and have a highly experienced and capable team. We also offer a telephone and email service outside normal office hours.
This holiday has a maximum ratio of 7 clients per guide, putting the emphasis on personal service, and helping you get the best possible experience.
Heatherlea are Mainland Scotland's FIRST '5-Star Wildlife Experience!' This is the highest available grading, classified as 'exceptional' by visitScotland.
Single guests are never expected or invited to share.
Our holidays often include things which others might invite you to pay yourself, for instance packed lunch and tips to hotels.
Heatherlea hold full Tour Operator Insurance for your added protection.
Heatherlea is a limited company, registered in Scotland. We are also registered to pay VAT, which is included in your holiday price as quoted on this page.
Once your holiday is confirmed in writing by us, we promise not to surcharge the price for any reason.
Enjoy an excellent birding and wildlife holiday with Heatherlea.
Mainland Scotland's FIRST '5-Star Wildlife Experience!'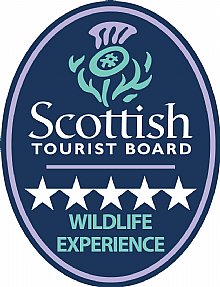 'Exceptional'
Visit Scotland
Trip Reports