NEW!

Ultimate Skye and Mull Explorer
A complete tour, including a total of eleven islands and offering a multitude of wildlife.
Destinations
Focus
2022 Dates
Duration
10 Days
2022 Price

£2395 pp

£320 single supplement.

Deposit £200

2023 Dates
Duration
10 Days
2023 Price

Price TBC

2024 Dates
Duration
10 Days
2024 Price

Price TBC

2025 Dates
Duration
10 Days
2025 Price

Price TBC

Max Group Size
7
A grand tour of two of the best places to watch wildlife in Scotland, Skye and Mull! Our targets will be diverse as eagles, harriers, Corncrake and Grasshopper Warbler, and supported by a full suite of western Scottish wildlife, including breeding Puffin, many other seabirds, cetaceans, seals and Otter.
We begin on the large island of Skye, dedicating time to explore the Trotternish peninsula to the north, famed for eagles, dramatic views and geology. With time for a thorough exploration, less visited places to the west hold much potential, as does the seldom-visited island of Raasay to the east. During exciting boat trips to the south we plan to visit the sea the islands of Muck, Eigg, Canna, Rum and Soay, and anticipate regular sightings of seals and cetaceans.
Relocating to Mull, Hen Harrier, Short-eared Owl, Merlin, both eagles and divers in summer plumage are all likely, and the island is arguably one of the best places in the country to watch Otter. On one day, we take an exciting boat trip to the Treshnish Isles lying to the west, visiting Fingal's Cave on Staffa before making landfall on Lunga for one of Britain's outstanding seabird experiences. Walking among the dense Puffin colony, we should also see Guillemot, Razorbill, Kittiwake, Shag and skuas. Our final island of a holiday full of highlights will be Iona, where we hope to see Corncrake and spend time relaxing with a look around its iconic Abbey.
A trip for the 'island bagger', we plan to visit by land or sea an impressive total of eleven Hebridean islands, landing on nine, and including some rarely visited and hidden gems.
We stay at four centres on this island odyssey, also enjoying wildlife rich Ardnamurchan and Morvern on the Scottish mainland, and also spend time searching for Ptarmigan on the Applecross ridge. A wonderful adventure of the west, not to be missed!
Day 1: Sunday 30 May 2021- West to Skye via Applecross
Heading west from Nethy Bridge after breakfast, within a few hours we arrive into undulating high hills and sea lochs, with which we will become accustomed over the next ten days. The weather will dictate our exact route to Skye, and if favourable we may pass under Beinn Eighe and the distinctive Torridon range and up onto the Applecross ridge. Here, in an Arctic Alpine environment we look for mountain dwellers including Ptarmigan as well as enjoying spectacular views across to Skye. We expect to arrive on Scotland's largest island by the afternoon, and if time allows investigate the Broadford area for migrant waders or the Kylerhea Narrows for our first encounter with eagles or Otter. We stay on the magical island of Skye for the next 4 nights!
Day 2: Monday 31 May - Waternish and Diurinish
Today we get a full flavour of all Skye has to offer, seeing why it is held in such high regard. We visit lesser-known places along the east coast, looking out for Golden and White-tailed Eagles overhead as we drive quiet back roads into Waternish and Diurinish. Both are superb, often under-appreciated areas, yet are great for raptors and seabirds. Wheatear, Twite, Stonechat, Skylark and Meadow Pipit are abundant, and we can listen (and look) for Skye's small population of Corncrake, benefitting from sensitive management in these areas. If the weather conditions and sea are calm, scanning across the Minch from Neist Point we may see dolphins, Harbour Porpoise or Minke Whale.
Day 3: Tuesday 1 June - Canna boat trip
In the morning we join an exciting boat trip specifically to reach Canna. We look back towards Skye as we cruise past the small island of Soay, and circumnavigate Rum, the largest of the 'Small Isles'. As we approach Canna, Manx Shearwater and Storm Petrel may be seen, and the waters can be good for Basking Shark and cetaceans. The island has been a bird sanctuary since 1938, and its green meadows, basalt cliffs, sea caves, stacks and sandy shores support over 20,000 breeding seabirds, including Puffin, Razorbill and Guillemot. We hope to spend over an hour on Canna, though local prevailing conditions will dictate our opportunity.
Later today we drive to the Sleat Peninsula, often dubbed the 'Garden of Skye'. Plantations and deciduous woods should be full of birdsong and can include Tree Pipit, Blackcap, Spotted Flycatcher, Chiffchaff, Wood and Willow Warbler. Scrubby patches should also give us Lesser Redpoll, Grasshopper and Sedge Warbler, Whitethroat and Cuckoo. The area can be good for Merlin, and Skye's few remaining Hen Harrier, and Greenshank, Common Sandpiper and Otter may be seen in quiet bays.
Day 4: Wednesday 2 June - Trotternish Peninsula
A whole day dedicated to the most famous region of Skye, Trotternish peninsula in the north-east. Here, one great view rapidly follows another, and we will see plenty of wildlife and geology as we visit the Quiraing, Kilt Rock, Needle Rock and the Old Man of Storr. Spending time in a variety and unique range of habitats we should connect well with Golden and White-tailed Eagles which are prolific. Scanning Loch Snizort from Uig may give us divers in summer plumage, terns, Eider and Black Guillemot, while the meadows in the north are the summer home to Whinchat, Linnet and Twite. A truly memorable day.
Day 5: Thursday 3 June – Raasay and Ardnamurchan
Unfairly neglected on many trips to Skye, the island of Raasay off its east coast is often regarded as 'Skye in miniature' and offers a full range of habitats and wildlife. We explore all corners of this rugged place driving open moors along 'Calum's road' , built by the island's most northerly resident for croft access over a 10 year period! Ferry crossings through the Sound of Raasay may give us Red-throated Diver in breeding plumage, many seabirds including skuas, and we have seen White-tailed Eagles low over the water on previous visits. Crossbills occupy the plantations and we check favoured Otter haunts around the low-lying south coast. In the afternoon we leave Skye via the Armadale – Mallaig ferry. Nearby Loch Morar is the deepest freshwater body in the British Isles and wildlife can include Black-throated Diver, Goosander, Kingfisher and Red Deer on the hillsides. If time allows, we explore Ardnamurchan further before heading to our hotel on the shore of Loch Shiel, where we stay for two nights.
Day 6: Friday 4 June - Eigg and Muck
We visit the other half of the 'Small Isles' today, taking the ferry to Eigg (a brief stop) and then on to Muck. Large, feeding rafts of Manx Shearwater may be present off both islands and we have more chances for Basking Shark, seals and cetaceans. With time to walk around Muck, we could encounter Red-throated Diver, Arctic and Common Tern, Hen Harrier, Snipe, Curlew, Raven, Hooded Crow and Twite, at the same time enjoying the views across to Rum and back to Skye.
Day 7: Saturday 5 June - Mull
We leave Ardnamurchan for Mull on the morning ferry, arriving into Tobermory for the next stage of our island adventure. Mull is a wildlife paradise, and with more Golden and White-tailed Eagles than anywhere else in Britain. We should also see Hen Harrier, Short-eared Owl, Merlin and Peregrine alongside a range of moorland waders including Curlew, Snipe, Greenshank and Golden Plover as we explore the island to its fullest. A destination for wildlife enthusiasts of all levels, we spend time Otter watching, looking out for any late, rare Marsh Fritillary butterflies, and botanists will be delighted with a wide range of orchids and scarce upland flowers.
Day 8: Sunday 6 June - Treshnish Isles boat trip
The coastal habitat is extra special, and we enjoy a thrilling boat trip to the offshore islands west of Mull. We visit Staffa, where we should have enough time to investigate Fingal's Cave while scanning the water for divers, Red-breasted Merganser, Eider and Great Skua. Moving to the tiny Isle of Lunga, we land to witness the fabulous auk colony on the cliffs of Harp Rock. Many thousands of Guillemot, Razorbill, Kittiwake, Shag are present while the 'Puffin experience' is one of the best in the British Isles, with views down to a few feet as these inquisitive birds go about their business. A joy for photographers, we enjoy time here before returning to Mull in the afternoon.
Day 9: Monday 7 June – Iona
As well as thoroughly exploring Mull itself, including places rarely visited by birders, we go to Iona, our final island. This absorbing day should once again include both eagle species, seabirds and perhaps Corncrake. Iona supports a small population (up to 20 calling males) in a very small area, and though we can't guarantee a sighting, we should hear the birds rasping and are usually rewarded with a glimpse or two! There are also many passerines and seabirds to be found on Iona, and you have time to visit the Abbey.
Day 10: Tuesday 8 June - Return to Nethy Bridge via Morvern
We have a few hours on Mull to round up anything we might have missed, or revisit birding sites we enjoyed the most, before taking the ferry to Morvern. Travelling along quiet, minor roads skirting the north shore of Loch Linnhe we will certainly see plenty of wildlife, perhaps with a few additions or surprises before our late-afternoon arrival in Nethy Bridge.
Please note: all itineraries are given as a guide only. Actual holiday content may vary according to the judgement of your guide, and elements beyond our control (eg weather).
What's included in your 'Ultimate Skye and Mull' holiday price
Nine nights comfortable accommodation at four centres. All rooms are en-suite. Single guests are never expected to share, though a single supplement is payable as above. Single guests might be upgraded to double room accommodation at no extra charge.
Full Scottish breakfast, packed lunch, and a delicious dinner daily.
ten days wildlife watching.
Guidance from a professional Group Leader.
All transport by comfortable minibus.
All ferry and boat trips and island landing fees. Please note in adverse weather conditions boat trips may be cancelled.
A checklist specifically prepared for your holiday to record your sightings and notes.
Drop off to Aviemore on the morning of departure if required.
What's not included in your 'Ultimate Skye and Mull' holiday price
Extra night in B&B before and after your holiday. B&B in Nethy Bridge can be arranged for you if requested at time of booking- availability is limited.
Meals, accommodation and transport outwith the holiday as described above.
Entry to Iona Abbey.
Collection from Aviemore the day prior to the start of the holiday.
Insurance, drinks and other items of a personal nature.
More holiday information
Accommodation is en-suite, in comfortable hotels.
Food There is a choice of evening meal with vegetarian, vegan and other diets are welcome. On most days breakfast may be chosen from a full Scottish menu. You don't need flasks for hot drinks.
Walking will be moderate, you need a reasonable level of fitness. Access to some islands can be difficult, and a walking pole is recommended. Landing on Lunga is onto coastal rocks rather than a jetty and at low tide this can be slippery. Walks around Staffa, Lunga, Muck, Canna and Iona are on paths which are steep and narrow at times though guests can remain on the boat, or at another designated meeting point if not confident in these circumstances.
Weather Expect a wide variation in weather conditions. Blazing sunshine and rain are equally likely, and you will probably experience a bit of everything. Bring waterproofs, walking boots or shoes and warm clothing. Hat and gloves are essential for boat trips. Strong winds can be a feature on the islands.
Biting insects may be encountered in muggy and still conditions, though rarely a problem on the coast. A good repellent is recommended nevertheless.
Group size maximum 7 clients.
Optics You should bring binoculars. A telescope will be useful, though your Guide will carry a scope for group use. A camera would be useful too!
WHY CHOOSE HEATHERLEA FOR YOUR SCOTTISH ISLAND ADVENTURE?
Heatherlea is THE company for top quality birding holidays in Scotland, chosen by more and more birders each year. Relax and enjoy first-rate birding with Scotland's best guiding team, as we do all the planning! Our fully inclusive guided holidays concentrate on the real experience, and we take time to ensure that each of our guests enjoys everything we do. Above all, we make it our business to show key wildlife to you.
These popular holidays are carefully designed to explore the beautiful and wildlife-rich Scottish islands and far west coast. Many itineraries are unique, designed to give you the best of island wildlife at the best time of year. All are run at a leisurely pace, though we might move a little faster when rare migrants and vagrants are in our sights!
We have been organising birding and wildlife holidays for over 30 seasons, and have a highly experienced and capable team. We also offer a telephone and email service outside normal office hours.
This holiday has a maximum ratio of 7 clients per guide, putting the emphasis on personal service, and helping you get the best possible experience.
Heatherlea are Mainland Scotland's FIRST '5-Star Wildlife Experience!' This is the highest available grading, classified as 'exceptional' by visitScotland.
Single guests are never expected or invited to share.
Our holidays often include things which others might invite you to pay yourself, for instance packed lunch and tips to hotels.
Heatherlea hold full Tour Operator Insurance for your added protection.
Heatherlea is a limited company, registered in Scotland. We are also registered to pay VAT, which is included in your holiday price as quoted on this page.
Once your holiday is confirmed in writing by us, we promise not to surcharge the price for any reason.
Enjoy an excellent birding and wildlife holiday with Heatherlea.
Mainland Scotland's FIRST '5-Star Wildlife Experience!'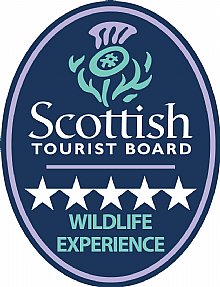 'Exceptional'
Visit Scotland
Trip Reports