St Kilda and the Hebrides
The most remote of Scottish islands!
Destinations
Focus
2022 Dates
Duration
8 Days
2022 Price

£1995 pp

£50 single supplement.

Deposit £300

2023 Dates
Duration
8 Days
2023 Price

Price TBC

2024 Dates
Duration
8 Days
2024 Price

Price TBC

2025 Dates
Duration
8 Days
2025 Price

Price TBC

Max Group Size
10
This very exciting holiday is truly unique, with a 7-day cruise aimed at wonderful St Kilda, for an overnight stay followed by a full day on the main island, Hirta. Your holiday also includes transfers from Nethy Bridge, and a night in Stornoway before we embark.
On this spectacular tour we enjoy six nights on the ocean wave, climaxing in an expedition westwards to reach the outpost of St Kilda, one of Scotland's five World Heritage Sites. There are no guarantees, but with reasonable weather we hope to moor overnight here, and spend a full day on the largest island, Hirta. This should give us time to look for the St Kilda Wren, a distinctive subspecies, and St Kilda Field Mouse. Soay Sheep, and the history of this remote community will likewise be of great interest. Our chances of both Storm and Leach's Petrels will be very good (rarely seen by day-trippers) and sunrise and sunset will be spectacular in good weather. Extra time at sea will also be very good for cetaceans.
Why choose THIS trip to St Kilda?
St Kilda is a difficult place to visit, even in summer months. The weather can intervene at virtually any time, and many a cruise fails to reach the islands. We have carefully designed this itinerary to give perhaps the best chances of visiting St Kilda. Our voyage begins and ends in the northern Outer Hebrides, meaning we are at the closest point to the islands, just 40 miles away. Trips beginning in Oban first have to reach this point, taking perhaps a day of your holiday at both the beginning and end. This means your 'window' for reaching the islands is much smaller, whereas we can simply 'head west' at any time, and our skipper can clearly see the archipelago before setting off towards the islands.
We plan to be ashore on three different days, giving time to thoroughly explore, a fantastic experience.
St Kilda is rightly famous for its huge seabird colonies. The spectacle and clamour of one million birds at the height of their breeding season in north-west Europe's largest seabird colony is an unforgettable experience. Highlights include Puffin (more than 250,000 – the largest colony in Britain), Manx Shearwater, Storm Petrel and Leach's Petrel (over 90,000 birds, and 90% of the European breeding population). The rocky cliffs contain extensive ledges for breeding Fulmar (more than 100,000 – the largest colony in Western Europe), Guillemots and Razorbill. The St Kilda Gannet colony is the largest in the world, estimated at over 120,000 birds.
Perhaps the most notable land bird is St Kilda's own distinctive subspecies of Wren, 2-3g heavier than mainland birds. Wrens are common in the village arera, and in 2012 we watched family groups close to our landing point. The other endemic subspecies to find is the St Kilda Field Mouse as it scurries about deserted houses in search of food. A third notable local creature is Soay Sheep – Europe's most primitive domestic breed, and these are numerous in the village area.
During our voyage, we visit many other remote places, perhaps including the Shiant Islands, twelve miles from the northern tip of Skye. This is another major Puffin site, hosting around 240,000 birds, two percent of the world's population! As we sail, Manx Shearwater, Arctic Skua, Great Skua around the 'flurries' of fish, hosts of Guillemot, Razorbill, Kittiwake, the occasional Storm Petrel, and more will the seas can teem with birds. We should encounter Otter on rocky beaches and inlets, and Minke Whale, Basking Shark, Bottle-nosed, Common and Risso's Dolphin and Harbour Porpoise, are all very possible.
About our vessel
Comfortable accommodation is provided for twelve persons in six twin berth cabins, each with hot and cold water and independent heating. Cabins are compact and small with 'bunk' style beds, and ladders on-board are steep. Duvets, linen and towels are provided. There are three seperate toilets and two showers. Communal accommodation centres around a large deck saloon with seating and large viewing windows. Open air seating is also available, and these are excellent areas for eating and viewing. Mobile telephone coverage is patchy and variable. There is ample power on board for charging batteries etc. and a tumble drier is availabile. Hair dryers are not supplied. The vessel carries good water stocks for general purposes. Crew accommodation is separate.

'Full board' includes a variety of cereals and a good choice of Scottish breakfast, lunch (or packed lunch if ashore), and dinner, all prepared by our excellent cook. Special diets are catered for. Tea, coffee, drinking water or hot chocolate are available, and we also have tea and cakes around 5pm. For safety reasons, hot meals and drinks are not provided whilst the vessel is at sea. The galley is equipped with gas cookers, microwave, fridge and deep freeze.
Getting ashore is usually by dinghy, and you will need to be reasonably mobile to climb short ladders and alight on rocky shores.
The wheelhouse is well equipped and instrumentation includes radar, two GPS navigators, two VHF radios and one DSC controller, Navtex, MF single sideband radio, autopilot and depth sounder. There is a diving compressor feeding the bottle bank on deck. There is also a dive ladder and tender with outboard motor. The skipper and crew hold valid First Aid Certificates, and we will be within range of the coastguard at all times in case of emergency. Smoking is permitted on the outside deck only.

Our thanks to Murdo MacDonald for some of the images on this page!
There is no fixed itinerary for this holiday and our travel plans revolve around the latest weather reports. Spectacular island scenery is all around, and we should visit a selection of islands, bays and unspoilt beaches as we watch the weather and await the right conditions for St Kilda. On some of our previous holidays we have visited Taransay, Scarp and the Monach Isles, three very different and quite fascinating islands, in addition to our three day adventure on St Kilda.
Day 1: Friday
Depart Nethy Bridge in our minibus, and travel by ferry, across The Minch to Stornoway. On our voyage the first seabirds might include Common Eider, Kittiwake, Gannet, Cormorant, Shag, Black Guillemot, Razorbill, Common Guillemot, Great Skua, Arctic Skua and Manx Shearwater. Grey and Common Seal may be seen, and we begin cetacean watching too, with Minke Whale, Common Dolphin and Harbour Porpoise very possible. Once on Lewis we transfer to our comfortable accommodation for an overnight stay.
Day 2: Saturday
Today we do a little shopping for essential supplies, with some time for birding in the Stornoway area for the Hebridean race of Wren amongst other delights. We then travel 40 minutes by mini bus to our departure point of Miavaig, giving us time to admire the stunning scenery and look for Hebridean Song Thrush and other species on route. We board our comfortable vessel and sail late afternoon – heading westwards!
Days 3 – 7: Sunday to Thursday
Our prime target is of course St Kilda, and if the weather is suitable, we head across the Atlantic Ocean. As we sail we watch for birds and cetaceans, going out of our way if we see feeding flurries or whales. On Monday we plan to spend the full day on St Kilda, getting to know the archipelago, visiting the Village, and enjoying the spectacle of more than a million seabirds at the height of the breeding season. With a second night moored here, we have much more time than would be possible on a daytrip and hope to see petrels moving at dusk. Sunrise and sunset should be special in decent weather, and the whole experience on this rugged, desolate outpost will be unforgettable.
We will be on the lookout for interesting wildlife throughout, both on land-based excursions and from our vessels excellent viewing decks. When cruising close to shore we have excellent chances of seeing White-tailed and Golden Eagles patrolling the skies and Merlin, Kestrel and Hen Harrier are also possible. At times, we find ourselves in sheltered bays and sea-lochs where all three divers should be seen and with luck, all will be in summer plumage. Red-breasted Merganser, Eider, Goosander and Otter will be likely in calm waters, with waders such as Greenshank and Common Sandpiper on the shoreline and Golden Plover, Curlew and Snipe seen (and heard) in territorial display over moorland. Noisy Kittiwake and Common and Arctic Tern usually show well, we may well see Little Tern too and there is always the chance of unearthing a rarity or two in such under-watched locations. Among the passerines we should see Twite, Wheatear, Rock and Meadow Pipit and Skylark in abundance, plus of course the Hebridean and St Kilda races of Wren. Cetaceans may be encountered at any time, with Harbour Porpoise, Minke Whale, Bottle-nosed, Common, White-beaked and Risso's Dolphin among the possibilities. Grey and Common Seal will be seen daily and there are outside chances of Basking Shark, Ocean Sunfish and even turtles.
During the rest of our voyage we might visit the Shiant Islands, another very significant seabird breeding site. Over 2% of the world's Puffin breed here, and although not as breathtaking as St Kilda, the Shiants are extremely exciting. Other destinations may include the Monach Islands, Little Bernera, Scarp, Pabbay Mor or the isle of Taransay (where 'Castaway' was filmed). On one day we enjoy the west coast of Lewis, these outermost parts of Britain are characterised by steep and rugged cliffs, pristine beaches with shining sands, and rolling fields of flowers. Rare orchids and wildflowers are present including several Hebridean forms, and we will make time to enjoy the flora as we go. Other wildlife can include several varieties of Jellyfish, Dragonflies and Damselflies and Butterflies, perhaps including scarce Large Heath which occurs on some islands.
By Thursday evening we will be back at Miavaig for our last night on board.
Day 8: Friday
Our final day. We disembark in the morning, taking the mini bus transfer back to Stornoway in time for the ferry across the Minch to Ullapool, and onwards to Nethy Bridge, where the holiday ends.
Please note: all itineraries are given as a guide only. Actual holiday content may vary according to the judgement of your guide, and elements beyond our control (eg weather).
Expect a wide variation in weather conditions, which can be wild and unpredictable, with temperatures perhaps averaging around 15 degrees Celsius. Sunshine, rain and strong winds are all possible, and you will probably experience a bit of everything. Biting insects are not expected. Please bring walking boots or shoes, fully waterproof clothing and a small rucksack. The holiday will be run at a relaxed pace, with time for photography and botany as well as fabulous birdwatching in a spectacular setting!
There will be moderate (3 to 6 mile) walks some days over uneven, steep and sometimes boggy ground. Although we take our time during these walks you will need a good level of mobility to enjoy this holiday to its maximum extent. All of our landings are optional, mostly they will be via a small boat on to a beach, jetty or occasionally rocks - You may find a walking pole useful!

Please note that with six days aboard a boat, seasickness is a possibility. Even if you do not usually suffer with seasickness the North Atlantic ocean can take a little getting used to so we recommend bringing a supply of preventative medicine. 'Sealegs' usually develop after a day or two aboard! Alcohol is not supplied onboard, though you are welcome to bring and consume your own supply! There is a well-stocked shop on St Kilda, run by the permanent staff. This shop usually offers clothing, books and memorabilia.
What's included in your 'St Kilda and the Hebrides' holiday price
• One night comfortable en-suite hotel/guest house accommodation on the Outer Hebrides. We choose from our personally inspected shortlist, where birders are welcome and the hospitality is special. Guests are never expected to share. All rooms are en-suite. Full details with your joining pack.
• Six nights cabin accommodation onboard our boat. Cabins are compact and small, and have a private hand basin. Toilet/shower facilities are shared. Hairdryers not available onboard.
• Full Scottish breakfast and dinner from Friday evening til Friday morning, packed lunch daily.
• All transfers by comfortable minibus. All ferries and other boat trips. Drivers can leave vehicles safely parked at The Mountview Hotel. We offer a courtesy drop off to Aviemore on the final morning of departure.
• Guidance from a professional Group Leader.
What's not included in your 'St Kilda and the Hebrides' holiday price
• Extra night in Nethybridge area at beginning and end of holiday. This can be arranged for you if requested at time of holiday booking.
• Collection from rail links in Aviemore.
• Insurance, drinks and other items of a personal nature.
WHY CHOOSE HEATHERLEA FOR YOUR SCOTTISH ISLAND ADVENTURE?
Heatherlea is THE company for top quality birding holidays in Scotland, chosen by more and more birders each year. Relax and enjoy first-rate birding with Scotland's best guiding team, as we do all the planning! Our fully inclusive guided holidays concentrate on the real experience, and we take time to ensure that each of our guests enjoys everything we do. Above all, we make it our business to show key wildlife to you.
These popular holidays are carefully designed to explore the beautiful and wildlife-rich Scottish islands and far west coast. Many itineraries are unique, designed to give you the best of island wildlife at the best time of year. All are run at a leisurely pace, though we might move a little faster when rare migrants and vagrants are in our sights!
We have been organising birding and wildlife holidays for over 30 seasons, and have a highly experienced and capable team. We also offer a telephone and email service outside normal office hours.
This holiday has a maximum ratio of 7 clients per guide, putting the emphasis on personal service, and helping you get the best possible experience.
Heatherlea are Mainland Scotland's FIRST '5-Star Wildlife Experience!' This is the highest available grading, classified as 'exceptional' by visitScotland.
Single guests are never expected or invited to share.
Our holidays often include things which others might invite you to pay yourself, for instance packed lunch and tips to hotels.
Heatherlea hold full Tour Operator Insurance for your added protection.
Heatherlea is a limited company, registered in Scotland. We are also registered to pay VAT, which is included in your holiday price as quoted on this page.
Once your holiday is confirmed in writing by us, we promise not to surcharge the price for any reason.
Enjoy an excellent birding and wildlife holiday with Heatherlea.
Mainland Scotland's FIRST '5-Star Wildlife Experience!'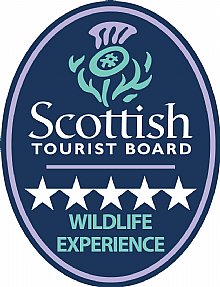 'Exceptional'
Visit Scotland
Trip Reports