Guide's Diary
April - Ian Ford
This months entry into our guides diary is from Heatherlea guide Ian Ford.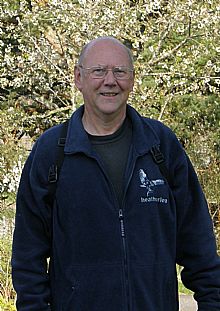 "Lockdown 3 has affected the whole of the UK but I'm writing this in mid-April as restrictions ease, allowing us a bit more freedom. And a great sense of relief which is good for mind, body and soul.
Heatherlea holidays in Scotland started again from the 26 April which is wonderful news for all our guests as well as all the staff. I am looking forward to seeing the Highlands and especially the Islands again and can't wait to guide some of you this summer.
I was quite lucky during Lockdown as I live overlooking the River Tay and was able to reach the local hills without breaking any rules but the vast majority of my outdoor exercise has been walking from home. Even with restrictions I could watch and listen to up to 10,000 Pink-footed Goose as they whiffled down to roost offshore each night and watch them leave around dawn. Always a wonderful son et lumière, especially with a red sky.
Local birding produced the expected Redwing and Fieldfare with only one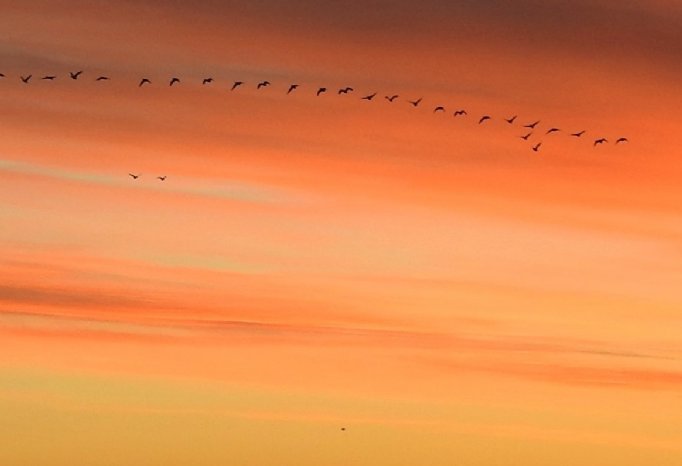 glimpse of Waxwing. One Fieldfare defended an Apple tree against allcomers and when we had deep snow I uncovered windfalls every day for it. Common Crossbill flew over surprisingly often and sometimes landed in the few conifers whilst close scrutiny of groups of Redpoll revealed some Mealy. A Chiffchaff stayed around till the New Year and Blackcap have visited my garden feeders. Red Kite and returning Marsh Harrier were nearby in early April. Friends in the village have also reported increasing numbers of White-tailed Eagle sightings.
European Beaver have moved into my area and are now within half a mile of me on a small burn. Otter are present too but I missed one that would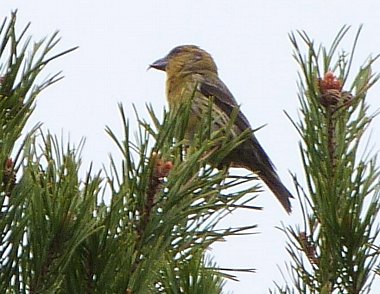 have been visible from my window. Later this year I am leading a Heatherlea trip to look for Beaver and Pine Marten in Perthshire which I am very much looking forward to.
A trip to the hills after a big dump of snow let me see my first Ptarmigan and Mountain Hare of the year, both species blending in rather well. A brief glimpse of a female Black Grouse in the winter made me search for a lek in local low hills and I was delighted to locate it. I kept to Schedule 1 regulations so I didn't approach the lek, didn't see any Blackcock but saw four Greyhens. It is amazingly only 6 miles from the centre of Dundee and a very isolated group of birds. Previous surveys indicate that breeding had not taken place since 1970 so I'll see what I find later in the summer.
As I live near Britain's largest reedbed I do go a few miles to look for elusive Bearded Tit in the right weather and was rewarded with stunning views of males and females. Noisy Water Rail are on my doorstep but I've only seen one a couple of times and a Jack Snipe fluttered up one day.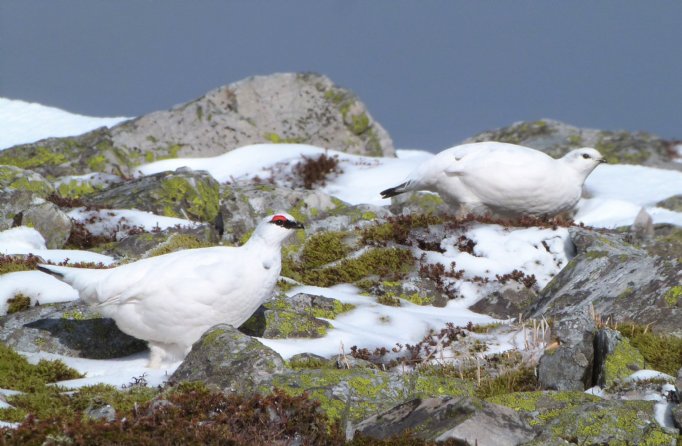 Spring is arriving slowly with Chiffchaff on cue and then Blackcap appearing in numbers. Comma and Orange-tip are on the wing now but my attempt to rear a Purple Hairstreak may have failed. I found an egg (with help) on a wind-blown oak twig in late autumn and kept it in my fridge. A friend's eggs started hatching so I brought mine into the warmth of the kitchen. It did emerge but I couldn't find it. Apparently their first task is to bore a tiny hole in a bud and disappear. Hmmm?
Finally, one of my spring jobs is to survey singing Skylark at the Nature Park which I help manage and I have done five surveys already. We have ongoing problems with people and dogs wandering over the meadows despite clear signs but there are good numbers of singing males this year.
Jonny Pott sadly passed away a year ago – he was a massive loss not only as a Heatherlea guide but as a good friend. My Moment for Jonny last year was spent listening to a Skylark way above me in the blue sky.
I look forward to meeting colleagues and guests, old and new, as we move out of Lockdown into a personal green recovery as well as a national or international Green Recovery."
Ian Ford / April 2021
Feb/March
This months entry into the guides diary comes from Heatherlea Guide Bernie Forbes. Find out what he's been up to over the past few weeks...
"In Sussex like the rest of England we were still under Lockdown for most of February and March, which meant only local birding was allowed. Fortunately, there are several sites within a few miles of my home that we were able to visit. On the South Downs near my house we found a small winter roost of Long eared Owls and in early March we gained permission from the landowner to visit the copse. The copse is tucked away, although it can be viewed from a public footpath there is no access. The aim to check out for any signs of breeding, we found 2 birds present and by their reactions they may be holding territory. Hopefully we are going to check out the site later in April or May for any evidence of breeding . Nearby a very confiding Yellow-browed Warbler was found at a Wastewater Treatment Works and on my second visit on a delightfully warm spring morning the entire site was heaving with bird activity with at least 25 Common Chiffchaff a Siberian Chiffchaff including the Yellow browed Warbler and 2 Firecrest. Not a bad session with 3 warblers in March!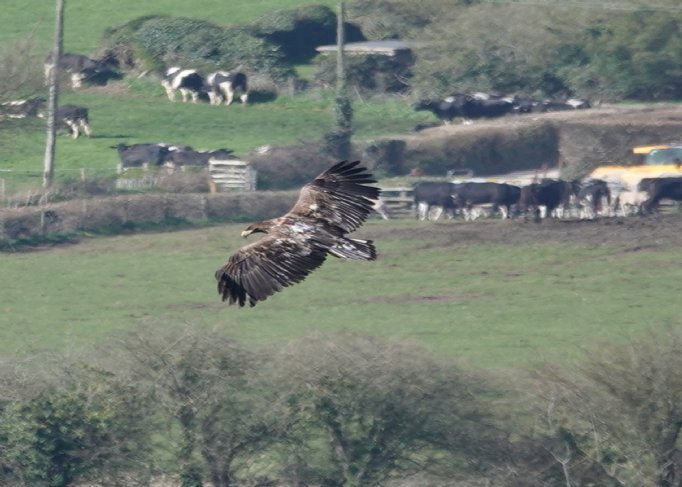 The reintroduction of juvenile White tailed Eagles on the Isle of Wight around 40 miles to the west has generated plenty of local sightings. With 2 birds spending a week or so in the nearby Arun Valley and hunting over the adjacent Downland, giving fantastic views. The eagles were causing a lot of unrest amongst the resident Common Buzzards, Red Kite and the local corvid population.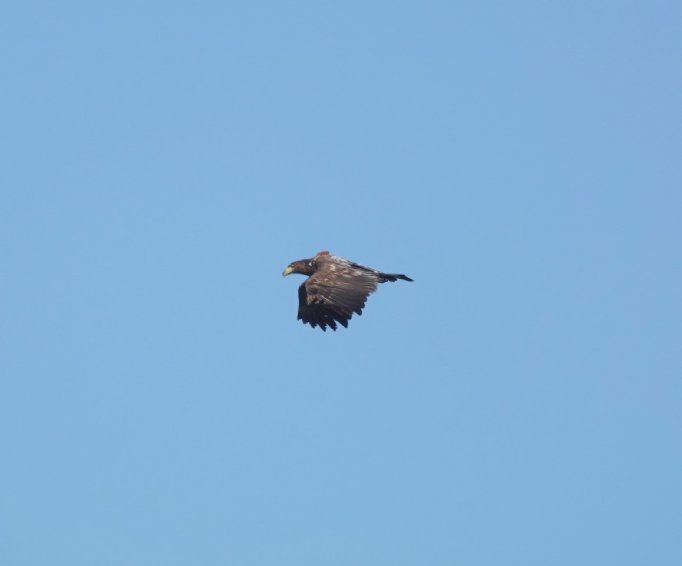 At the beginning of March many of the wintering Chiffchaffs were in song and within a couple weeks, supplemented by arriving migrants by around 20th including Blackcaps in the last 10 days of the month. In the Arun valley 4 Cattle Egrets have been wintering since January although off limits until our travel ban was lifted, we managed to see them at the end of March. On the same day a different Siberian Chiffchaff was found with Common Chiffchaff at another sewage site. Also on that day we had multiple sightings of Red Kite with a flyover Goshawk a wintering female Hen Harrier and plenty of calling Grey Partridge.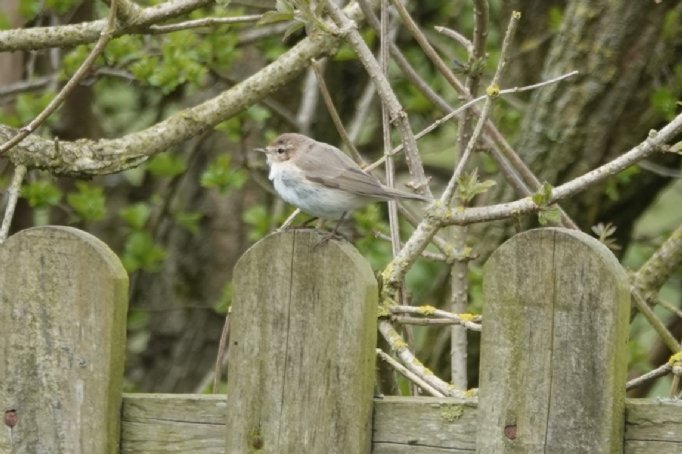 A visit to Warnham Nature Reserve near Horsham was rewarded with stunning close views of the wintering Little Bunting, it was feeding very close to the first hide an open blind.
One of my regular birding haunts Pagham Harbour on the Selsey Peninsular has been off limits during the Covid restrictions so on March 30th our first visit was made this year. A sea watch from The Bill produced a trickle of Sandwich Terns and Common Scoter all moving east with a Great northern Diver offshore. A few Swallow and Sand Martins were coming in off the sea and a Wheatear was on the beach. mIn Pagham Harbour we counted 74 Sandwich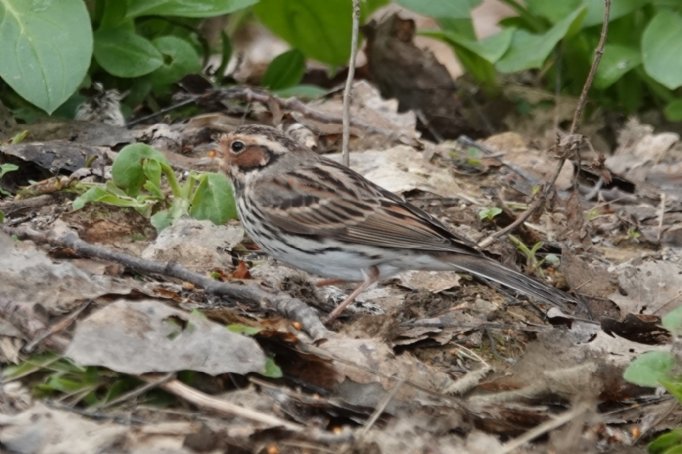 Tern and 93 Mediterrean Gulls loafing around the breeding island the calls of both species were surely a sign of spring. In the harbour a pair of Peregrine was checking out the island where they have bred in the past, incidentally the o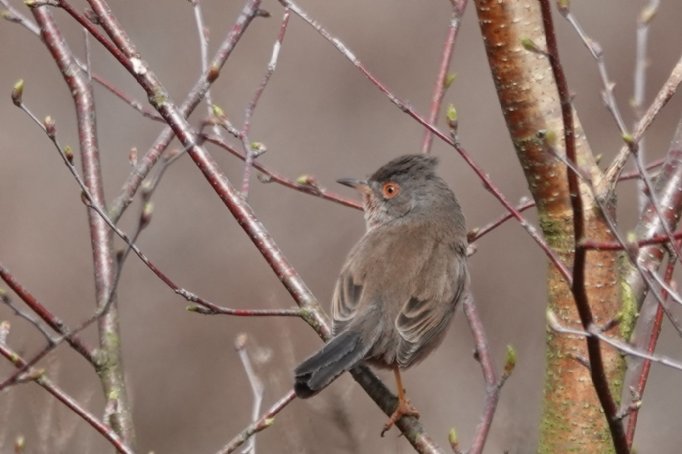 nly site in the county where they have nested on the ground! In another part of the harbour at Sidlesham Ferry 2 Little ringed Plover was sighted and we had a couple of singing Willow Warbler. On the last day of the month we tried our luck inland at one of the Sussex Commons finding singing Woodlark, Willow Warbler and a cracking Dartford warbler. So not a bad month considering the earlier travel restrictions it certainly helped to lift the gloom of the long winter under covid."
Bernie March 2021
JANUARY 2021
Nethy resident Mike Coleman gave us this update for a much quieter than usual month in January!
"The snow came in the run up to Christmas, and as we entered another lockdown and another year, Nethy Bridge was looking very festive - twinkling lights outside houses remained up, low temperatures and further snowfall gave us a real winter wonderland, and our feeders were full of garden birds looking for an easy meal. Plus the best bit, since homeschooling reconvened, sledging has played a major part of the curriculum!
With no let up in the forecast, the forthcoming RSPB Garden Birdwatch looks set to be undertaken in snowy conditions, and I'm hopeful that the Waxwings and Bramblings that have been present of late will remain for the weekend to add an exotic flavour to the bird list I'll send to The Lodge!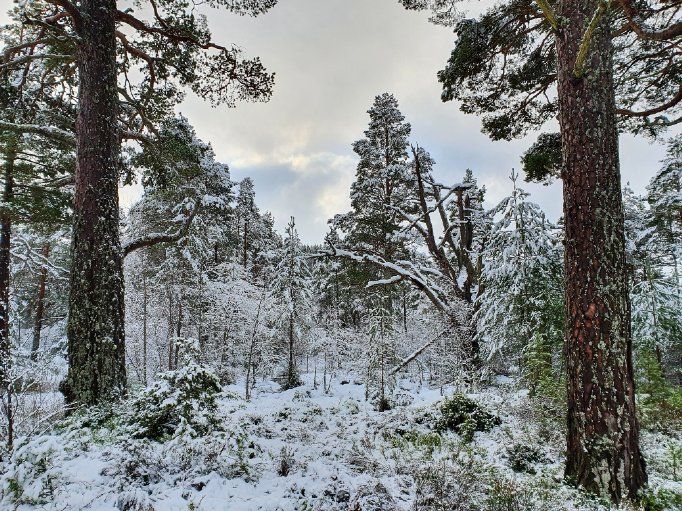 Although we are unable to run any trips at the moment at Heatherlea, in my other capacity as an ecological consultant, I have been busy carrying out national infrastructure projects away from Strathspey. Luckily, as a lonely bird surveyor in the middle of nowhere, social distancing and avoiding contact with the virus is straightforward, and as long as I adhere to the house arrest imposed in my hotel room and follow all the regulations, I can continue to work as required. January saw me work in Southern Scotland for a few days, where one evening, I took a detour back to the hotel from my survey area, and walked along the edge of the saltmarsh at Caerlaverock SSSI. The stunning sunset views over the Solway Firth towards the snowy Lake District, the honking of thousands of Barnacle and Pink-footed Geese flying overhead to roost, and a quartering, ghostly Barn Owl in the dying embers of the day are memories that will stay with me long after my face covering and the term furlough have been resigned to the history books.
So, as always up here, we are mightily thankful of where we can call home. Vaccinations are being dished out for the locals in Grantown, and we are all in the process of welcoming the beginning of the end to this horrific time. And on that note, I shall wish everybody all the best for this year, but I'm afraid I am needed to help out with homeschooling duties again... OK, I won't forget my gloves... or waterproof trousers... or the sledge..."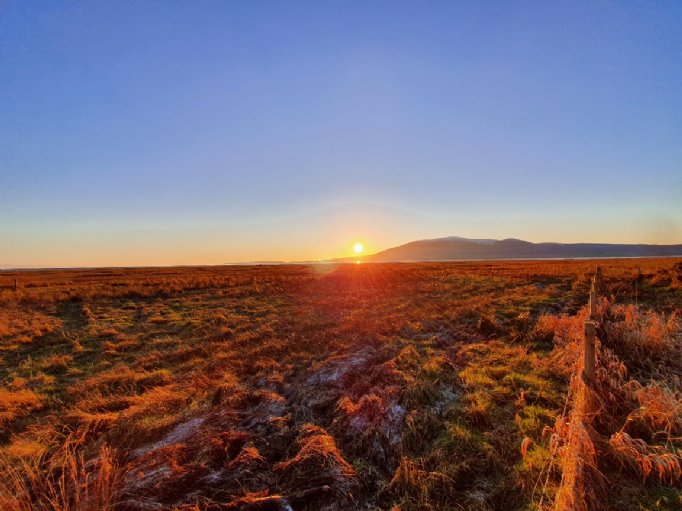 DECEMBER 2020
This months entry into our guides diary is from resident Heatherlea guide Mark Warren. He tells us about how his December went with 'Birding Thursday's', garden ticks and trip development....
"Without doubt it has been a very strange and challenging year, but equally without doubt the most important thing has been that my family, friends and those around me have stayed safe! November and December are traditionally periods when guiding would come to an end for me, and I transfer into the office to work on developing new trips for Heatherlea. This has still happened, and it has been nice to maintain a 'foot in the door', and still very much be apart of the team. While birding overseas is currently not a realistic option, designing new tours for the next few years and beyond certainly whets the appetite for birding travel. Who wouldn't dream right now of going to Chile and the Atacama Desert for Andean Condor and Diademed Sandpiper-plover, or to New Zealand for its endemics and seabirds, or to Oman for Sooty Falcon colonies, Crab Plovers en-masse and Omani Owl – Ooft, Omani Owl - come on!!!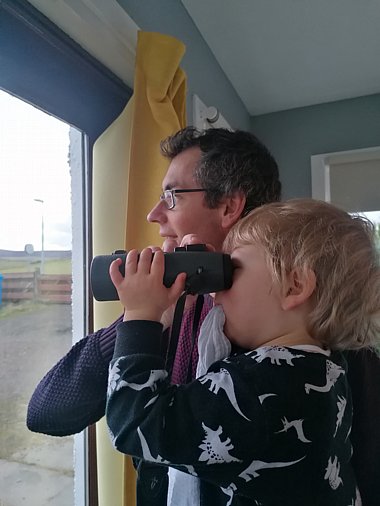 Mark & Sullivan adding to their garden tick list
For the most part, I've actually enjoyed the extra time at home. Guiding inevitable requires much time away, so time enjoying my young son's company and watching him grow up has been simply the best. Sullivan's first words have somehow not been 'bird', rather 'digger' and 'lorry' instead while 'daddy's car' seems to be the label given to every red car in the whole of Speyside!! A regular 'Mark goes birding on a Thursday' slot seems to have also materialised and it's been nice to explore some new ground within striking distance of home. Finding new sites on the coast has satisfied my gull fix with Glaucous, Iceland and Mediterranean all featuring. Meanwhile inland, I've yomped up a few hills for Ptarmigan, had great views of 4 Golden Eagles at a new location, seen my first Kingfisher for ages with an epic finch flock containing large numbers of Brambling nearby. All these pale into insignificance mind, when I leapt off the sofa for a first ever Crested Tit on my garden feeders!
Hope everyone has the best possible Christmas and New Year (in the circumstances), stay safe and I really (really) look forward to seeing clients and birding friends in 2021"
Crested Tit on the garden feeder Iceland Gull
NOVEMBER 2020
New Heatherlea guide Holly Page shares with us how she has spent her November......
"After a busy October out in the field guiding for Heatherlea, November has seen me taking a more relaxed approach to birding and I've had the novel opportunity to spend time watching the birds in my garden. I have two feeding stations set up and a ground feeding tray. I put out a variety of food and get most of the usual garden birds including Coal, Blue and Great Tits, Chaffinches, Greenfinches, Siskins, Starlings etc. We've got about 10 Blackbirds at the moment and a number of them are migrants from the continent – much larger birds with darker bills. It is wonderful being able to take the time to look at the finer details of some of these birds that we often take for granted. We had our first Great Spotted Woodpecker earlier this week and I'm hoping we'll get a few more new garden birds as the weather gets colder, Crested Tit and Brambling are high on my wish list.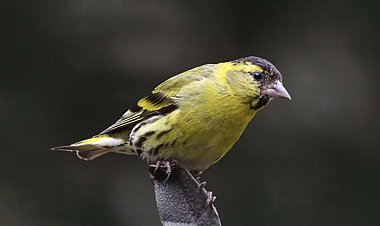 Although its safe to say that I have not been totally content with garden viewing and have indulged in a little bit of birding out and about to keep up to date with local sightings. We are very fortunate the Highlands are in a Level 1 area, and travel within our region is not restricted. A quick foray to a favourite valley last week resulted in great views of a Golden Eagle as it flew over my head. On Sunday I went up to the Beauly Firth at high tide and was rewarded with nice views of an otter plus the usual wildfowl and waders. I took the long way home, stopping in at the ancient monument of Clava Cairns, not far from Culloden battlefield. It was stunning in the late afternoon sunshine and a very large flock of Redwing & Fieldfare was in amongst the trees. Wonderful sightings with a very Scottish backdrop!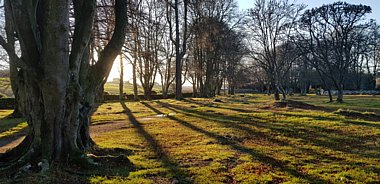 I've also been satisfying my wanderlust travel cravings by reliving a couple of my favourite overseas trips. Some of my birdwatching DVDs have been helping me do this and yesterday was British Columbia and today Arizona. Both destinations have the most amazing mix of wildlife and scenery and I'd love to go back (hopefully in the near future!)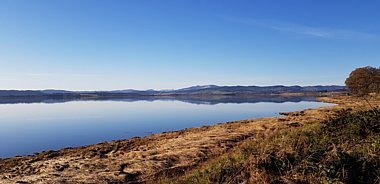 GUIDES DIARY - APRIL 2020
'Lockdown' has been difficult for everyone, including our Heatherlea guides who are more used to spending time in the great outdoors than within their own four walls! We've decided to keep a diary with guides chipping in from time to time with details of their own activities, wildlife sightings and thoughts during these testing times. You can also follow the links to view each guides profile and schedule – we are all hopeful to be out in the field as a group again soon.
Beginning with our Highland based guides, some musings from Mike Coleman;
"During the lockdown so far we have enjoyed some good weather in Nethy. The recent blue skies combined with our low population and abundance of habitats on our doorstep means that our daily walking and cycling exercise time has been used to good effect exploring nooks and crannies in the local forest and moorlands seeing newly-arrived summer migrants, and the first bees, butterflies and blooms of spring. However, as much as we are blessed to live in an area where we are able to enjoy nature without ruining our social distancing, the break from work has enabled us to set about re-organising the garden. We have been hard at work taking the overgrown rockery down to create a new flower bed, and sanding and painting the garden fence to liven up our stretch of the village! More importantly, working in the garden has allowed us to record 40 species from the lawn since lockdown commenced, with plenty of summer visitors still to arrive - let's hope for another rarity following in the footsteps of Great Grey Shrike, Turtle Dove and Hawfinch soon! When not busy outside, we are home-schooling Summer (with various degrees of success), and are both part of the Nethy Bridge Coronavirus Community Support Group which runs errands for the vulnerable, isolated, and incapacitated folk within the village - although the natural support from families and the wider community means that there isn't much to do."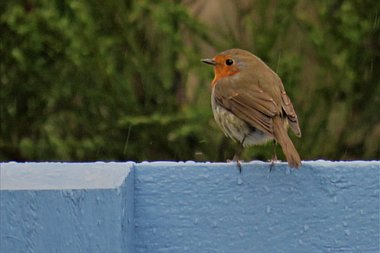 "With a packed future holiday schedule in my calendar before the pandemic struck, I still find myself thumbing through various field guides dreaming of far-off lands and those incredible species and locations that I was due to visit. Should the world normalise swiftly I hope to see my friends across the globe soon, and the sights and sounds of colourful and noisy tropical birds, mighty mountainous or rainforest backdrops, and taste fresh fruit and local cuisine from different continents again. In particular, I was looking forward to revisiting several of my favourite locations on the planet - Sri Lanka with its friendly people, great food, and amazing wealth of endemic birds and big mammals; Guatemala with its wide range of landscapes and beautiful colonial towns, vivid colours, and some of the most fascinating birds on Earth; and Nepal with a new itinerary which incorporates the rarely-visited western grasslands as well as the classic birding and mammal-watching sites. Obviously, these destinations remain on hold until such times as we are given the all-clear by the authorities to commence travelling safely overseas once more, so before that, I will get back to digging the garden, and look forward to welcoming guests back to The Mountview, so we can show off our beautiful area (and I can show off our new blue fence)!" Mike and Lindsay, April 2020.
A few words from Toby Green;
"My lockdown has consisted of a lot more moth trapping with the highlight so far being five Rannoch Sprawler which is a National rare moth. Our fingers are crossed for a Kentish Glory which we have recorded before in the traps! On a bird note, I've been watching the Golden Eagles nearby which have been very active and provide a good distraction! A Red Kite over the garden was a new garden tick. I'm looking forward to getting back out with guests soon, and hopefully will have the chance of equalling our record Eagle count of 14 Golden and 16 White-tailed Eagles in one day again on Magical Mull. Closer to home, a nice walk up on the mountain to see Ptarmigan would be just as fantastic." Toby, April 2020.
Here's how Mark Warren has been keeping busy;
"The world has certainly transformed into very different place, and being away from guiding work in what is usually a busy time is very strange. I enjoy my job, and while it was great to sign off with a 4 grouse day for our last clients as Heatherlea closed its doors for lockdown, I'm itching to get back! The wildlife carries on regardless, and it has been nice to appreciate what's on my doorstep for a change. During April I've been lucky to see over 70 species within my lockdown patch, including a first Golden Eagle for a year on my 40th birthday (I was supposed to be on holiday in Portugal...), near daily Red Kite and what's seemed like a new summer migrant each day. Willow Warblers are singing everywhere I walk, Tree Pipits are back in my local woods, Cuckoo has been heard and my first Osprey fished the River Spey mid-month. A drake Mandarin on the same river was a bit of a surprise, but not as much as the adult Glaucous Gull which came in to bathe one day! The moth trap has been deployed early with some hefty catches already, Puss Moth, Lead Coloured Drab and Satellite all being garden firsts. There seems to be an amazing amount of butterflies on the wing locally already -Small Tortoiseshell are everywhere and my first Orange-tip flew through the garden at the end of the month"
"Family time is always precious and often rarer than the rare birds in a busy spring where like many of the team, I would usually find myself guiding away from home. The extra days Fleur, Sullivan, Pumpkin and I have enjoyed together has been a real silver lining to all this – it's been fab! With such amazing weather we've been outside most days, the veg patch is all go and with the greenhouse full of germinating lettuce and kale we'll soon be supplying Co-op with the amount we have! The BBQ has been deployed a couple of times, and we're currently sanding windows in preparation for painting the entire outside of the house. All in all, we're keeping busy and hope you are too. Stay safe." Mark and Fleur, April 2020.
And from our guides based in England, Jenna Berry writes;
"I may not be able to get out as much as I'd like or go to any of my favourite haunts at the moment but there are plenty of ways of bringing wildlife to my doorstep. Moth trapping has been a major highlight and emptying the trap is like opening presents on Christmas morning, you never know what you might get"
"After identifying my catch there is also time to open my sketchbook and paint, something I haven't done in a long while. I may not be able to do any travelling, but my paintbrush and pen can transport me anywhere in the world and bring the wildlife to me, whether it be a hare in an English meadow, a quartet of rhinos or a zebra taking a stroll. Hoping everyone is well and that it won't be too long before I get to begin guiding alongside the rest of the team." Jenna, April 2020.
Barrie Embling has been busy too;
"Around the house I'm very excited about putting up these House Martin nest boxes; it's definitely the upper limit of my DIY capabilities! I'm just hoping the House Martin's come back soon as we've not seen any yet (21st April) - they've never been quite this late before! To make good use of this time I've been painting – mostly birds of course! I have a passion for watercolour, it's a challenging medium and I'm still very much a learner. But like bird identification, it's all about practice and perseverance."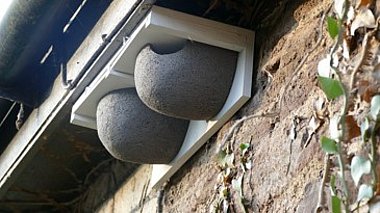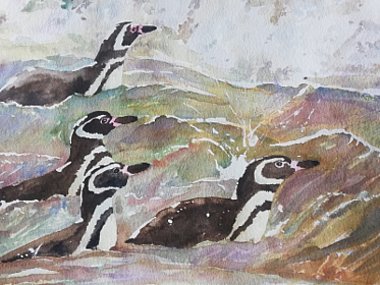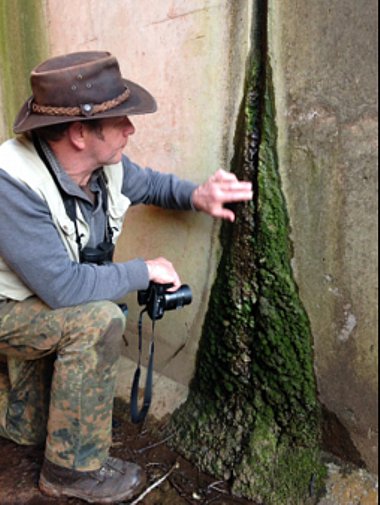 "Another learning journey is trying to understand the ecology and actually identify some mosses and liverworts. Friends are saying 'are you really THAT bored?' but I find them fascinating. However, hindered by social distancing, I'm really needing help from my local Bryologists to tell some tricky species' and we need some rain – as shrivelled specimens are not the easiest to identify!" Barrie, April 2020
Bernie Forbes on his local area;
"The Lockdown with its travel restrictions and social distancing is difficult for all of us. It must be extremely hard for anyone living in flats with children making it a real nightmare! I consider myself fortunate living on the south coast in Sussex in sunny Lancing. We are only 10 minute walk to our local beach and a few more minutes to a coastal lagoon with a large park, formerly a small golf course with plenty of bushes. Since the Lockdown I have visited more frequently, and on my first visit in late March a fall of Northern Wheatears occurred with 14 together feeding on beach flies between the rock groynes - a real heart-warming sight a sure sign of spring. On many visits since we have recorded plenty of migrant Chiffchaff, Willow Warbler, Blackcap, the occasional Swallow and on 10th April my first Reed Warbler was singing. This morning (17th April) two Reed warblers were singing with 6 Swallow hawking insects over the lake. Overhead I was alerted to 6 Mediterranean Gulls flying west their distinct calls often heard before seeing them .Around the lake we have 4 male Cetti's Warbler holding territory in the surrounding reeds and bushes, their explosive song always giving away their presence. Getting decent views is always difficult as they skulk around in thick cover but I have managed to see (and even photograph) a few. On the beach this morning 20 Sandwich Terns were in a tight flock close inshore migrating east up channel, while further out a loose flock of 40+ Gannet were strung out moving in front of impeding rain."
"From my garden, we do see a spring migration of Common Buzzards mainly going east with almost daily sightings, the largest group being 4 together last week. Red Kites are another species that has become very frequent in recent years and I have recorded several since the confinement with 4 together the most. It's helpful that we have an inbuilt alarm system on our road, with at least 3 pairs of Herring Gulls nesting on the nearby roofs which go potty when a raptor flies over!" Bernie, April 2020.
And finally, from Dave Pearce;
"With the ability to venture out birding and observing wildlife in the wider countryside currently restricted, my links with nature are mainly focussed on recording birds within, nearby, or moving over the garden. Based rurally in East Yorkshire about ten kilometres (six miles in old money) from the coast, I have recorded a total of 42 bird species, either by sight or sound since late March, with highlights including Red Kite and Curlew moving over, spring migrants including Chiffchaff and Blackcap almost daily, and occasional hunting Barn Owl and calling Tawny and Little Owl. With more time than usual available to really focus on watching birds in the garden, it is also interesting to observe the behaviour of birds, including Song Thrush, House and Tree Sparrow collecting nest material, Blue Tits busily occupying one of the nest boxes and Bullfinch foraging on the emerging Hawthorn buds."
"However, the constraints on normal activities inevitably lead the mind to wander, and thoughts of birding in some of my favourite places. I have been privileged to visit many outstanding wildlife destinations around the world, and of these, two are personal favourites. First, the island of Lewis and Harris in the Outer Hebrides in Scotland, always a fantastic wildlife experience especially on spring or autumn visits, from the Butt of Lewis at the northern tip of the island, south to the Sound of Taransay in Harris. On visits there I have enjoyed regular encounters with Golden and White-tailed Eagle, Black-throated and Great Northern Diver, Arctic Terns returned from the southern ocean to breed in spring and migrating skeins of Pink-footed Geese arriving in the UK from Iceland in autumn. Memorable too, an adult Long-tailed Skua circling over a coastal loch, Leach's Petrels, Sooty Shearwaters and cetaceans seen from the ferry, Surf Scoter in the Sound of Taransay and scarce migrants such as Pectoral Sandpiper and Yellow-browed Warbler. There is always an element of the unknown waiting to be discovered, indeed, finding a second winter Ring-billed Gull in Stornoway harbour as I was about to board the ferry back to Ullapool in October 2011 could be classed as such. Second, Varanger Fjord in northern Norway in late spring, accessible and outstanding Arctic birding on mainland Europe and renowned for quality birds. Following the road along the fjord around the peninsula, from Varangerbotn to the end of the road at Hamningberg, birding is very rewarding with specialities including White-billed Diver, King Eider, Steller's Eider, Gyr Falcon and Long-tailed Skua and close up views of Brunnich's Guillemot in the seabird colonies with a boat trip out to Hornoya Island. These species are supported by arctic breeding waders such as Bar-tailed Godwit in pristine summer plumage, numerous Arctic Terns and also Bluethroat, Shore Lark, Red-throated Pipit and Lapland Bunting. The unexpected is also possible in this region too, with a first summer male Pallid Harrier and Pectoral Sandpiper on my last visit in 2017. Stay safe and happy birding and wildlife watching!" Dave, April 2020