NEW!

South Africa - a birding tour of the Western and Eastern Cape
A great birding and wildlife tour in a wide range of habitats
| | |
| --- | --- |
| Destination | |
| Focus | |
| 2023 Dates | |
| Duration | 18 Days |
| Guides | |
| 2023 Price | Price TBC |
| 2026 Dates | |
| Duration | 17 Days |
| 2026 Price | Price TBC |
| Max Group Size | 12 |
Free Bird Guide

FREE copy of Birds of Southern Africa with every room booked on this holiday.
South Africa is a large country which hosts an abundant and diverse range of wildlife. This is predominantly a birding tour based in the Western and Eastern Cape Provinces, and our key objective is to amass a big birdlist, including as many as possible of the 34 national endemics. On this exclusive, carefully planned tour we not only cover an astounding array of birdlife in myriad habitats, we also spend time on safari for important and hard-to-see mammals, and visit one of the world's most memorable locations for a pelagic birdtrip, featuring many seabirds and perhaps Southern Right Whale. We visit a wide range of habitats in three key climatic regions, without travelling huge distances.
We begin this superb trip birding around the Cape Peninsula in the Fynbos, a region of natural heath and shrubland which is one of the most distinctive habitats of South Africa. Endemic and highly desired species include Cape Sugarbird, Cape Rockjumper, Ground Woodpecker and African Penguin. If the weather is suitable, we include a brilliant pelagic trip to see petrels, shearwaters, albatrosses and cetaceans, one of Southern Africa's ornithological highlights.
From the Cape, we head north up the Atlantic coast to the magnificent Langebaan Lagoon, where we search for desirable species including Black Harrier and Southern Black Korhaan. We then head for the wild, rugged, dramatic and breathtakingly beautiful landscape of Cederberg to explore the arid Tankwa Karoo in search of rocky and gravel plains specialists.
Our next base is Swellendam, from where we explore the Bontebok National Park and De Hoop Nature Reserve to look for iconic species including Blue Crane, Denham's Bustard and Cape Vulture. Heading eastwards birding as we go, we enter The Garden Route National Park, switching from arid to somewhat more verdant surroundings, where forest birding and woodland species come to the fore. The Addo Elephant National Park will provide an exciting climax to our holiday, as we undertake both day and night safaris to find rare and hard-to-see mammals including Lion, Leopard, Cheetah, Caracal, Spotted Hyena, Black Rhinoceros, Aardwolf, Honey Badger, Caracal, Porcupine and perhaps Aardvark.
Combined with wonderful cuisine, wine and the advantages of an excellent tourist infrastructure, this is planned as a full and rewarding South African wildlife experience.
Enjoy your complimentary pre-flight overnight hotel before your holiday begins. Full details from our office! Read more about our Pre-flight Service here!
Day 1: Thurs 31 August 2023 London – Cape Town
After relaxing in our complimentary VIP Airport Lounge, we fly overnight from London Heathrow, and on arrival in Cape Town meet our local guide on the morning of Day 2.
Days 2 – 4: Fri 1 Sept - Sun 3 Sept
Cape Peninsula, Table Mountain NP and pelagic boat trip
The Cape Peninsula is one of the world's most botanically rich regions, and its habitats provide great birding opportunities. The Fynbos region contains heathland and natural shrubland, and we begin birding here, focussing on endemics, including Knysna Warbler, Cape Rock-jumper, Cape Sugarbird, Cape Siskin, Orange-breasted Sunbird, Ground Woodpecker, and Cape, Crowned and Bank Cormorant. We visit colonies of globally threatened African Penguin, where Hartlaub's and Kelp Gull will be in attendance. African Black Oystercatcher and roosting terns including Caspian can be found on pristine beaches and at wetland sites we may see Greater and Lesser Flamingo, Maccoa and Yellow-billed Duck, Cape and Red-billed Teal, Cape Shoveler and African Fish Eagle. Other raptors might include Black Eagle (rare), Lanner Falcon, Jackal Buzzard, Red-breasted Sparrowhawk and African Goshawk. On walks around the Kirtstenbosch National Botanical Gardens we should see Malachite and Southern Double-collared Sunbird, Forest Canary, Swee Waxbill, Cape Batis and more – a fine introduction to South African Birding! Table Mountain National Park gives us the chance to get our mammal list underway, being home to troops of Chacma Baboon plus Cape Mountain Zebra, Red Hartebeest and Rock Hyrax.
Early in the tour and if the weather is suitable, we plan a pelagic voyage into the southern oceans for one of South Africa's ornithological highlights. Seabird trips off Cape Town are famous worldwide, and among the species we might encounter are Northern Royal, Black-browed, Shy, Atlantic Yellow-nosed and Indian Yellow-nosed Albatross (with an outside chance of Wandering, Grey-headed and Southern Royal Albatross), Northern and Southern Giant-Petrel, Spectacled, Cape and White-chinned Petrel, Antarctic Prion, Great Shearwater, Wilson's Storm Petrel, Cape Gannet and Brown Skua. Feeding birds are attracted to fishing trawlers and if we find one, several thousand seabirds can be on view at once – a memorable spectacle! We also hope to see Cape Fur Seals and Southern Right Whale, the shallow waters off False Bay well-known for calving females at this time of year. We stay at Whale View Manor Guest House for three nights and may even see whales from our hotel rooms!
Days 5 and 6: Mon 4 and Tues 5 Sept West Coast NP
Heading up the Atlantic Coast, we enter the West Coast National Park 120 miles north of Cape Town. Roadside birding within the Park can be rewarding and we hope for good views of Southern Black Korhaan, Cape and Grey-winged Francolin and perhaps our first Common Ostrich. We visit Langebaan Lagoon where on tidal mudflats African Spoonbill, South African Shelduck and large numbers of migrant waders can be easily observed from well-positioned hides. Species including Curlew Sandpiper, Little Stint, Ruff, Greenshank, Marsh and Wood Sandpiper and many more should be abundant, with both Chestnut-banded Plover and White-fronted Plover special targets.
Elegant Black Harrier may be seen quartering low over vegetation and grassland habitats within the reserve, with Black-shouldered Kite, African Marsh Harrier and Osprey likely. Passerines may include White-backed Mousebird, Cape Penduline Tit, Cape Bulbul, Cape and Karoo Robin, Layard's Tit-babbler, Grey-backed and Cloud Cisticola, Long-billed Crombec, Grassbird, Bokmakierie, Cape Weaver, White-throated Canary and Cape Bunting. New mammals on the grasslands may include Bat-eared Fox, Caracal and Eland. Overnight Crystal Lagoon Lodge, Langebann for two nights.
Days 7 and 8: Wed 6 and Thurs 7 Sept Tankwa Karoo
After five days on the coast we relocate inland, entering the rugged interior to search for a range of rocky and gravel plains specialists. The karoo is a semi-desert region of South Africa, partly defined by its topography, geology and climate, comprising cloudless skies, and the extreme hot and cold temperatures typical of the desert. Endemics and sought-after birds in this arid environment include Namaqua Sandgrouse, Namaqua Warbler, Cinnamon-breasted Warbler, Karoo Eremomela, Karoo, Sickle-winged and Tractrac Chat, Karoo Long-billed, Thick-billed, Red-capped and Spike-heeled Lark, Black-eared Sparrow-Lark, Pririt Batis, Mountain Wheatear, Fairy Flycatcher, Layard's Warbler, Black-headed, Protea and White-throated Canary, Southern Grey Tit and White-necked Raven. Aerial predators include Pale Chanting Goshawk, Verreaux's and Booted Eagle and by spending two days here we have greater chances of seeing Ludwig's Bustard, Spotted Thick-knee, Double-banded and rare Burchell's Courser. We stay at The Village Restaurant & Guesthouse, Ceres for two nights.
Days 9 and 10: Fri 8 and Sat 9 Sept Bontebok NP and De Hoop NR
The south coast offers new opportunities and based at Swellandam in the foothills of the Langeberg Mountains, we are well positioned to explore two of its premier reserves. The Bontebok National Park is the smallest in South Africa and was established in 1931 to preserve the Bontebok (an antelope) which at the time had declined to perilously low numbers. Bordered by the Breede River, species here and in nearby farmland can include African Black Duck, Denham's Bustard, Giant Kingfisher, Aghulhas Long-billed and Large-billed Lark, Cape Clapper Lark, Quail Finch and Yellow Canary and as expected, it is a good place to see Bontebok with roughly 200 animals present.
Blue Crane is the national bird of South Africa, and we hope to see good numbers at De Hoop Nature Reserve, a south coast site offering a superb mix of habitats and a rich ecosystem. The cranes thrive here, while raptors present include Secretarybird, Martial Eagle, African Harrier-hawk, Black Harrier, Lesser Kestrel and we make a special effort for Cape Vulture on the cliffs of the Potberg Mountain. Other desirable birds include Hottentot Buttonquail and Knysna Woodpecker (both endemics), Southern Tchagra, Olive Bush Shrike, Black Cuckoo-shrike, Southern Boubou, Black Crow, Capped Wheatear, Orange-throated and Cape Longclaw, Sombre and Cape Bulbul and Pin-tailed Whydah. De Hoop can also be a great place for mammal watching with endemic Cape Grysbok and Grey Rhebok targets. Rock Hyrax, Duiker, Caracal, Cape Grey and Yellow Mongoose are also possible.
We stay at Swellendam, South Africa's third oldest town with beautifully restored Cape Dutch buildings. This area can offer the best chance of encountering Hamerkop, an iconic species becoming increasingly harder to find in the country. Tambourine Dove, Brown-hooded Kingfisher, Olive Woodpecker, Swee Waxbill, Grey-headed Sparrow may be found near our accommodation by day, with Fiery-necked Nightjar at dusk. Overnight Swellendam Country Lodge for two nights.
Day 11: Sun 10 Sept Grootvadersbosch NR and transfer to Outshoorn
In the morning, we enjoy a few hours at Grootvadersbosch Nature Reserve, a 250 hectare wildlife-rich site of indigenous forest, a habitat we haven't yet explored. New birds could include eastern specialities such as Narina Trogon, Olive Woodpecker and Victorin's Warbler. We might also see White-rumped Swift, Pearl-breasted and Greater Striped Swallow, Greater Honeyglide, Amethyst and Black Sunbird, African Dusky and Fiscal Flycatcher and raptors including Forest Buzzard, Black Sparrowhawk and perhaps rare Cuckoo Hawk.
Later, we transfer east to Outshoorn, a town with a strong history of Ostrich farming. Some roadside birding stops will break up the journey as we drive through an area known as 'Little Karoo'. We look out for raptors including Secretarybird, Verreaux's and Booted Eagle, Jackal Buzzard, Black Harrier, Yellow-billed Kite and others, plus Sentinel Rock Thrush, Mountain Chat and Pale-winged Starling. Overnight Thorntree Country House.
Days 12 and 13: Mon 11 and Tues 12 Sept Garden Route NP
Continuing east, we enter the famous 'Garden Route National Park', where in more verdant surroundings, forest birding and woodland species become the focus of the next two days. With many great birding sites to choose from the stunning Knysna Turaco is a prime target. Other forest specialists including Crowned Eagle, African Wood Owl, Chorister Robin-chat, Knysna Woodpecker, Scaly-throated and Sharp-billed Honeyglide, Red-necked Francolin, Red-eyed Dove, Narina Trogon, Olive Thrush, Grey Cuckoo-shrike Terrestrial Bulbul and Blue-mantled Crested Flycatcher, Knysna Warbler, Yellow-throated Woodland Warbler, White-starred Robin, Cape Batis and Green-backed Camaroptera. In more mountainous habitats we look for Protea and Cape Canary, Black Saw-wing, Stripped Flufftail and Cape Siskin.
Set against a spectacular backdrop of the Tsitsikamma Mountains, Storms River Rest Camp offers more birding opportunities. Species in these coastal habitats, on lakes or watercourses might include African Finfoot, Cape and White-breasted Cormorant, Yellow-billed Egret, White-backed Night-Heron, Purple Heron, African Fish Eagle, African Black Oystercatcher, African Rail, Giant, Pied, Malachite and perhaps Half-collared Kingfisher. Mammals will be less prominent during our two days here, though could include Blue Duiker and Cape Clawless Otter. Aside from birding, the 77 meter suspension bridge above the rusty-coloured waters of the Storms River is well worth a visit, not least for its views in every direction including beneath your feet! We stay at Storms River Mouth Rest Camp for two nights.
Days 14 - 16: Wed 13 Sept - Fri 15 Sept Addo Elephant NP
Set in the enchanting Eastern Cape Province, the Addo Elephant National Park is the third largest in South Africa. This finely-tuned ecosystem has expanded greatly in recent years to contain a variety of habitats, having been established initially to preserve the last thicket vegetation, essential in preserving the survival of the rapidly declining African Elephant population. We have three days to enjoy the National Park, and with unforgettable 4x4 safaris and night drives, big game will very much be in our sights. An impressive 95 species of mammal have been recorded, including 22 carnivores, and we hope to see Lion, Leopard, Cheetah, Caracal, Spotted Hyena, Aardwolf, Bat-eared Fox, Cape Buffalo, Black Rhinoceros, Eland, Kudu, Red Hartebeest, Bush-pig, Porcupine with chances of Wild Dog, Honey Badger and Aardvark too.
Over 400 bird species have been recorded at Addo, including many of the South African endemics which have been top targets on the tour so far. Other possibilities include Black Crake, Goliath and Black-headed Heron, Black-winged Plover, Grey-headed Gull, Emerald-spotted Dove, Cape Parrot, Spotted Eagle and Western Barn Owl, Acacia Pied and Black-collared Barbet, Red-collared Widowbird, Streaky-headed Seedeater, Green Wood-Hoopoe, Crowned Hornbill, Red Bishop, Fork-tailed Drongo, Red Bishop, Dark-backed and Spectacled Weaver and Golden-breasted and Cape Bunting. A wonderful destination for the wildlife enthusiast! Overnight Addo Rest Camp for three nights.
Day 17: Sat 16 Sept Departure
Depending on flight times, we might have some time to enjoy the wildlife of Addo one last time before transferring to Port Elizaebeth for our overnight flight back to the UK on Day 18: Sun 17 Sept 2023.
Special thanks to Matt Prophet and Leon Marais for use of their images on this page.
Please note: all itineraries are given as a guide only. Actual holiday content may vary according to the judgement of your guide, and elements beyond our control (eg weather).
What's included in your holiday price:
Outgoing flight London – Cape Town and return Port Elizabeth - London. All airport taxes, baggage up to 20kg, hand luggage to 5kg, in-flight meal, airport transfers.
ground transportation, accommodation and meals including breakfast and lunch, evening meal and water during the day.
services of your Heatherlea leader and professional local guide.
park entrance and walk fees.
The Heatherlea Pre-Flight Service offers everything you need at the airport, including hotels, car parking, airport lounges, regional flights and upgrades. Let Heatherlea take the strain! Pre-flight airport hotel and lounge included subject to terms and conditions. Read More...
Free Field Guide! - Sasol guide to 'Birds of Southern Africa' fourth edition by Ian Sinclair et al. One copy per room booked.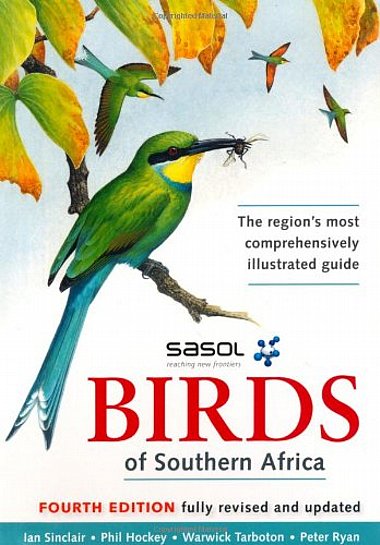 What's not included in your holiday price:
travel to and from the airport before and after the holiday, baggage above 20kg, incidental tips, drinks with meals, expenses of a personal nature and personal insurance.
More Information
Accommodation is in excellent and friendly hotels and lodges, often located in areas with expansive views where wildlife may be seen. Rooms are comfortable, clean and attractive with en-suite bathrooms. All hotels have been especially chosen for their location, accommodation and food, which are universally very good, and often exceptional.
Food is usually plentiful. Breakfasts offer a good choice, with tea, coffee, juice, fruits, pancakes, eggs of your choice and other things depending on location. On this tour we often plan to be out early, returning for breakfast (on some days not finishing our meal until mid-morning) and as such lunches will be purchased from supermarkets/garages as we travel or depending on the day's plan. Evening meals are at the accommodation with a full or buffet dinner. Vegetarian and other diets are always available.
Walking is easy throughout, but can be restricted in the national parks and game reserves. This is no hindrance, as we will be safe and able to get up very close to many animals and birds. At times it is also important for safety reasons to stay close to if not inside the vehicle – remember we are not top of the food chain here!
Travel is by comfortable mini bus, offering good viewing and photographic opportunities, particularly for mammals.
Cape Pelagic Trip is weather dependant and will require calm seas. If cancelled we will attempt to reschedule, though please be aware this may not be possible if we are moving to a new location. If cancelled there may be opportunities to sea-watch from land as rough conditions can bring seabirds closer to shore.
Weather will be warm to hot most days although it can sometimes be cool, especially at altitude, in desert habitats and also in the early mornings. You will probably experience 'dry heat', though rain is certainly possible. Most sites selected for this holiday are close to water and so should hold plenty of wildlife at the time of year we are visiting.
Insects There can be a few biting insects at this time of year so precautions are always advised. Before travelling consult your doctor about suitable anti-malarial medication, and on arrival take adequate precautions against mosquito bites, although you may not encounter mosquitos.
Clothing We recommend a mixture of light and warm clothing as temperatures will vary from place to place. Gloves and hat are advised especially when at altitude. Please bring waterproof clothing, hopefully it won't be needed but rain is possible at any time.
Why choose Heatherlea for your African wildlife holiday?
Our overseas holidays are planned with care to offer great birding and wildlife, led by capable Leaders who really look after you. Every holiday is run the 'Heatherlea Way', and we hope our Overseas Adventures remind you of the quality and care so many of you enjoy in Scotland. That means rewarding and exciting days in the field, and good quality accommodation and meals, with a real flavour of the country we are visiting. Heatherlea always seek to include the personal touches that make all the difference.
Heatherlea holidays are not 'dawn to dusk' expeditions. Our less-intensive approach is ideal for those who want to relax whilst experiencing the best wildlife watching, and wherever possible we organise early or late activity on an optional basis. We also take sensible breaks when in very hot places and regular comfort breaks on every holiday whenever possible. All itineraries are planned carefully around the best wildlife opportunities, and you won't miss out on memorable wildlife, whilst enjoying relaxed, informal days that are great fun.
The really important part of any wildlife holiday is the experience for you, our valued customer. Heatherlea invest in many things to offer you the best possible service;
We have been organising birding and wildlife holidays for over 30 seasons, and have a highly experienced and capable office team. We also offer a telephone and email service outside normal office hours.
Heatherlea overseas holidays have a maximum of 12 clients per trip, putting the emphasis on personal service, and helping you get the best possible experience.
Our holidays often include things which others might invite you to pay yourself, for instance Departure Taxes and tips to hotels.
All elements of our holidays are sold under our own licence, ATOL 6113. Under 'Flight-Plus' legislation it is a legal requirement of any tour operator to hold an ATOL licence for the supply of any overseas holiday where a flight is involved, if that holiday includes either overseas accommodation and/or car hire. It can be a criminal offence for an operator to book flights as part of a package without an ATOL licence. Heatherlea also hold full Tour Operator Insurance for your added protection.
Heatherlea is your complete wildlife holiday provider. Our 'Back Office' team can organise all your pre-flight and other travel needs. Our specialists will help you book the right services, at the best price. Book holiday extensions through us, and your ATOL protection is extended further. We don't charge extra for this service.
Heatherlea is a limited company, registered in Scotland, and registered to pay VAT (applies to all holidays within the European Union).
Free Bird Guide

FREE copy of Birds of Southern Africa with every room booked on this holiday.