NEW!

Western Sahara
An exciting Birders' Tour in a unique desert environment
As the largest hot desert in the world, the Sahara has long fascinated both explorers and wildlife enthusiasts for centuries. Often regarded as a significant hurdle for palearctic migrants as the journey north or south, we explore the Western Sahara, a seldom-visited region boasting its own birding highlights including speciality species amid breath-taking landscapes. We visit two centres, journeying to the desert region of Aousserd and enjoying prime position for birding the coast around the Dakhla peninsula.
In the Desert, rare and highly prized Golden Nightjar is a key target having recently been discovered breeding, and other specialities include Cricket Warbler, African Dunn's Lark, Black-crowned Sparrow-Lark, Sudan Golden Sparrow, Greater Hoopoe-Lark, Bar-tailed, Thekla, Thick-billed, Temminck's and Desert Larks, Black, Desert, Red-rumped and White-crowned Wheatears, Trumpeter Finch, Cream-colored Courser, Fulvous Babbler, African Desert Warbler and Desert Sparrow. Dedicating time birdwatching to the coast, gives us chances of rare Kelp Gull, with Slender-billed Gull and Audouin's Gull, Caspian Tern and West African Crested Tern and plentiful waders to see too. Rare mammals may also feature, with Fennec and Ruppell's Fox, Lesser Egyptian Jerboa, Lesser Egyptian Gerbil and Desert Hedgehog (and possibly Sand Cat) in the desert, and cetaceans including endangered Atlantic Humpback Dolphin possible offshore. A tour different from many others, offering superb wildlife experiences in a one of the most unique environments on the globe!
Day 1: Tue 28 Feb 2023 – London Heathrow - Dakhla
We fly Heathrow to Dakhla, arriving in the evening. On arrival at the airport we meet our local guide and transfer to our hotel. Overnight Dakhla for two nights.
Day 2: Wed 1 March - Dakhla Bay
Protected from the Atlantic by a 50km long peninsula, Dakhla Bay is a large, coastal lagoon attractive to a range of bird species. From various locations around the bay, we look out for gathering flocks of gulls, terns and migrant waders. Slender-billed, Mediterranean, Audouin's and Yellow-legged Gull, Caspian and West African Crested Tern may all be seen here, and Kelp Gull is a rarer target. We visit in prime migration season, and waders on the move are likely to include passing Grey and Kentish Plover, Knot, Little Stint, Curlew Sandpiper, Bar-tailed Godwit, Whimbrel, Greenshank and others. Greater Flamingo can be common in the bay, often numbering into the hundreds and we also check any suitable habitat for passerines. If the sea is calm, the bay can be productive for cetaceans with a chance of critically endangered Atlantic Humpback Dolphin.
Day 3: Thur 2 March - Aousserd
Today we enter the Sahara Desert of Aousserd, where common species are likely to include Cream-colored Courser, Crowned Sandgrouse, Greater Hoopoe Lark, Thekla, Thick-billed, Temminck's and Bar-tailed and Desert Lark, Desert Sparrow, African Desert Warbler, Black, Desert, Red-rumped and White-crowned Wheatear and Southern Grey Shrike. A few migrants are also expected, perhaps including raptors, and we should reach Oued Jenna by late afternoon with enough time to search for hyperactive Cricket Warbler and noisy Fulvous Babbler. Overnight near Aousserd for two nights.
Day 4: Fri 3 March - Oued Jenna
In unique, desert surroundings, bird and mammal specialities of the region will be our focus today. Rare and highly prized Golden Nightjar is one of the key targets and by staying out Oued Janna we have chances to see them at roost by day or active at night. Other target birds will include Pale Rock Martin, African Dunn's Lark, Sudan Golden Sparrow, Cricket Warbler and Black-crowned Sparrowlark. After dark, we board the vehicles and go looking for mammals by spotlight along the road and other areas. We have good chances of finding Ruppell's and Fennec Fox, Lesser Egyptian Jerboa, Lesser Egyptian Gerbil and Desert Hedgehog, with an outside chance of rare Sand Cat too.

Day 5: Sat 4 March - Return to Dakhla
We spend the morning exploring the desert for any bird and mammal targets not yet encountered, before returning to Dakhla to look for coastal species and migrants around the bay and on the Atlantic coast. Overnight Dakhla for one night.
Day 6: Sun 5 March - Return to UK
Some final birding around the Dakhla peninsula before our return flight to the UK.
Please note: all itineraries are given as a guide only. Actual holiday content may vary according to the judgement of your guide, and elements beyond our control (eg weather).
What's included in your holiday price:
Scheduled return flights between London Heathrow and Dakhla, airport taxes.
Accommodation in en-suite rooms, Meals included in your holiday price are lunch on the day of arrival, to breakfast on the day of departure inclusive.
Entrance fees
Ground transportation in an air-conditioned vehicle
The services of your leaders and local guides.
The Heatherlea Pre-Flight Service offers everything you need at the airport, including hotels, car parking, airport lounges, regional flights, and upgrades. Let Heatherlea take the strain! Pre-flight airport hotel and lounge included subject to terms and conditions. Read more...
What's not included in your holiday price:
Personal insurance.
Drinks/water with meals and other personal expenses.
Optional tips to driver, and any other costs not specified as 'included'.
Field Guide. The 'Collins Bird Guide to Britain and Europe' covers Western Sahara, and we consider this the most suitable for this holiday.
More holiday information:
Accommodation We stay in comfortable hotels, all rooms are en-suite.
Food All hotels provide international breakfast. Fruit juice and tea or coffee is also available. For lunch we stop en-route in local restaurants where we will order a variety of simple but good fresh local produce and soft drinks. Some days we will have picnic lunches when out in the field. Evening meals will be a mixture of local and international dishes.
Walking The holiday is not strenuous. Leisurely walking, very occasionally over moderately rough terrain, is the only physical requirement on most days. Most birding is done close to our vehicle, though we will need to walk to see high mountain species, and some exertion will be required in mountain environments. There will be the option to stay close to the minibus, should anyone wish to go back.
Weather Typical temperatures will be around 20 - 25C. Changeable and sometimes cold, windy or wet weather is very possible on the Atlantic coast and the Atlas Mountains, so bring a warm jacket, gloves, warm layers and adequate rainwear.
Insects There are biting insects, precautions are advised.
Group size is restricted to 12 clients maximum.
Flights are by scheduled airline, from London Heathrow. We may be able to offer flight arrangements from another airport and/or or quote without flights so you can make your own arrangements. If you wish to add an extension either before or after your holiday, please contact us and we will be happy to arrange this for you.
Your Leader
Peter Cosgrove
Pete is a highly experienced leader and very well-travelled overseas birder, with a strong interest in birding Africa, where he has led for Heatherlea many times. Pete will be accompanied by experienced local driver/guides on this tour.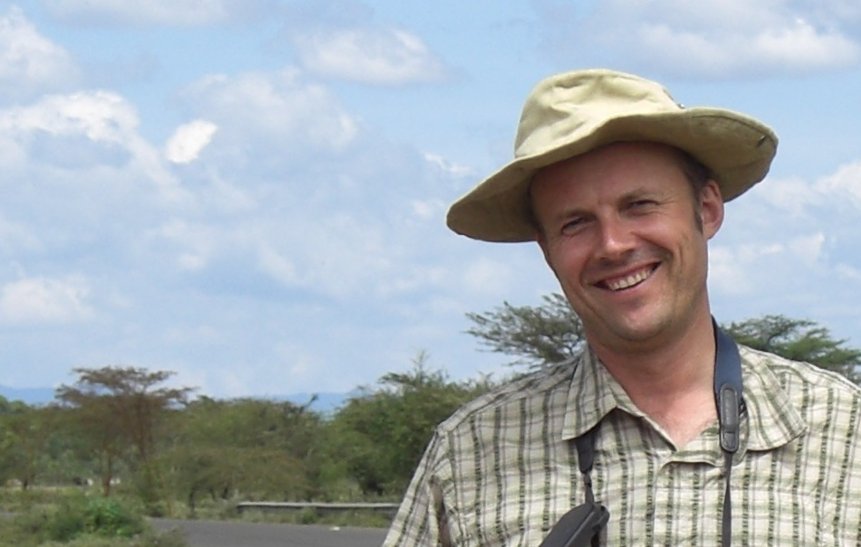 Why choose Heatherlea for your African wildlife holiday?
Our overseas holidays are planned with care to offer great birding and wildlife, led by capable Leaders who really look after you. Every holiday is run the 'Heatherlea Way', and we hope our Overseas Adventures remind you of the quality and care so many of you enjoy in Scotland. That means rewarding and exciting days in the field, and good quality accommodation and meals, with a real flavour of the country we are visiting. Heatherlea always seek to include the personal touches that make all the difference.
Heatherlea holidays are not 'dawn to dusk' expeditions. Our less-intensive approach is ideal for those who want to relax whilst experiencing the best wildlife watching, and wherever possible we organise early or late activity on an optional basis. We also take sensible breaks when in very hot places and regular comfort breaks on every holiday whenever possible. All itineraries are planned carefully around the best wildlife opportunities, and you won't miss out on memorable wildlife, whilst enjoying relaxed, informal days that are great fun.
The really important part of any wildlife holiday is the experience for you, our valued customer. Heatherlea invest in many things to offer you the best possible service;
We have been organising birding and wildlife holidays for over 30 seasons, and have a highly experienced and capable office team. We also offer a telephone and email service outside normal office hours.
Heatherlea overseas holidays have a maximum of 12 clients per trip, putting the emphasis on personal service, and helping you get the best possible experience.
Our holidays often include things which others might invite you to pay yourself, for instance Departure Taxes and tips to hotels.
All elements of our holidays are sold under our own licence, ATOL 6113. Under 'Flight-Plus' legislation it is a legal requirement of any tour operator to hold an ATOL licence for the supply of any overseas holiday where a flight is involved, if that holiday includes either overseas accommodation and/or car hire. It can be a criminal offence for an operator to book flights as part of a package without an ATOL licence. Heatherlea also hold full Tour Operator Insurance for your added protection.
Heatherlea is your complete wildlife holiday provider. Our 'Back Office' team can organise all your pre-flight and other travel needs. Our specialists will help you book the right services, at the best price. Book holiday extensions through us, and your ATOL protection is extended further. We don't charge extra for this service.
Heatherlea is a limited company, registered in Scotland, and registered to pay VAT (applies to all holidays within the European Union).