Mike Coleman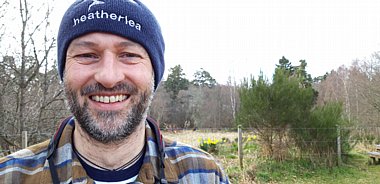 Mike Coleman originally joined Heatherlea in 2002, although he began leading wildlife tours and undertaking invertebrate, mammal and bird surveys as a teenager before forging a career in language and education which enabled him to broaden his travels in search of wildlife experiences. As well as living and working above the Arctic Circle and in Japan, Mike has led ornithological trips across Europe, Asia, North America and the Caribbean, and has also edited ornithological publications, most recently 'Birds of Estonia', published in 2018.
Since 2008, Mike has worked as an ecological consultant, where he has coordinated and produced many bird-related Environmental Impact Assessment Chapters, and Environmental, Biodiversity, Habitat and Species Management Plans for major developments across Scotland and beyond.
When not out birding locally, he enjoys travelling, listening to obscure German underground rock music, brewing strange ales, following various substandard sports teams from around the world, and spending time with his family in Nethybridge.
Mike's update, Jan 2021
"The snow came in the run up to Christmas, and as we entered another lockdown and another year, Nethy Bridge was looking very festive - twinkling lights outside houses remained up, low temperatures and further snowfall gave us a real winter wonderland, and our feeders were full of garden birds looking for an easy meal. Plus the best bit, since homeschooling reconvened, sledging has played a major part of the curriculum!
With no let up in the forecast, the forthcoming RSPB Garden Birdwatch looks set to be undertaken in snowy conditions, and I'm hopeful that the Waxwings and Bramblings that have been present of late will remain for the weekend to add an exotic flavour to the bird list I'll send to The Lodge!
Although we are unable to run any trips at the moment at Heatherlea, in my other capacity as an ecological consultant, I have been busy carrying out national infrastructure projects away from Strathspey. Luckily, as a lonely bird surveyor in the middle of nowhere, social distancing and avoiding contact with the virus is straightforward, and as long as I adhere to the house arrest imposed in my hotel room and follow all the regulations, I can continue to work as required. January saw me work in Southern Scotland for a few days, where one evening, I took a detour back to the hotel from my survey area, and walked along the edge of the saltmarsh at Caerlaverock SSSI. The stunning sunset views over the Solway Firth towards the snowy Lake District, the honking of thousands of Barnacle and Pink-footed Geese flying overhead to roost, and a quartering, ghostly Barn Owl in the dying embers of the day are memories that will stay with me long after my face covering and the term furlough have been resigned to the history books.
So, as always up here, we are mightily thankful of where we can call home. Vaccinations are being dished out for the locals in Grantown, and we are all in the process of welcoming the beginning of the end to this horrific time. And on that note, I shall wish everybody all the best for this year, but I'm afraid I am needed to help out with homeschooling duties again... OK, I won't forget my gloves... or waterproof trousers... or the sledge..."
Follow this Guide