NEW!

Cyprus
Exciting Mediterranean birding for Cypriot endemics and migrants
Destination
Focus
2023 Dates
Duration
8 Days
2023 Price

£2095 pp

£225 single supplement.

Deposit £300

pre-flight airport hotel and lounge are inc.

2025 Dates
Duration
8 Days
2025 Price

Price TBC

Max Group Size
12
Cyprus is a fabulous Mediterranean birding destination with an enviable birdlist of over 360 species, offering excellent spring migration and notable, sought-after residents including several endemics. Our holiday is timed to give us excellent chances of variety and high numbers of passage migrants as they travel north or settle down to breed. The tour is focused on birding, though the island is also noted for its rare butterflies, plants and orchids and we plan to visit cultural and historical sites including the 'Baths of Aphrodite' and the 'Kykkos Monastery'. These are also great birding spots in their own right, so we will keep birding throughout!
Staying in just one centre, we are well positioned to visit hotspots including Paphos headland in the southwest, the Arkamas National Park in the northwest, Larnaca in the east and many great sites in between. We spend our days exploring saltpans, coastal scrub on headlands reservoirs, dry riverbeds with residual freshwater pools, traditional farmland and also the Troodos Mountains for raptors and endemic subspecies found in the pine forests.
A big birdlist approaching 150 species is very possible as we aim to connect with a mix of northern and eastern European migrants. The sought-after endemics are Cyprus Warbler, Cyprus Pied Wheatear and recently split Cyprus Scops Owl. We aim to see all three, plus difficult to find Black Francolin and we also hope to connect with some of the rarities for which the island is increasingly famous. Our daily birding is exceptional, including herons, wildfowl, waders, crakes and gulls, and interesting passerines such as Isabelline and Eastern Black-eared Wheatear, Black-headed, Cretzschmar's and Ortolan Bunting, Ruppell's, Eastern Olivaceous, Eastern Bonelli's, Sardinian and Eastern Subalpine Warbler, Collared and Semi-collared Flycatcher may be seen. We enjoy Hoopoe, Great Spotted Cuckoo, Alpine Swift, Wryneck, Woodchat, Red-backed and Masked Shrike daily, plus many species familiar to UK birders which fare better here, thriving in traditional farmland and picturesque valleys. A great week birding in beautiful, rugged surroundings!
It is well known that Cyprus is not without issues, the barbaric live trapping of migrants being very much at the fore in recent years. We believe wildlife tourism plays an important role in change, and by joining us in this bird-rich country you are actively contributing. On one day, we hope a representative from Birdlife Cyprus will join us birdwatching, partly to discuss the legal, preventative and educational developments being actioned to preserve this important stopover for passing birds. This is valuable work which Heatherlea very much supports.
Enjoy your complimentary pre-flight overnight hotel before your holiday begins. Full details from our office! Read more about our Pre-flight Service here!
Day 1: Fri 24 March 2023 – arrival into Paphos, Cyprus
After relaxing in our complimentary VIP Airport Lounge, we fly from London to Paphos and transfer by minibus to our comfortable hotel in the hills above the city. The gardens and rocky cover around our hotel are a great place to start birding, and we may take the opportunity to search for Black Francolin, which though common and often vocal, can be elusive.
Day 2: Sat 25 March – Paphos headland
We begin with a full morning birding at Paphos headland, a famous migrant trap with great potential. Here, active migration can be visible all around; the coastal scrub around the lighthouse can be 'buzzing' with passerines and just as many birds may be seen passing over the sea. Expected species include Wryneck, Hoopoe, Northern, Isabelline and Eastern Black-eared Wheatear, Redstart, Whinchat, Woodchat and Red-backed Shrike, Ortolan and Corn Bunting. Over fifteen species of warbler are possible on this trip, and at Paphos we might see Ruppell's, Eastern Subalpine and Sardinian to name a few. Female Ficedula flycatchers provide a rewarding ID challenge, with Pied, Collared and Semi-collared all occurring. Migrating groups of Glossy Ibis, Spoonbill, Great and Little Egret, Night, Squacco and Purple Heron can pass offshore or rest on the rocks, while Alpine Swift, Red-rumped Swallow, Honey Buzzard and Pallid and Marsh Harrier may be on the move overhead. The headland also has an impressive track record for rarities, recent highlights being Little Swift, Caspian Stonechat, Hooded Wheatear and Isabelline Shrike, and while birding we can also take a look at the Roman 'Kato Paphos' ruins with their stunning mosaics.
After a bird-filled morning we relocate to Cape Drepanum for lunch, an especially good area for pipits and wagtails. In the fields Tawny, Red-throated and Tree Pipit will be the most conspicuous, and several Yellow Wagtail races are possible including smart feldegg, or 'Black-headed' Wagtail. Short-toed Lark and wheatears may be found on stony ground and the Cape is a good vantage point to scan for passing seabirds such as Yelkouan Shearwater. Later, we drive up to Avgas Gorge to look for Blue Rock Thrush on the rocky cliffs, for migrants in the Juniper bushes, and for raptors overhead. An absorbing first full day.
Day 3: Sun 26 March– Arkamas peninsula, Polis and Evretou
An early start to drive north along the attractive west coast, arriving at Arkamas National Park within an hour or so. Covering an area of approximately 230 sq kms, this protected peninsula has escaped mass development and remains one of the most beautiful parts of Cyprus. Migrants filter to its tip, and many birds pause to refuel before continuing across the Mediterranean. All three endemics can be found, and by exploring trails and tracks we have a good chance of seeing Cyprus Warbler and Cyprus Wheatear. The area is also good for Great Spotted Cuckoo, and we scan exposed perches for Woodchat, Red-backed and stunning Masked Shrike. Commoner migrants might include Crested and Short-toed Lark, Redstart, Nightingale, Serin, Sardinian and Wood Warbler, while rarities have included Thrush Nightingale and Cinereous Bunting. Occasional Ortolan, Cretzschmar's or a very early Black-headed Bunting may be found coming to drink at trackside puddles, with any pool or creek which still holds water worthy of investigation in this largely dry landscape.
Nearby is the Polis Reedbed, which although not as extensive as wetland sites in the south and east, can be very good for birds. Singing Cetti's, Savi's, Sedge, Reed and croaking Great Reed Warbler may be heard and hopefully seen, and near exposed water Little Bittern, Squacco and Night Heron, Glossy Ibis, Wood and Green Sandpiper and perhaps Spotted Crake too. Agricultural land can be good for Black Francolin, Quail may be heard calling and on minor roads we might encounter Turtle Dove, Little Owl, wagtails and pipits. Stunning Citrine Wagtail has been recorded at Polis a number of times, as has Eastern Orphean Warbler. We also plan to see the 'Baths of Aphrodite' before venturing inland to Evretou Reservoir for more great birding. On a natural migrant flyway spectacular numbers of birds pass through in the right conditions, including herons, waders including Black-winged Stilt, Little Ringed Plover and Ruff, wagtails and pipits. If water levels are suitable, late staying or migrant wildfowl such as Shoveler, Pintail and Garganey may be present and White-headed Duck has also been recorded. This area is also very good for Orchids, including Small-flowered Tounge Orchid and several others including laxiflora and italica. A busy day, with lots of wildlife!
Day 4: Mon 27 March - Akritori
Another absorbing day birdwatching, this time in the very south of the island where a variety of habitats offer much potential. Dominated by the large salt-lake, Greater Flamingo are often the first birds we see, while the margins can be excellent for waders, perhaps including Kentish Plover, Spur-winged Lapwing, Little Stint, Marsh Sandpiper, Snipe, Greenshank and Spotted Redshank with Broad-billed Sandpiper also recorded. Open water attracts wildfowl and gulls including Slender-billed, Caspian and 'Baltic' Lesser-black backed, and on reed edges we have chances of herons and Spotted, Little and Baillon's Crake.
On the plains, hunting Pallid, Montagu's and Marsh Harrier, Lesser Kestrel and Peregrine are possible. Dry fields are worth checking for migrant flocks of Stone Curlew and those with crops for Zitting Cisticola and Spanish Sparrow. We may connect with late Common Cranes or even beautiful Demoiselle Crane which though rare, are fast becoming more regular in Cyprus. Coastal cliffs are home to a small (but recovering) population of Griffon Vulture, and we could encounter an early Eleonora's Falcon, or perhaps even a Cyprus or Spectacled Warbler in the clifftop scrub.
Day 5: Tue 28 March - Troodos Mountains
A change of scene today, as we drive meandering roads through the Dhiarizos Valley into the scenic Troodos mountains, and ultimately Mount Olympus. Passing through unspoilt farmland, from the roadside we stop to look out for Chukar, Great Spotted and Common Cuckoo, Woodlark, Alpine and Pallid Swift, Cyprus Wheatear, Masked Shrike, Cretzschmar's and Black-headed Bunting, plus other migrants and early breeders. This is a great area for raptors and we look out for Bonelli's Eagle and Long-legged Buzzard, with chances of migrant Honey Buzzard, Osprey or an early Red-footed Falcon. At Troodos, we walk through the Calabrian and Black Pine woods, listening and looking out for endemic races of Jay, Coal Tit, Short-toed Treecreeper and Common Crossbill. this is also good area for Eastern Subalpine, Eastern Bonelli's and Wood Warbler and flycatchers. We also plan to visit the gold decorated Kykkos Monastery to marvel at its wonderful murals depicting scenes from the bible. After a day in the hills, we may choose to return to our hotel a little early for some rest and relaxation, in preparation for an after-dinner excursion for endemic Cyprus Scops Owl, if we haven't already found one!
Day 6: Wed 29 March - Mandria, Asprokremos Dam and Paphos
A local day exploring both new and familiar hotspots for any freshly arrived birds. As Cyprus becomes more popular with visiting birders, it is the fields and beach at Mandria to the east of Paphos which are growing in reputation. Anything is possible, the beach having become a good spot for Greater Sand Plover, while other recent rarities include Caspian Plover and Blyth's Pipit, and we can also expect migrants similar to those seen earlier. Asprokremos Dam attracts waterbirds on passage and can be a great place for overflying raptors. Other, lesser known pools and patches of cover close to the coast valleys can yield surprises or we could return to Paphos headland in the afternoon. We will be flexible, and if migration is quiet, can devote time looking for rare plants and orchids, and enjoy a range of butterflies including Swallowtail, Eastern Festoon, Clouded Yellow, Cleopatra, endemic Paphos Blue and the local race of Orange Tip.
Day 7: Thur 30 March – South-east Cyprus and Larnaca
Today we journey east, perhaps with an early start, to make the most of sites near Larnaca. Fantastic wetlands await and depending on water levels, provide stopover and important feeding for large numbers of birds. Possibilities include Greater Flamingo, herons, Ruddy Shelduck, Ferruginous Duck, Red-crested Pochard, Garganey, Avocet, Black-winged Stilt, Spur-winged Lapwing, Marsh Sandpiper, Slender-billed and Pallas's Gull and Gull-billed Tern. Being patient in hides we have every chance of seeing a Little or Baillon's Crake, and rarities have included Great Snipe, Sociable Lapwing, White-winged Black and Whiskered Tern. The first few Roller, Bee-eater or Golden Oriole might be arriving on this coast, and raptors are inevitably drawn to such dense concentrations of possible prey. Migrant passerines in the scrub and fields will likely include pipits, wagtails, shrikes and many warblers, with both Spectacled and Cyprus Warbler found here. Another great day!
Day 8: Fri 31 March – Final birding and departure
Depending on flight times, we might take a walk and enjoy some final birding. There may be time to search for a rarity or two, or just to enjoy some of our favourite wildlife of the week before taking our flight back to the UK.
Please note: all itineraries are given as a guide only. Actual holiday content may vary according to the judgement of your guide, and elements beyond our control (eg weather).
What's included in your holiday price:
return scheduled flight from London to Paphos, airport taxes, baggage and hand luggage up to airline included limit.
airport transfers, ground transportation, accommodation and meals as specified.
the services of your Heatherlea leader(s)
The Heatherlea Pre-Flight Service offers everything you need at the airport, including hotels, car parking, airport lounges, regional flights, and upgrades. Let Heatherlea take the strain! Pre-flight airport hotel and lounge are included subject to terms and conditions. Read more....
What's not included in your holiday price:
travel to and from departure airport before and after holiday, baggage above airline included limit
incidental tips, expenses of a personal nature including drinks and personal insurance.
Your leaders:
Mark Warren is a dedicated and very experienced birder and Tour Leader, with extensive wildlife knowledge and boundless enthusiasm. Busy guiding around the world, many Heatherlea clients love his tours!
An enthusiast from an early age, Mark's conservation roles included working for the RSPB in Cornwall, for two years at Fair Isle Bird Observatory, and for five years at North Ronaldsay Bird Observatory, serving him particularly well for his present role!
Always keen to take on an identification challenge, Mark's widespread knowledge and background led to his appointment to the Scottish Bird Rarities Committee in 2017 and he also serves on the Orcadian Rarities Committee. He holds an impressive track record of British rarity finding, both privately and while leading for Heatherlea, including a Walrus on Orkney, though the UK's first spring Black-faced Bunting (seventh overall), exclusively seen by our 'Shetland in Spring' 2018 tour, will take some beating!
Mark is a fully qualified bird ringer, holding a BTO license for almost two decades contributing to research projects in both Kenya and Cyprus in the past. Well-travelled overseas but with fondness for Scandinavia, several extraordinary encounters with Northern Hawk Owl will often see Mark refer to this hunter as "the best bird ever"!
Mark will be joined by another from the Heatherlea team with more than 6 clients.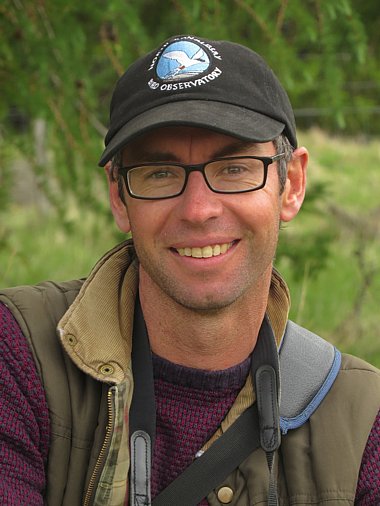 More holiday information:
Accommodation: is in a comfortable rural hotel, close to birdwatching sites. All rooms are en-suite and guests are never expected to share.
Food: Breakfast is typical of Cyprus, consisting of locally made rolls with jam, cheese and cold meats. Cooked eggs are usually available too. Fruit juice and tea or coffee is also available. We take a packed lunch daily and evening meals are generally local produce and traditional dishes. Vegetarian and other diets are welcome.
Daily routine: There may be an optional pre-breakfast walk most mornings, checking the hotel grounds or Paphos headland for new arrivals. After breakfast we will head out birding for the day, usually returning around 6pm. The pace is slow, and if it is warm we always seek shade.
Walking: This holiday is not strenuous, and walking is generally easy, on good paths and tracks. Most birding is done close to our vehicle, and even on the longest walks we are never far from the minibuses.
Optics: Telescopes would be useful for scanning wetlands, and you should bring binoculars. A camera would be useful too. Your Heatherlea guide will have a telescope available for the group to use.
Weather: Typically, temperatures will range from 12C/54F in the early morning to perhaps 30C/90F in the heat of the day. Sunshine should be plentiful, but wind, cloud and rain are very possible. Cold weather, with temperatures as low as 5C/40F, are rare but possible. Poor weather is actually desirable at times, and can lead to falls or waves of migrants. Wall to wall sunshine is lovely - but many birds will fly high overhead!
Group size is restricted to 12 clients maximum.
Insects: Biting insects are not normally a problem, but we are birding close to lots of wetlands so a good insect repellent is recommended, just in case.
Flights: are by scheduled airline, from London. We may be able to offer flight arrangements from another airport and/or or quote without flights so you can make your own arrangements. If you wish to add an extension either before or after your holiday, please contact us and we will be happy to arrange this for you.
Why choose Heatherlea for your birding and wildlife holiday in Europe?
Our overseas holidays are planned with care to offer great birding and wildlife, led by capable Leaders who really look after you. Every holiday is run the 'Heatherlea Way', and we hope our Overseas Adventures remind you of the quality and care so many of you enjoy in Scotland. That means rewarding and exciting days in the field, and good quality accommodation and meals, with a real flavour of the country we are visiting. Heatherlea always seek to include the personal touches that make all the difference.
Heatherlea holidays are not 'dawn to dusk' expeditions. Our less-intensive approach is ideal for those who want to relax whilst experiencing the best wildlife watching, and wherever possible we organise early or late activity on an optional basis. We also take sensible breaks when in very hot places and regular comfort breaks on every holiday whenever possible. All itineraries are planned carefully around the best wildlife opportunities, and you won't miss out on memorable wildlife, whilst enjoying relaxed, informal days that are great fun.
The really important part of any wildlife holiday is the experience for you, our valued customer. Heatherlea invest in many things to offer you the best possible service;
We have been organising birding and wildlife holidays for over 30 seasons, and have a highly experienced and capable office team. We also offer a telephone and email service outside normal office hours.
Heatherlea overseas holidays have a maximum of 12 clients per trip, putting the emphasis on personal service, and helping you get the best possible experience.
Our holidays often include things which others might invite you to pay yourself, for instance Departure Taxes and tips to hotels.
All elements of our holidays are sold under our own licence, ATOL 6113. Under 'Flight-Plus' legislation it is a legal requirement of any tour operator to hold an ATOL licence for the supply of any overseas holiday where a flight is involved, if that holiday includes either overseas accommodation and/or car hire. It can be a criminal offence for an operator to book flights as part of a package without an ATOL licence. Heatherlea also hold full Tour Operator Insurance for your added protection.
Heatherlea is your complete wildlife holiday provider. Our 'Back Office' team can organise all your pre-flight and other travel needs. Our specialists will help you book the right services, at the best price. Book holiday extensions through us, and your ATOL protection is extended further. We don't charge extra for this service.
Heatherlea is a limited company, registered in Scotland, and registered to pay VAT (applies to all holidays within the European Union).