NEW!

Spain for birds and butterflies
Relaxed days in Catalonia and south-east Aragon enjoying birds and butterflies
Destination
Focus
2023 Dates
Duration
7 Days
2023 Price

£1995 pp

£195 single supplement.

Deposit £300

pre-flight airport hotel and lounge are inc.

2025 Dates
Duration
7 Days
2025 Price

Price TBC

Max Group Size
12
A delightful holiday in late spring to enjoy the birds and the butterflies of this wildlife rich Spanish region. Habitats include dry sedimentary cliff and scrub, rich mixed deciduous forest, alpine grasslands and meadows, steppe landscapes combining rich bushland, traditional farming ground, natural steppe and riverside forests and slopes. These places hold a variety of birds and butterflies, including many highly desirable yet hard to find species.
Birding will be varied, with a broad selection of western European specialities including Lammergeier, Little Bustard, Black-bellied and Pin-tailed Sandgrouse, Egyptian Vulture, Short-toed and Golden Eagle, Eurasian Griffon, Black Kite, Montagu's Harrier, Lesser Kestrel, Black Woodpecker, Wryneck, Roller, Bee-eater, Turtle Dove, Calandra, Thekla, Short-toed and Lesser Short-toed Lark, Alpine Swift, Red-rumped Swallow, Iberian Grey Shrike, Alpine and Red-billed Chough, Rufous-tailed and Blue Rock Thrush, Black Wheatear, Spectacled, Western Subalpine, Melodious, Dartford and Orphean Warbler, Crested Tit, Firecrest, Short-toed Treecreeper, Citril Finch, Ortolan and Rock Bunting. We hope to see Eagle Owl too, and one morning will look for scarce and difficult to find Tengmalm's Owl.
Butterfly targets include Apollo, Two-tailed Pasha, European, Spanish and Scarce Swallowtail, Cleopatra, Duke of Burgundy, Lesser Purple Emperor, Camberwell Beauty, Mountain Small White, Western Dappled White, Moroccan Orange Tip, Mountain Clouded Yellow, Knapweed, Niobe, Spotted, Glanville, Lesser Spotted and Queen of Spain Fritillary, Lefèbvre`s Ringlet, Pyrenees Grassy Ringlet, Piedmont Ringlet, Iberian Marbled White, Dusky and Pearly Heath, Rock Grayling, Large Grizzled and Southern Marbled Skipper, Turquoise, Baton, Little and if lucky, Gavarnie Blue.
Enjoy your complimentary pre-flight overnight hotel before your holiday begins. Full details from our office! Read more about our Pre-flight Service here!
Day 1: Tue 17 May 2023 Arrival and the Garraf Natural Park
After relaxing in our complimentary VIP Airport Lounge, we fly to Barcelona airport, we meet our local guide and head to Garraf Natural Park, south of the city. Here, a sedimentary massif with a karstic substrate offers a habitat like no other and we search for Two-tailed Pasha, Knapweed Fritillary, Spotted Fritillary, Baton Blue, Little Blue and Swallowtail, whilst also recording our first Iberian birds. We then drive northwards for 2½ hours, breaking the journey with a stop in the Ribes Valley. Deciduous forest extending high up in the slopes to meet with alpine meadows offers more good butterflies including Queen of Spain Fritillary, Camberwell Beauty, Cleopatra and Large Grizzled Skipper. Here we also have our first chances to see Golden and Short-toed Eagle, Eurasian Griffon Vulture, Iberian Grey Shrike and high altitude specialists such as Citril Finch and Rock Bunting. It will certainly have been a productive first day by the time we reach our accommodation in La Cerdanya, where we stay for three nights.
Day 2: Wed 18 May Llobregat Valley
We spend the morning exploring the Coll de Pal in the Eastern Pyrenees, at an altitude of 2000m. Here, in the centre of the protected Cadí-Moixeró Natural Park there are many excellent habitats from mixed deciduous forests to subboreal, rocky slopes, alpine grasslands and meadows. There is much to explore for desirable birds and rare butterflies. Above the tree limit, we look for Lammergeier, Citril Finch, Alpine Chough, Rufous-tailed Rock Thrush, Wryneck, Rock Bunting, Red-billed Chough, Golden Eagle and more. The range of available butterflies is impressive, with Apollo, Lefèbvre`s Ringlet, Pyrenees Grassy Ringlet, Mountain Small White, Glanville Fritillary, Lesser Purple Emperor and Camberwell Beauty, and if lucky, Gavarnie Blue will be on the wing. In the afternoon, we relocate to sites at lower altitudes along the Llobregat Valley to add new butterflies such as Duke of Burgundy, Niobe Fritillary, Iberian Marbled White, Dusky Heath and Pearly Heath.
Day 3. Thu 19 May Cadí-Moixeró Natural Park
An early-morning visit to the Northern slopes of the Cadí-Moixeró Natural Park, where in the mature, mountain pine forest good birding is likely to include Black Woodpecker, Crested Tit and Short-toed Treecreeper for the first time. This area boasts the best opportunity to see scarce Tengmalm's Owl in Spain, and we make a special effort to look for them. Once the air has warmed, new butterflies likely to appear include Moroccan Orange Tip, Mountain Clouded Yellow, Southern Marbled Skipper and Piedmont Ringlet. Later we scan for raptors over the Cerdanya Valley where Booted and Short-toed Eagle, Red Kite, Eurasian Griffon Vulture and perhaps Egyptian Vulture are among the possibilities.
Day 4: Fri 20 May Lleida
Today we transfer to the Lleida Steppes, a puzzle of landscapes combining rich bushland, traditional farming areas, natural steppe and riverside forests and slopes. The habitats here can be especially rich for warblers and in stunning scenery below the Pyrenean foothills we will look for Western Subalpine, Melodious and Western Orphean Warblers plus commoner species. Iberian Grey Shrike, Red-rumped Swallow, Ortolan Bunting and Wryneck are also possible, and stops in agricultural land should allow us to see Roller and Bee-eater perched in the open. On a more birdwatching orientated day, we also target Little Bustard, Short-toed Eagle, Turtle Dove, Black Wheatear, Thekla Lark, Eagle Owl and Lesser Kestrel at their colony. We stay at Hotel Zenit, Lleida for three nights.
Day 5: Sat 21 May Ebro Valley
Despite the ground being generally drier, the steppe lands of Aragon are some of the richest for wildlife in Spain, offering new and exciting species. Birding will take priority with desirable Black-bellied and Pin-tailed Sandgrouse high among our targets. Calandra, Lesser Short-toed and Greater Short-toed Lark are also possible and Spectacled Warbler and Black-eared Wheatear may be found in scrubby land and Bee-eater, Lesser Kestrel, Black Kite, Golden Eagle and Montagu's Harrier patrol the skies. Migrant butterflies are possible and we should add Western Dappled White on this day.
Day 6: Sun 22 May Guara Mountains
Exploring further afield, we drive to the Guara Natural Park where mountains and calcareous gorges play home to some of the largest concentrations of raptors in the Pyrenees. With luck, we will enjoy views of Lammergeier, Griffon and Egyptian Vulture and Golden Eagle plus fast-moving Alpine Swift too. Nearby, semi-arid habitats are good for Dartford Warbler and Black Wheatear and we will listen out for the melodic song of Blue Rock Thrush. Target butterflies in the area include Lesser Spotted Fritillary, Rock Grayling, Turquoise Blue, Cleopatra and perhaps Spanish Festoon.
Day 7: Mon 23 May Departure
If time allows we will enjoy some final birding or search for any Butterfly species to have eluded us, before transferring to the airport for our return flight to the UK.
Please note: all itineraries are given as a guide only. Actual holiday content may vary according to the judgement of your guide, and elements beyond our control (eg weather).
What's included in your holiday price:
scheduled return flights between London Gatwick and Barcelona, airport taxes.
ground transportation as outlined including all transportation in Spain in a modern and spacious air-conditioned vehicle.
six nights comfotable accommodation and all meals, including breakfast, lunch and dinner.
the services of your leaders.
The Heatherlea Pre-Flight Service offers everything you need at the airport, including hotels, car parking, airport lounges, regional flights, and upgrades. Let Heatherlea take the strain! Pre-flight airport hotel and lounge included free of charge subject to terms and conditions. Read more....
What's not included in your holiday price:
travel insurance, drinks and other personal expenses, and any other costs not specified as 'included'.
More holiday information
Accommodation: is in two comfortable, rural hotels with all rooms en suite.
Food: Breakfast is excellent by Mediterranean standards, featuring cold meats, cheese, bread, yoghurt, fruit, a selection of preserves and cakes, croissants and other sweetbreads. Fruit juice and tea or coffee is also available. Picnic lunches will be provided each day. Evening meals offer many interesting local dishes, which are very good though sometimes simple. Water, bread and wine is included at dinner, which is very pleasant and convivial! Vegetarian and other diets are welcome, though please check before booking as both hotels have their own way of doing things, and we need to make sure your needs can be met.
Walking: is generally easy, on paths and tracks. We will usually drive to key birdwatching spots. Most birding is done close to our vehicle.
Weather: Direct sunlight can send the temperature soaring above 30c, though mid 20's c is more usual. Minimum temperatures will be about 15c (although it can sometimes drop lower), and the winds can be cool. Evenings and particularly mornings can be cool.
Insects: There may be biting insects, though not usually as a major problem. Bring a repellent just in case.
Group: size is restricted to 12 clients maximum.
Flights: are by scheduled airline, from London Gatwick - Barcelona. We may be able to offer flight arrangements from another airport and/or or quote without flights. If you wish to add an extension either before or after your holiday, please contact us and we will be happy to arrange this for you.
Your Guide
Carles Oliver - Carlos has ten year's experience as a birding guide in his native Catalonia, and since 1998 has been involved in numerous birdlife studies, especially raptor migration and Pan-European Monitoring in both the Pyrenees and Llobregat Delta. He says "Birds have always fascinated and delighted me since childhood and I'm glad to share my passion about birds and all nature with new people, most of whom become friends at the end of our time together."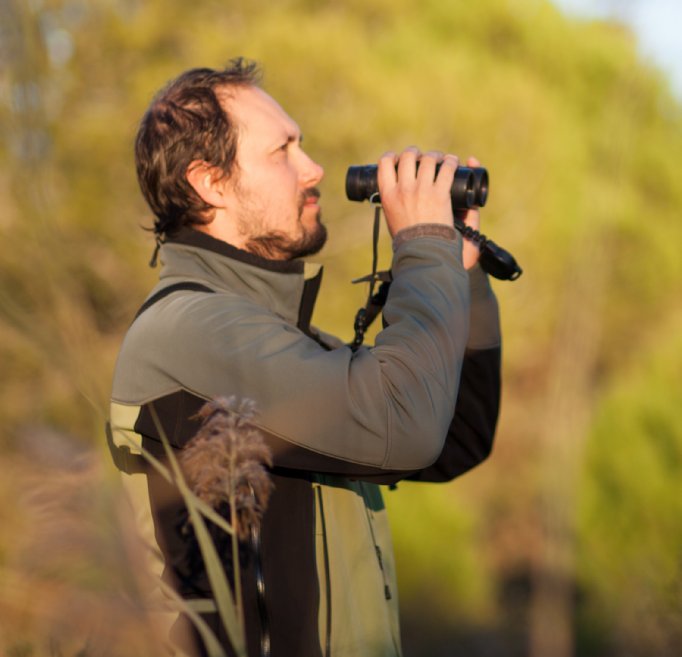 Why choose Heatherlea for your birding and wildlife holiday in Europe?
Our overseas holidays are planned with care to offer great birding and wildlife, led by capable Leaders who really look after you. Every holiday is run the 'Heatherlea Way', and we hope our Overseas Adventures remind you of the quality and care so many of you enjoy in Scotland. That means rewarding and exciting days in the field, and good quality accommodation and meals, with a real flavour of the country we are visiting. Heatherlea always seek to include the personal touches that make all the difference.
Heatherlea holidays are not 'dawn to dusk' expeditions. Our less-intensive approach is ideal for those who want to relax whilst experiencing the best wildlife watching, and wherever possible we organise early or late activity on an optional basis. We also take sensible breaks when in very hot places and regular comfort breaks on every holiday whenever possible. All itineraries are planned carefully around the best wildlife opportunities, and you won't miss out on memorable wildlife, whilst enjoying relaxed, informal days that are great fun.
The really important part of any wildlife holiday is the experience for you, our valued customer. Heatherlea invest in many things to offer you the best possible service;
We have been organising birding and wildlife holidays for over 30 seasons, and have a highly experienced and capable office team. We also offer a telephone and email service outside normal office hours.
Heatherlea overseas holidays have a maximum of 12 clients per trip, putting the emphasis on personal service, and helping you get the best possible experience.
Our holidays often include things which others might invite you to pay yourself, for instance Departure Taxes and tips to hotels.
All elements of our holidays are sold under our own licence, ATOL 6113. Under 'Flight-Plus' legislation it is a legal requirement of any tour operator to hold an ATOL licence for the supply of any overseas holiday where a flight is involved, if that holiday includes either overseas accommodation and/or car hire. It can be a criminal offence for an operator to book flights as part of a package without an ATOL licence. Heatherlea also hold full Tour Operator Insurance for your added protection.
Heatherlea is your complete wildlife holiday provider. Our 'Back Office' team can organise all your pre-flight and other travel needs. Our specialists will help you book the right services, at the best price. Book holiday extensions through us, and your ATOL protection is extended further. We don't charge extra for this service.
Heatherlea is a limited company, registered in Scotland, and registered to pay VAT (applies to all holidays within the European Union).